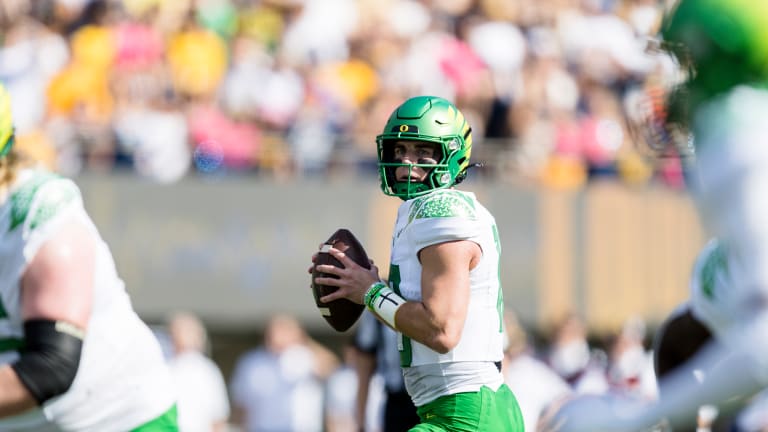 Week 9 Transfer Power Rankings - Bo Nix gets closer to the top
Which transfers from the 2021/2022 transfer portal cycle have had the most successful season through Week Nine?
Which transfers from the 2021/2022 transfer portal cycle have had the most successful season through Week Nine? Here are the answers:
Williams' second straight five-touchdown passing game led the Trojans to a win at Arizona on Saturday. His performance has been both impressive and surgical this season, with 24 touchdown passes and only one interception through eight games. Don't expect this to change with Cal and Colorado coming up next, before the Trojans head cross-town to take on UCLA on November 19th.
2. QB Bo Nix (Oregon/Auburn) (4)
Another game and another huge performance for Nix, as he passed for three touchdowns and rushed for three touchdowns during a victory over Cal. Up next is another opportunity to put up huge numbers at 1-7 Colorado, before the Ducks return home on the 12th to take on Washington in what should be an offensive shootout.
3. LB Ivan Pace Jr. (Cincinnati/Miami-Ohio) (2)
While Cincinnati lost a tough game at UCF on Saturday, Pace continued his All-American level of play with 11 tackles, 1.5 tackles for a loss and one pass break-up. Still leading the country in tackles for a loss with 16, the Bearcats host Navy and their option offense on Saturday, which should give him a huge opportunity to pile up the statistical numbers.
4. QB Michael Penix (Washington/Indiana) (3)
Penix was extremely productive during the last two games, both wins, and now comes off a bye week with two interesting challenges lying in the way. First comes a visit from #24 Oregon State and then a much-anticipated trip to #8 Oregon. These next two games will go a long way in determining the Huskies' overall level of success in 2022.
5. LB Daiyan Henley (Washington State/Nevada) (5)
The Cougars suffered another tough loss, this time to Utah, but Henley continued to excel with 12 tackles and one pass break-up. In fact, during the Cougars current three-game losing streak, Henley has actually raised his level of play with a combined 36 tackles. A trip to Stanford this weekend gives Washington State a legitimate opportunity to end their losing streak.
6. RB Jahmyr Gibbs (Alabama/Georgia Tech) (6)
Gibbs has established himself as a vital part of Alabama's offensive attack, and they will need his dynamic play as the Tide have challenging games at LSU and Ole Miss during the next two weeks.
7. WR Charlie Jones (Purdue/Iowa) (8)
Jones was extremely productive heading into Purdue's bye week so it will be interesting to see if he can continue his impressive level of player as the Boilermakers take on Iowa, his former team, on Saturday. Just as Jones will surely be motivated for the challenge, the same can be said for the Iowa secondary.
8. OL O'Cyrus Torrence (Florida/Louisiana (NR)
Torrence has excelled since his arrival from Louisiana, while also solidifying the offensive line for the Gators. His play has also firmly caught the attention of NFL scouts as he is projected to be one of the top interior offensive linemen selected in the 2023 Draft.
9. WR Jacob Cowing (Arizona/UTEP) (9)
While he had seven receptions for 80 yards during a hard-fought loss to USC, for Cowing it was his third straight game without a touchdown reception. Despite this lull, he has still grabbed 20 receptions during this span and been a vital part of the Arizona offense as he creeps closer to a 1,000-yard receiving season.
10. DE Jared Verse (Florida State/Albany) (NR
After a quick start to the 2022 season, an injury somewhat derailed Verse for a couple of weeks. However, over the last couple of weeks he has once again dominated offensive lines just was expected when he made the move from the FCS. Over his last four games he has 19 tackles, seven tackles for a loss and 1.5 sacks as the Seminoles now head to Miami for a Saturday night game against the Canes.
Others to watch:
QB Jayden Daniels (LSU/Arizona State), LB Drew Sanders (Arkansas/Alabama), QB Adrian Martinez (Kansas State/Nebraska), WR Jordan Addison (USC/Pittsburgh), LB Jacoby Windmon (Michigan State/UNLV), QB Dillon Gabriel (Oklahoma/UCF), QB Todd Centeio (James Madison/Colorado State), WR Nikko Remigio (Fresno State/Cal), DL Levi Bell (Texas State/Louisiana Tech ), RB Xazavian Valladay (Arizona State/Wyoming), QB Cameron Ward (Washington State/Incarnate Word), OL Victor Oluwatimi (Michigan/Virginia), WR Trey Palmer (Nebraska/LSU), RB Aidan Robbins (UNLV/Louisville), LB Jackson Sirmon (Cal/Washington), RB Zach Evans (Ole Miss/TCU), QB John Rhys Plumlee (UCF/Ole Miss), LB Ty'Ron Hopper (Missouri/Florida), QB Austin Reed (Western Kentucky/D2 West Florida), Tommy Devito (Illinois/Syracuse), WR Johnny Wilson (Florida State/Arizona State), RB Travis Dye (USC/Oregon), WR Isaiah Winstead (East Carolina/Toledo), LB Dallas Gant (Toledo/Ohio State), DL Kobie Turner (Wake Forest/Richmond), LB Johnny Hodges (TCU/Navy), OL Tyler Steen (Alabama/Vanderbilt), LB Laiatu Latu (UCLA/Washington), RB Dae Dae Hunter (Liberty/Hawaii), DL Akheem Mesidor (Miami-Florida/West Virginia), LB Jason Johnson (UCF/Eastern Illinois), QB Kyle Vantrease (Georgia Southern/Buffalo), QB Jayden de Laura (Arizona/Washington State), DB Darius Joiner (Duke/Western Illinois)