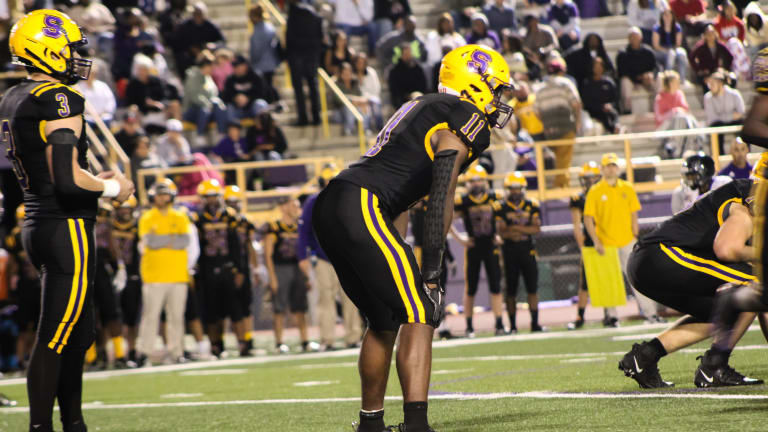 2023 4-Star LB Arion Carter Speaks on Recruiting Proces With Mike Farrell Sports
All eyes have been on the rising star, 2023 4-star LB Arion Carter, out of Smyrna High School in Smyrna, TN, as he has been the hottest name in the recruiting world, picking up multiple offers since the beginning of the fall season. Since committing to Memphis on July 20th, he has picked up numerous offers from some of the top schools in the country. 
---
On September 17th, he visited Alabama unofficially when they took on UL Monroe. Here's what he told us about his visit.
"The visit was amazing. I really like the culture there, and I loved watching them play. The atmosphere was amazing, and Coach (Nick) Saban is a really down-to-earth guy, and is really intellectual about football."
During his visit, he picked up an offer. The Crimson Tide has produced some good linebackers throughout the years' Nick Saban has been there. Arion left Tuscaloosa impressed from his visit and could see him play for one of the greatest coaches in college football.
---
---
Shortly after visiting Tuscaloosa, he received an in-state offer from the Tennessee Volunteers. He decided to take an unofficial visit to Knoxville for their matchup against their bitter rival, the Florida Gators. 
"The visit was amazing. The atmosphere was phenomenal. Their fanbase is like no other I have seen before. I really like their staff. Coach (Josh) Heupel is a really cool guy, and he is building something there."
---
Despite being on a visit to Knoxville, he did notice a few things about Florida.
"The ball movement is what stood out to me. I really liked the style that their linebackers play. They play fast and physical (football)." 
Florida has had some talent at the linebacker position that has gone to the next level and been successful. 
---
It didn't take long for Carter to catch steam with other top-tier programs offered him. After returning from his visit to Knoxville, he became one of the hottest names in the country. Since his commitment, He has picked up offers from Wake Forest, Vanderbilt, Auburn, EKU, Alabama, USC, Tennessee, Kentucky, Michigan, LSU, Florida, Oregon, Ole Miss, South Carolina, Louisville, Cal, and Ohio State. 
"It's a good problem to have. I'm just living the dream that I have always dreamed about. I want to be an orthopedic surgeon after football. I want to be able to impact people and be close to the sport."
---
With multiple schools coming in to try and flip the 4-star linebacker from his commitment to Memphis, the biggest question remains when does Arion decide on his future? Here is what Carter told us. 
"I am not sure when I will make my decision. I will be signing in December to be an early enrollee to whichever school I commit to. I will talk to my family, and put together a leaderboard of my top five schools, and take official visits to each of those schools before making my decision. Staying home is not a big factor in my decision, but I want to go to a school where I am wanted."