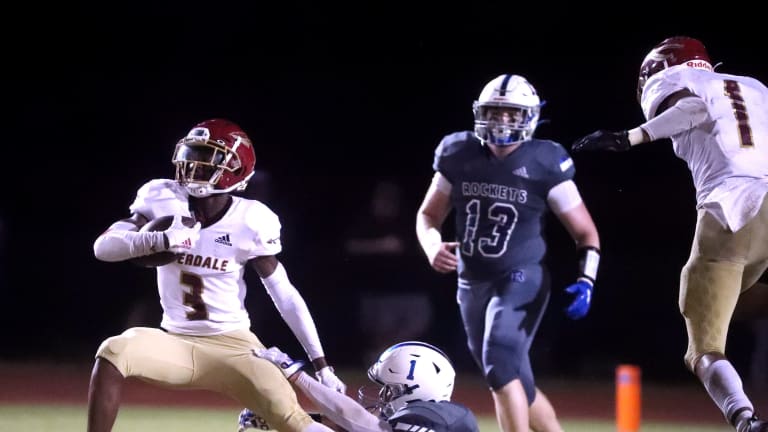 2024 DB Jaylen Thompson Speaks on Recruitment
The 2022 season for Riverdale High School has gone off to a 3-1 start thus far, with their season goal still in mind to contend for a state championship this season. They certainly have the talent to do so on both sides of the ball, but the defense makes this team a championship contender.
---
I caught up with 2024 4-star CB Jaylen Thompson and asked him about this Riverdale team and how his recruiting process has gone since the beginning of September. So far this season, the star cornerback has been playing well and helping lead this Riverdale team to early success, but I asked him what makes him different compared to last year's season that people should know, and he said
"This season, I feel more comfortable with the people I'm playing with and feel like I have a bigger role and a bigger connection with the guys." 
---
The transfer from Siegel High School has been leaving his mark on the field for Riverdale and establishing himself as one of the best players in Tennessee. Since September 1st, many schools have reached out and shown love to the star player with graphics and notes from schools across the country, but a few have already been showing him that he's a priority to them. Thompson told us,
"Mississippi State, Ole Miss, and Cincinnati have been sending me a lot and showing love."
---
Other schools like Michigan State and Tennessee are schools to watch for in his recruiting process as well. He has multiple offers, including top-tier programs like Michigan, Michigan State, Tennessee, Georgia, and Kentucky, but Missouri was a team that recently offered him. 
"I mean, it really didn't catch me by surprise. I was waiting to see when they were gone and finally give me the call, but I like Missouri. I feel like it's a great school and program."
---
Not long after his offer from Missouri, he received an offer from Georgia Tech on September 15th, adding to the other 12 offers he has received. He has begun taking game day visits with the college football season underway. His first visit was to Cincinnati this past weekend, but he has plans to go on additional visits during the season. 
"I'm going to be at Cincinnati today, but the one I know for sure I'm going be at is Michigan State vs. Ohio State." 
---
Some other schools that could receive a visit from the cornerback are Tennessee, Ole Miss, and Michigan. With it still being early in the recruiting process for Thompson, the big question remains as to where he will take his talents for the next three to four years, and as of now, he has no timeline on when he will make his decision. Tompson told us, 
"I don't have a clue when I commit, but the way a school makes me and my family feel and just how it makes me feel because at the end of the day I'm gone have to spend 3 to 4 (years) there."