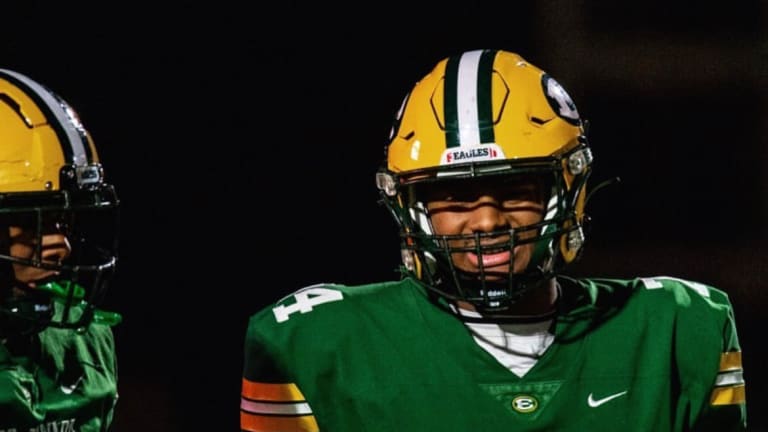 2024 Three-Star OT Deon Armstrong talks Ohio State Visit and Plans for the Future
Armstrong dives in about his visit and more!
2024 three-star offensive tackle Deon Armstrong is fresh off an "in-depth" visit to Ohio State this past weekend where he saw the Basketbucks take down Iowa. Armstrong went with his brother, who's also a priority for the Buckeyes, 2024 three-star offensive tackle Devontae Armstrong. He also went to Columbus with his parents.
Armstrong is 6'6 and 288 pounds. He hails from Ohio high school powerhouse St.Edward. He holds offers from many programs such as Penn State, Michigan, Michigan State, Kentucky, and more.
---
Deon talked a good amount about Ohio State and his visit went well.
"My favorite part about the visit was getting to see the staff again and building a stronger relationship with them throughout the day."
His interest in Ohio State is extremely high.
"Ohio State is sparking interest, as I get even closer to the staff, recruits/ players, and even fans." 
---
Armstrong spoke about Coach Frye, who's his main recruiter, "We talked about a lot of things, even other than football. I got to know him better as a person and not only as a coach." Armstrong added, "I've been an Ohio State fan since I was a kid, and being recruited by them has been fun." 
Frye is clearly aiming to bring Deon home to Columbus.
He also spoke about him and his brother going to the same college at the end of the day, "Possibly, but if we have different interests, then no."
---
Deon spoke about what his recruitment is. He says, "My recruitment now is just seeing the environment and building relationships." 
His relationship with Frye will continue to grow as his recruitment heats up.
It will be interesting to see how Armstrong's recruitment continues to develop in the coming months. For now, though, it is safe to say the Buckeyes have made a strong impression.