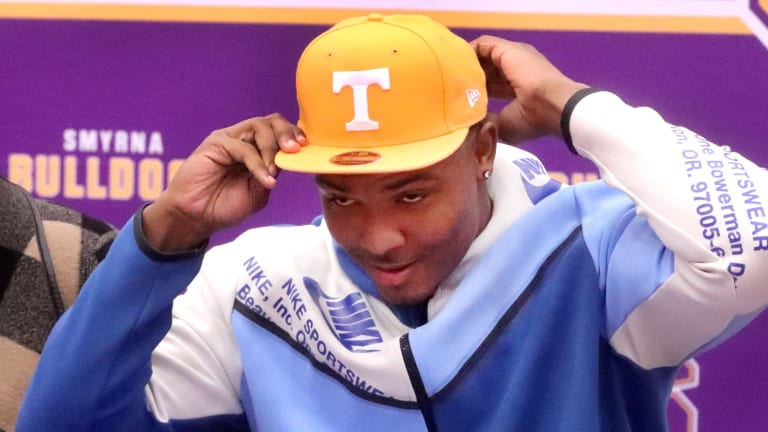 Arion Carter Commits to Tennessee
Late-rising linebacker Arion Carter has committed to Tennessee, giving them a giant momentum swing right before the early signing period. Carter was labeled as an Alabama lean since getting an offer from the Tide, but Josh Heupel and the Volunteers were able to swing momentum in their favor and land the four-star linebacker.
Earlier in the year, Arion Carter was committed to Memphis as a running back. After sending out his linebacker film, however, he started to pick up a significant amount of interest, including from some of the top teams in college football. He was able to visit Tennessee, Alabama, Ohio State, and Auburn while also receiving serious interest from USC. 
---
He had success on the field this past season as a senior, including recently winning TSSAA 6A Mr. Football. In his senior season, he put up 1,184 yards and 19 touchdowns as a running back and 92 tackles as a linebacker.
Carter had a lot of positive things to say to Mike Farrell Sports following his visit to Knoxville for the Volunteers' matchup with the Florida Gators. 
"The visit was amazing. The atmosphere was phenomenal. Their fanbase is like no other I have seen before. I really like their staff. Coach (Josh) Heupel is a really cool guy, and he is building something there." 
---
This pickup is a big-time in-state addition for Tennessee. Carter joins Jalen Smith and Jeremiah Telander in an underrated group of linebacker commits for the Vols. The Vols will lose Jeremy Banks and potentially Juwan Mitchell from the linebacker room this offseason, leaving an opportunity for the young linebacker core of Carter, Smith, Telander, Elijah Herring, and Kalib Perry, opportunities to get on the field in the 2023 season. Picking up a linebacker through the transfer portal is also an option for the Vols' staff.
Carter plans to study to become a surgeon in school while playing football. 
"I'm just living the dream that I have always dreamed about. I want to be an orthopedic surgeon after football. I want to be able to impact people and be close to the sport."