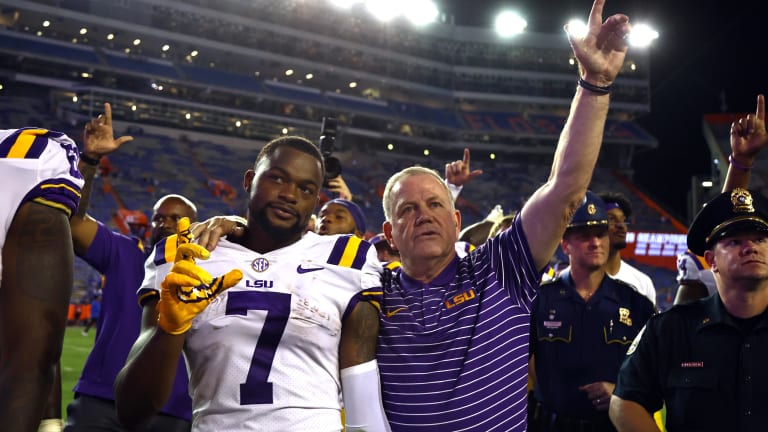 Bayou King, Brian Kelly Gaining Steam in Recruiting
In his first season as LSU's head coach, Brian Kelly started hot in terms of recruiting, as he filled 22 spots in the 2023 class even before their first game. The class now sits at 25, with little room for more so Tigers fans are hoping to fill their last few spots with quality recruits, something that is likely as LSU is even more appealing now that they are currently the 7th team in the nation. Their on-field success has not only spoken to 2023 recruits but prospects in later classes as well. Let's dive into recruits that the Tigers have been trending for this past week, highlighted by Desmond Ricks, Javien Toviano, Harlem Berry, and more.
---
2023 CB Desmond Ricks (#15 nationally, #2 CB), IMG Academy, Bradenton, Florida
Desmond Ricks has had an interesting recruiting timeline, as the former top-five player in the 2024 cycle was recently reclassed to 2023, effectively speeding up his recruiting process. Initially seen as an FSU lean earlier on in the process, LSU seems to have taken the lead following his visit this past weekend for their Alabama victory. There is still lots of time in his recruitment as he plans to announce on December 23rd with three official visits planned in December to Florida, Alabama, and LSU. The Gators and Crimson Tide should not be counted out, but as of now, LSU is on track to earning a pledge from who would be their highest recruit in 2023. 
---
2023 CB Javien Toviano (#43 nationally, #7 CB), Martin High School, Arlington, Texas
Similar to Ricks, Javien Toviano was on campus for the Alabama win, resulting in multiple predictions in favor of the Tigers. Aside from Ricks, Toviano is the highest-ranked uncommitted cornerback, so landing the pair would be massive. Although in the leader position, Michigan still holds his lone official visit while Texas will host the talented corner in their matchup against TCU this weekend. With no official date for a decision and no list of top schools, we can only assume there is still plenty of time for LSU to lose its lead even though they are currently the clear frontrunner. 
---
2024 TE Trey'Dez Green (#51 nationally, #2 TE), East Feliciana High School, Jackson, Louisiana
Although early on in Trey'Dez Green's recruitment, LSU has solidified itself as the leader. The Tigers are trying to push the hometown narrative to Green but more so to his mother. The 6'7.5 TE is also a D1 basketball prospect with the Tigers pushing hard on that end as well, so two sets of staff have established bonds with Green, something that will likely go a long way. Regardless of if it's early on for the 2024 class, LSU will be a tough team to beat given these factors. 
---
2024 DL Charleston Collins, (#234 nationally, #21 DL) Wilbur D. Mills High School, Little Rock, Arkansas
The Arkansas native seemed to be trending to his hometown Razorbacks earlier in the year but LSU has jumped ahead following his recent visit to the Alabama win. Following the visit, Charleston Collins already spoke of returning to Baton Rouge while raving about his experience. I feel like there will be a lot of moving pieces until Collins makes a decision, so don't be surprised if Arkansas regains momentum, but I like where the Tigers positioned themselves at the moment. 
---
2025 RB Harlem Berry, (#19 nationally, #2 RB) St Martin's Episcopal School, Metairie, Louisiana
Harlem Berry is a recruit who has already established himself as one of the most dynamic playmakers in the 2025 class which resulted in LSU pushing for the in-state prospect early on. Berry is another recruit who was an attendee for the Alabama game and like others, raved about the Tigers following the victory. He was pretty clear in the fact that LSU is currently the team to beat and mentioned his aspirations to be a hometown hero. If the Tigers continue to find success on the field, it will be hard for them to lose grasp of the in-state prospect. 
---
2025 ATH Keylan Moses, (#63 nationally, #3 ATH), University Laboratory School, Baton Rouge, Louisiana
Although the brother of former Alabama linebacker and Butkus Award finalist Dylan Moses, the Tigers have done all they can to keep the talented athlete home. Keylan Moses has reciprocated the Tigers' desire to have him, as he has gone to two games so far this season, Southern and Alabama, speaking highly of each visit, sounding as if he was already committed. Even though it is incredibly early on, it is incredibly difficult for me to see Moses land elsewhere.