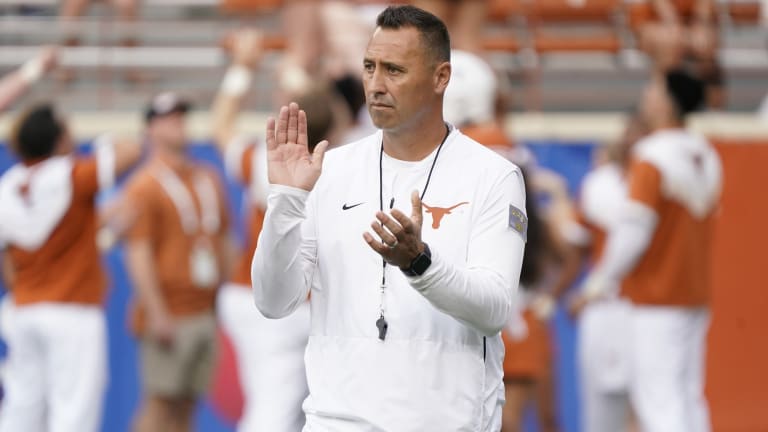 Biggest Recruiting Visits Week 7: Jelani McDonald, Malachi Coleman, & More
Some big games are coming up this weekend. You have #10 Penn State at #5 Michigan, #3 Alabama at #6 Tennessee, #8 Oklahoma State at #13 TCU, and #7 USC at #20 Utah, and a ton more. With that in mind, it makes it a hugely important weekend for recruiting at every school hosting one of these big games. Let's take a look at who's taking key visits.
---
-4- star ATH Jelani McDonald from Waco, Texas, and an Oklahoma State commit. However, the Texas Longhorns offered him on Tuesday, and McDonald will be in Austin on Saturday for the Iowa State game. He plays quarterback, but schools view him as a defensive back. McDonald said the Longhorns talked to him about playing linebacker, and he said he would love to play that position. Can the Longhorns flip him from the Cowboys? We shall see.
-4-star OT Caleb Lomu from Gilbert, Arizona, is set to visit the Utah Utes this weekend when they host USC. Lomu had an unofficial visit earlier this season to USC and saw the Utes when they played the Florida Gators at The Swamp to open the season. The Utes and the Trojans look to be the leaders. However, the winner of this game could have the upper hand.
-4-star ATH Malachi Coleman from Lincoln, Nebraska, will announce his commitment on October 22nd and has seven schools listed. Georgia, Nebraska, Ole Miss, Oklahoma, Michigan, Oregon, and USC. The Huskers and Sooners are the last two teams he has visited. The Huskers seem to be the favorites.
-5-star 2024 ATH KJ Bolden from Buford, Georgia, is the third overall rated prospect in the 2024 class, according to 247 Sports. He was in Tuscaloosa last weekend for the Alabama/Texas A&M showdown. The Crimson Tide view him as a player who has the potential to be a playmaker at both wide receiver and safety, which he relishes. Bolden has also visited Georgia, Clemson, Ohio State, and Tennessee. His recruitment will be fun to watch.
-5-star ATH Nyckoles Harbor, from Washington, DC, was supposed to visit LSU last weekend when the Tigers faced Tennessee. However, the early 11 AM kickoff and his football schedule made that quite the task. As it is, he will now visit Baton Rouge the first weekend of December. Michigan and South Carolina remain the favorites.