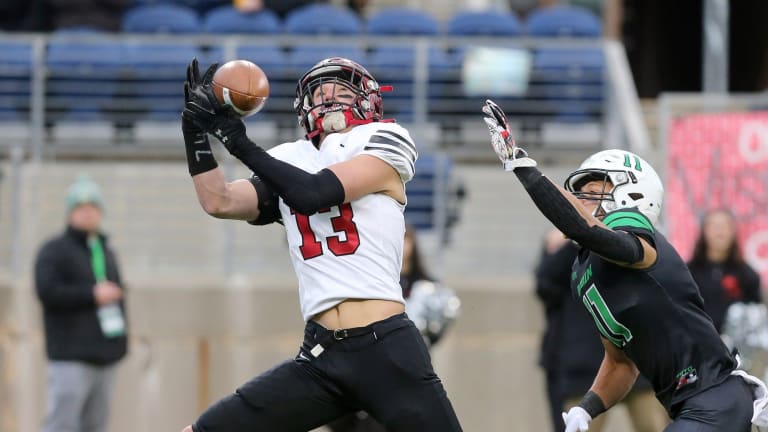 Braedyn Moore Decommits, D.J. Lagway to Make Decision Soon, and Other Names in the News
–4 star 2024 Charleston Collins, Wilbur D. Mills High School, Little Rock, Arkansas.
Charleston Collins is the No. 228, No. 24 defensive lineman, and No. 3 player in Arkansas in the 2024 class, and he has named his top 12 schools. They are the Alabama Crimson Tide, Arkansas Razorbacks, Georgia Bulldogs, Florida State Seminoles, LSU Tigers, Ole Miss Rebels, Miami Hurricanes, Michigan State Spartans, Mississippi State Bulldogs, Oregon Ducks, Tennessee Volunteers, and Texas A&M Aggies. The 247 Sports Crystal Ball and the On3 Recruiting Prediction Machine have LSU as the leaders to land him. However, I would pay close attention to the Rebels as he has been to Oxford multiple times and said, 
"Ole Miss, I could definitely put in the top 10, top eight comfortably." 
So keep an eye on Lane Kiffin and the Rebels.
---
–4-2024 star CB Aeryn Hampton CB, Daingerfield High School, Daingerfield, Texas.
Aeryn Hampton is the No. 77 overall, No. 8 cornerback, and No. 12 player in Texas in the 2024 class who also played running back and wide receiver. After having been committed to the Texas Longhorns since February, he decommitted from them on Tuesday night. This decommitment is his second, as he had committed to the Baylor Bears as a sophomore. Hampton has 20 offers from schools, including the Bears, Alabama Crimson Tide, Arkansas Razorbacks, LSU Tigers, Michigan Wolverines, Mississippi State Bulldogs, Ole Miss Rebels, and TCU Horned Frogs.
---
–4-star CB Daniel Harris, Gulliver Prep, Miami, Florida.
Daniel Harris is the No. 149 overall, No. 18 cornerback, and No. 37 player in Florida, and it looks like the Penn State Nittany Lions are the team to beat for him. He had been committed to the Georgia Bulldogs until he backed off his pledge on November 14. Both 247 Sports and the On3 RPM have the Nittany Lions as the favorites to land him. I like the Nittany Lions also, but Georgia is not out of the mix despite his decommitment to them.
---
–5-star 2024 QB D.J. Lagway, Willis High School, Willis, Texas.
D.J. Lagway is the No. 24 overall, No. 4 quarterback, and No. 4 player in Texas in the 2024 class who will announce his commitment on December 7, and it looks like it is a two-team between the Florida Gators and USC Trojans to land him. Last weekend, he was at The Coliseum to watch the Trojans and the Notre Dame Fighting Irish, and the Trojans are the team to beat. Lagway said, 
"I had a great visit, really loved it there. I spent the whole weekend there, from Friday morning to Sunday afternoon, and enjoyed every bit of my time there." 
Trojans head coach Lincoln Riley has been involved in his recruitment and is the lead recruiter, according to Lagway. So my prediction here is that he chooses USC.
---
–4-star S Braedyn Moore, Stephen T. Badin High School, Hamilton, Ohio.
Braedyn Moore is the No. 333 overall, No. 16 athlete, and No. 11 player in Ohio, and he decommitted from the Cincinnati Bearcats on Wednesday. He had committed to the Bearcats in April over the Boston College Eagles, Duke Blue Devils, Illinois Fighting Illini, Indiana Hoosiers, Minnesota Golden Gophers, Pittsburgh Panthers, and West Virginia Mountaineers. Moore is the sixth player to decommit from the Bearcats since Luke Fickell left to take over the Wisconsin Badgers. It would not be a shock if he were to commit to the Badgers.