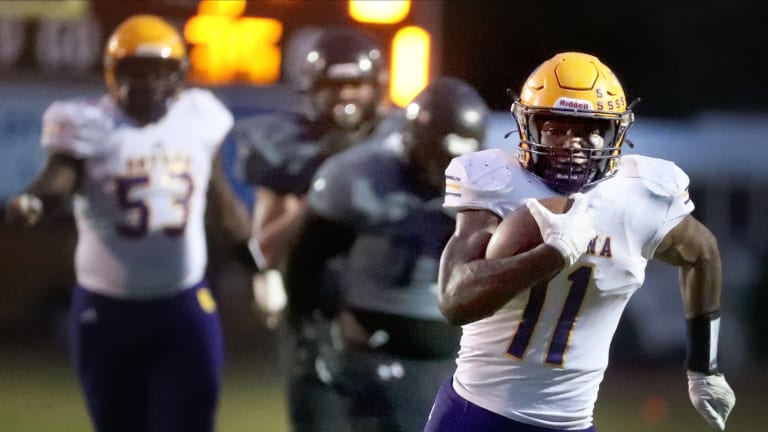 D.J. Lagway Sets Date, Arion Carter Decommits, Daevin Hobbs Prediction, and Other Names in the News
Names in the News
–4-star DL Daevin Hobbs, Jay M. Robinson High School, Concord, North Carolina.
Daevin Hobbs is the No. 96 overall, No. 12 defensive lineman, and No. 2 player in North Carolina. He will announce his decision on November 25 and it looks like a two-team battle for him between the Georgia Bulldogs and the Tennessee Volunteers. The Alabama Crimson Tide and North Carolina Tar Heels round out his top four schools. However, the Vols are the favorites. The 247 Sports Crystal Ball and The On3 Recruiting Prediction Machine have him choosing Tennessee, with the On3 RPM giving them a 47.2% chance of landing him. I agree and like the Volunteers here.
---
–5-star 2024 QB D.J. Lagway, Willis High School, Willis, Texas
D.J. Lagway is the No. 24 overall, No. 4 quarterback, and No. 4 player in Texas in the 2024 class and is a new 5-star recruit. He will announce his decision on December 7 and has named his top ten schools. They are the Alabama Crimson Tide, Arkansas Razorbacks, Baylor Bears, Clemson Tigers, Florida Gators, Georgia Bulldogs, LSU Tigers, Oklahoma Sooners, Texas A&M Aggies, and USC Trojans. 
"I just feel like it's time and time to build a No. 1 class, and I'm ready to recruit for the school I'm choosing and get guys there and ready to recruit." 
Lagway said. The On3 RPM has the Gators with a 72.3% chance of landing him, followed by the Aggies, Tigers, and Trojans. He still plans on visiting The Coliseum when the Trojans host the Notre Dame Fighting Irish. I agree that the Gators are the favorites even though they just received a commitment from Jaden Rashada, but look out for the Trojans. That game and his visit will be something to keep an eye on.
---
–4-star WR Malik Elzy, Simeon Career Academy High School, Chicago, Illinois.
Malik Elzy, the No. 299 overall, No. 41 wide receiver, and No. 4 player in Illinois, was selected to play in the All-American Bowl in San Antonio. He will announce his commitment during the game and decide between his top four schools: the Illinois Fighting Illini, Michigan Wolverines, Oregon Ducks, and Tennessee Volunteers. Elzy had committed to the Cincinnati Bearcats in July until de-committing on October 18. The 247 Sports Crystal Ball and On3 RPM have him choosing Illinois. It's believed he had the Illini second when he committed to the Bearcats, and I predict he will pick the Fighting Illini this time around.
---
–4-star LB Arion Carter, Smyrna High School, Smyrna, Tennessee.
Arion Carter, the No. 317 overall, No. 24 linebacker, and No. 6 player in Tennessee decommitted from the Memphis Tigers on Wednesday. He had been committed to them since July 20. Instead, he has risen as a prospect this fall, receiving offers from major programs. He has received offers from the Auburn Tigers, Alabama Crimson Tide, Florida Gators, LSU Tigers, Ohio State Buckeyes, Ole Miss Rebels, Tennessee Volunteers, and USC Trojans. Carter will make some visits starting with Auburn this weekend when they host the Western Kentucky Hilltoppers, followed by the Volunteers on December 2 and the Crimson Tide on December 9. Alabama is in the lead to land him, according to the On3 RPM. However, I like the Volunteers here; he will stay in his home state.
---
–3-star ATH Anthony White, Abernathy High School, Abernathy, Texas.
Anthony White, the No. 728 overall, No. 58 athlete, and No. 127 player in Texas, committed to the Texas Tech Red Raiders on Wednesday morning. He chose them over the Mississippi State Bulldogs, SMU Mustangs, Texas Longhorns, Utah State Aggies, and UTSA Roadrunners. White will now stay close to home as Texas Tech is about 20 miles from his hometown. His commitment adds to a Red raiders class that ranks No. 20 overall and 4th in the Big 12.