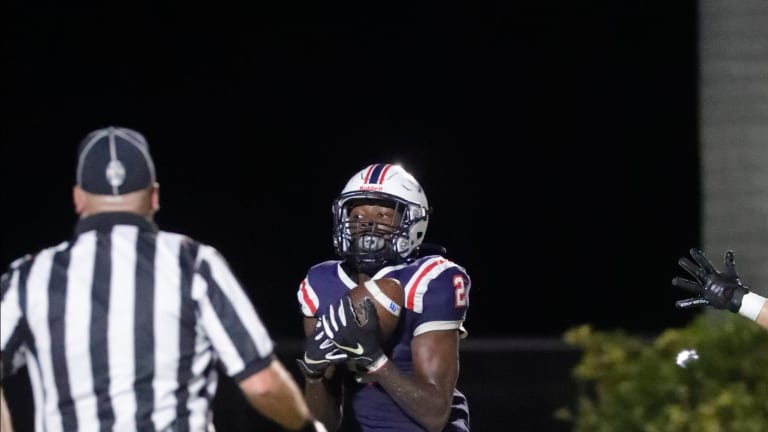 Daniel Hill Names Top Schools, Rico Walker Sets Key Visit, Jason Duclona Ready to Announce, and Other Recruiting News
After a wild Saturday of college football across the board, let's check in with some of the biggest stories from the recruiting trail.
---
4-star 2024 LB Daniel Hill
Meridian High School, Meridian, Mississippi.
Daniel Hill is the No. 156 overall, No. 16 linebacker, and No. 2 player in Mississippi in the 2024 class, and he named his top 10 schools on Friday. They are the Alabama Crimson Tide, Florida State Seminoles, LSU Tigers, Mississippi State Bulldogs, Ole Miss Rebels, Oregon Ducks, South Carolina Gamecocks, Tennessee Volunteers, Texas Longhorns, and Texas A&M Aggies. I believe the Crimson Tide are the leaders, as he has been to Tuscaloosa three times this season and says the coaches are his favorite part about them. "I have a really good connection with a lot of the coaches there, and that's one part of recruitment that I really love: building connections." The On3 Recruiting Prediction Machine has the Crimson Tide as the front runners with a 78.3% chance of landing him, followed by the Bulldogs with a 14.8% chance. Alabama will be tough to beat for Hill.
4-star EDGE Rico Walker
Hickory High School, Hickory, North Carolina.
Rico Walker is the No. 208 overall, No. 24 edge, and No. 7 player in North Carolina. He had committed to the North Carolina Tar Heels in July but decommitted from them on November 11. His final five schools were the Tar Heels, Auburn Tigers, Florida Gators, Maryland Terrapins, and Tennessee Volunteers. Walker will be in College Park this weekend when the Terrapins host the Ohio State Buckeyes. So look for his recruitment to come down between the Terps and Volunteers.
3-star ATH Jason Duclona
Estero High School, Estero, Florida.
Jason Duclona, the No. 793 overall, No. 63 athlete, and No. 119 player in Florida, will announce his commitment on Monday, November 21. He had committed to the Rutger Scarlet Nights on June 14 but withdrew that commitment on September 26. Duclona will be in Orlando this weekend when the UCF Knights host the Navy Midshipmen. This visit will be his third, as he was there when the Cincinnati Bearcats and SMU Mustangs visited the Knights. Regarding the Knights, he said, "I love their coaches, "I love their DB room; I have talked to a lot of their players. The atmosphere there is great. Next year they join the Big 12, which is a great opportunity to play at a high level." UCF is the clear favorite here.
3-star OT Brandon Henderson
East St. Louis High School, East St. Louis, Illinois.
Brandon Henderson, the No. 997 overall, No. 82 offensive tackle, and No. 18 player in Illinois, flipped his commitment to the Illinois Fighting Illini this week. He committed to the Iowa State Cyclones in July, despite being offered by the Illini. However, Illinois kept recruiting him, and now he joins their class with three other three-star offensive linemen, which is excellent news for head coach Bret Bielema.