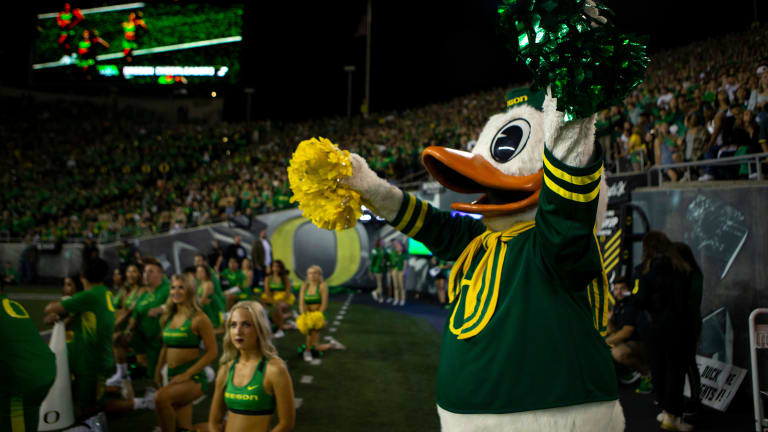 David Hicks, Eli Bowen, Javin Simpkins, and Other Names in the News
Names in the News
–5- star DL David Hicks, Paetow High School, Katy, Texas.
David Hicks is the No. 9 overall and No. 1 defensive line prospect in the 2023 class. He committed to the Texas A&M Aggies in September, but he will be at Autzen Stadium this weekend when the Oregon Ducks host the Washington Huskies. Hicks is the highest recruit in the Aggies class, which lost fellow five-star LB Anthony Hill when he decommitted on Monday. The Oklahoma Sooners are also very high on him. The 247 Sports Crystal Ball and the On3 Recruiting Prediction Machine have him going to the Sooners. So despite being an Aggie commit and those predictions, the Ducks could flip him. With this being his third trip there, it seems possible, and I think that will eventually happen.
---
–4- star 2024 CB Eli Bowen, Guyer High School, Denton, Texas.
Eli Bowen is the No. 328 overall and No. 34 cornerback in the 2024 class. He is the younger brother of five-star 2023 safety Peyton Bowen who is committed to the Notre Dame Fighting Irish. Bowen received an offer from the Texas A&M Aggies on Tuesday, and he was at Kyle Field in September when the Aggies hosted the Miami Hurricanes. However, both Bowen brothers will be at Darrell K. Royal-Texas Memorial Stadium this weekend for the Texas Longhorns and TCU Horned Frogs showdown. Despite this, the On3 Recruiting Prediction Machine has Notre Dame as the leader for him. That isn't much of a surprise, considering his brother has committed there. However, this is something to watch.
---
–3-star RB Javin Simpkins, Norland High School, Miami, Florida.
Javin Simpkins is the No. 426 overall and No. 32 running back in this year's class. He had been committed to the Georgia Tech Yellow Jackets since July but decommitted today. Simkins has 13 offers, including the Arkansas Razorbacks, Louisville Cardinals, Ole Miss Rebels, Texas Longhorns, and Texas A&M Aggies. The Michigan State Spartans offered him on October 28, and they are in on him as they lost a commitment from four-star New Caney (Texas) running back Kedrick Reescano a couple of weeks ago. Simpkins said he is trying to get to East Lansing for an unofficial visit and then an official one in December. The unofficial will be either November 12 against the Rutgers Scarlet Knights or November 19 against the Indiana Hoosiers. The Spartans are the favorites here.
---
–4- star 2024 IOL Eddy Pierre-Louis, Tampa Catholic High School, Tampa, Florida.
Eddy Pierre-Louis is the No. 146 overall prospect and No. 13 defensive line prospect in the 2024 class. He has plenty of offers and has visited the Florida Gators, Miami Hurricanes, and the UCF Knights. Pierre-Louis will next visit the Alabama Crimson Tide, who began recruiting him as a freshman, and the Ohio State Buckeyes. He was at The Swamp in October when the Gators hosted the LSU Tigers, and it seems like they have been in constant contact with him. He said, 
"I talk to them mostly every week. It's been real tight, and they've been trying to keep a nice connection with me." 
The On3 RPM has the Gators as the leaders to land him, followed by UCF and Auburn. I agree with that and like Gators right now as well.
---
–4- star WR Grant Tucker, Charlotte Christian High School, Charlotte, North Carolina.
Grant Tucker is the No. 389 overall and No. 19 athlete in the 2023 class, as he plays both ways as a wide receiver and linebacker/safety. The Appalachian State Mountaineers and Georgia Tech Yellow Jackets look to be his top two teams, as he has visited both. However, keep an eye on the North Carolina Tar Heels as he has been to visit Chapel Hill three times.