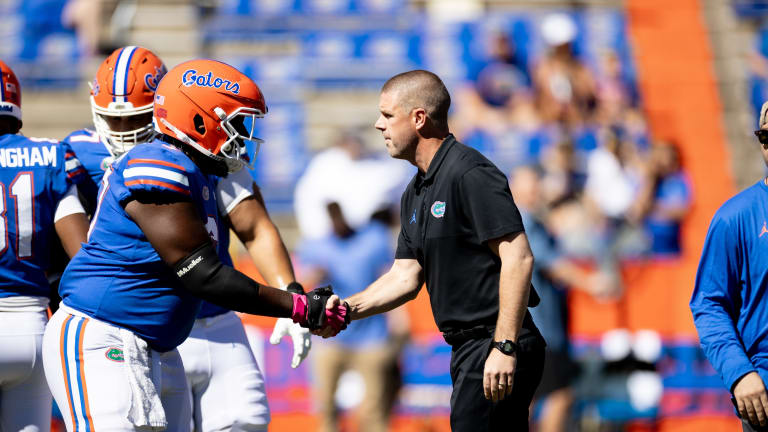 Desmond Ricks, Chris Peal, Malachi Coleman, and Other Names in the News
Week Eight of College Football is over, and there were a few upsets and surprises, like always. First, LSU upset the unbeaten #7 Ole Miss Rebels 45-20, while TCU remained perfect on the season by beating #16 Kansas State 38-28. Then, finally, #10 Oregon handed #9 UCLA their first loss beating them 45-30. But of course, there was some recruiting news as well. So let's see what happened on the recruiting trail.
---
Names to Watch
–5- star 2024 CB Desmond Ricks, IMG Academy, Bradenton, Florida.
Desmond Ricks announced to the college football world on Saturday that he would reclassify to the 2023 recruiting class. He was a big name and a well-sought recruit for the 2024 class, and now he will be on a college campus much sooner. Ricks seems to be leaning toward the Florida Gators, as he has visited them three times since Billy Napier and the staff arrived in Gainesville. At the same time, cornerbacks coach Corey Raymond has been the primary recruiter. Alabama, LSU, and Miami are the leading programs in contention with the Gators to land Ricks.
---
–4-star ATH Malachi Coleman, East High School, Lincoln, Nebraska.
Malachi Coleman, the nation's No. 57 player, is staying at home. as he committed to the Nebraska Cornhuskers on Saturday. This commitment is excellent news for the Cornhuskers, considering how the season has gone. Interim head coach Mickey Joseph was tremendous in his recruitment, which began when he was an assistant under former head coach Scott Frost. Coleman stated, "Mickey is going to be there, and I know that. " That's why I'm here." Coleman had narrowed his final list to Oklahoma, Nebraska, Ole Miss, Oregon, Georgia, Michigan, and USC. His commitment is big news for the Cornhuskers and Joseph as well.
---
–4-star S Chris Peal, Providence Day High School, Charlotte, North Carolina.
The defending national champion Georgia Bulldogs kept at and now have a commitment from Chris Peal. He had visited Athens last spring, and the Bulldogs pursued him throughout the summer and fall, with that paying off. Georgia's good news is unfortunate for the Michigan Wolverines, N.C. State Wolfpack and South Carolina Gamecocks, as they were in on him but ultimately missed out.
---
–4-star OT D.J. Chester, Eagles Landing Christian Academy, McDonough, Georgia.
DJ Chester was one of a few recruits at Williams-Brice Stadium watching the South Carolina Gamecocks and the Texas A&M Aggies on Saturday. He has officially visited LSU and Ole Miss while also visiting Florida State unofficially. This weekend he will be at the Big House to see the Michigan Wolverines when they host the Michigan State Spartans. The On3 Recruiting Prediction Machine and the 247 Crystal Ball Predicter have the Tigers as overwhelming favorites to land him. I, too, believe he is leaning toward LSU, especially with their recent big wins against Florida and Ole Miss.
---
–5-star 2024 CB Charles Lester III, Riverview High School, Sarasota, Florida.
Charles Lester is the nation's top-rated corner, has plenty of offers, and has narrowed those to a list of his top six schools. Those Florida State Seminoles, Georgia Bulldogs, Ohio State Buckeyes, Florida Gators, Alabama Crimson Tide, and the Michigan Wolverines. The Seminoles, however, have made quite an impression on him, from his relationship with head coach Mike Norvell to his stating that Florida State is his "dream school" and to Norvell making a helicopter landing at his high school. But, of course, Florida State isn't the only school that has visited him. The Bulldogs were at his game on Friday night, which included head coach Kirby Smart and the Wolverines, and safeties coach Jay Harbaugh saw him as well. So it is still early in the recruiting process for Lester, but I think the Seminoles have the early lead.