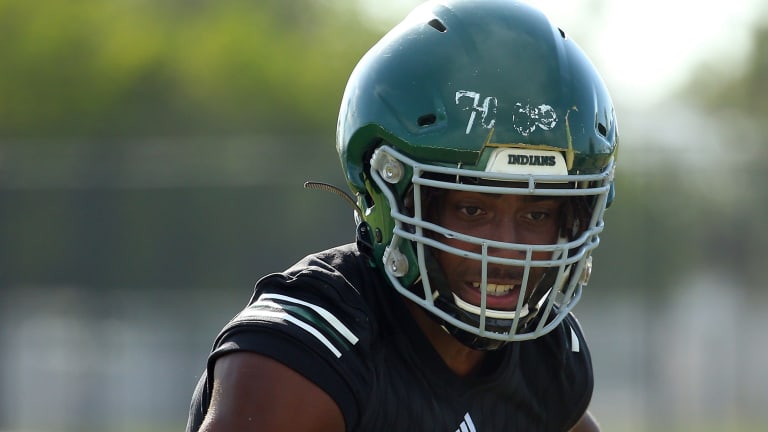 Dijon Johnson, Damon Wilson, Other Top Talent on Important Visits This Weekend
The big college football weekend is still 24 hours away, but recruiting news never stops, and that is what happened last night when a top 100 commit made his decision. So let's look at that and check in on some recruiting news.
---
–4-star CB Dijon Johnson, from Tampa, Florida, committed to the Florida Gators last night. That was great news for the Gators, as Johnson was an Ohio State commit early on. However, the Miami Hurricanes were also in on Johnson, but the Gator's class now gets more potent and is an excellent get for head coach Billy Napier.
–4-star DE Damon Wilson, from Venice, Florida, is down to his top three Schools: Alabama, Georgia, and Ohio State. This news comes after the Texas Longhorns and Miami Hurricanes were eliminated from consideration. However, he has said he has good relationships with the Crimson Tide, Bulldogs, and Buckeyes. He said the scheme, his liking the coach, and if he can see himself living there for three or four years will be the three criteria that help him determine his final decision. The Bulldogs seem to be in the lead for him right now.
–4- star DE Daevin Hobbs, from Concord, North Carolina, is a kid who keeps rising in the rankings. Hobbs also plays basketball and last season played some snaps at tight end and h-back. He has taken an official visit to North Carolina. He has also been to Ohio State and Michigan and has also been to SEC Country by visiting Tennessee and Auburn. Speaking of the SEC, Georgia and Alabama are also in the mix. The Tar heels seem to be the favorite, but the SEC schools could sway him away from his home state.
–4-star RB Jeremiyah Love, from St. Louis, Missouri, will be at Notre Dame this weekend for the Fighting Irish's matchup with Stanford. This visit will be his third to South Bend, as he was there in September and once in the Summer. Texas A&M, Michigan, and Oregon interest Love, but Notre Dame has been the favorite for a while now. A substantial Irish win could be just what they need to secure his commitment finally. 
(Editor's note - Love committed during his visit - interview below)
–4-star OL Spencer Fano, from Provo, Utah, the 53rd ranked prospect in the nation, just received an offer from the Clemson Tigers. He will visit Clemson next month, either when they play Louisville or Miami. The Tigers now join BYU, Michigan, Oregon, and Utah as the top schools in the mix. However, BYU seems to be in the lead since he is from Provo and his brother Logan is a freshman edge rusher for the Cougars.