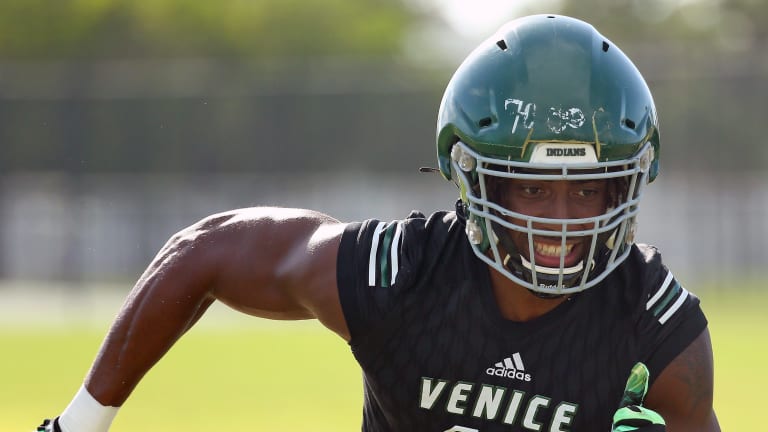 DJ Chester Commits To LSU, Damari Brown's Top Four, and Other Names in the News
With a big weekend of college football coming up, we take a look at some of the latest developments in the recruiting world. In this article, we take a look at the recruitments of DJ Chester, Damon Wilson, Aydin Breland, Damari Brown, and Kaleb Smith.
---
Names in the News
–4- star OT DJ Chester, Eagles Landing Christian Academy, McDonough, Georgia.
DJ Chester, the No. 55 overall and No. 7 offensive tackle prospect in the 2023 class, committed to the LSU Tigers on Thursday morning. He chose LSU over the Auburn Tigers, Florida A&M Rattlers, Florida State Seminoles, Michigan Wolverines, and Ole Miss Rebels. With the addition of Chester, LSU now has the fourth-ranked recruiting class, which includes three other touted offensive linemen. Chester said LSU felt like home and didn't want to leave. In addition, he developed a relationship with offensive line coach Brad Davis, who played a massive role in his recruitment. He said, 
"Coach Davis is an amazing coach, another father figure. I can trust that man with my life."
Getting Chester is excellent news for Brian Kelly and the Tigers as they prepare to host the Alabama Crimson Tide this weekend.
---
–4- star EDGE Damon Wilson, Venice High School, Venice, Florida
Damon Wilson is the No. 2 edge rusher in the 2023 class, and it seems he is down to three schools. Those are the Alabama Crimson Tide, Georgia Bulldogs, and Ohio State Buckeyes. He will be in Athens this weekend for the Bulldog's showdown with the Tennessee Volunteers. He was in Athens previously in October when they hosted Auburn. However, the On3 Recruiting Prediction Machine has the Buckeyes as the favorites, and he was in Columbus in September when they hosted Notre Dame. The Bulldogs can overtake the Buckeyes with a big win against the Volunteers this weekend.
---
–4- star 2024 DL Aydin Breland, Mater Dei High School, Santa Ana, California.
Aydin Breland is the No. 64 prospect in the 2024 class and was at Kyle Field this past weekend to see the Texas A&M Aggies host the Ole Miss Rebels. He is one of the top DL prospects in the class and has multiple offers. Some include the Alabama Crimson Tide, Michigan State Spartans, Notre Dame Fighting Irish, Oklahoma Sooners, Oregon Ducks, and USC Trojans. In addition, Breland is one of a dozen prospects scheduled to be in Athens this weekend for the Tennessee and Georgia showdown. The On3 Recruiting Projection Machine shows a tight race between the Trojans, Ducks, Sooners, and Aggies. However, don't count out the Bulldogs from getting into the race.
---
–4- star CB Damari Brown, American Heritage, Fort Lauderdale, Florida.
Damaris Brown is the No. 25 cornerback in the 2023 class and has announced that he plans to focus on four schools. Those are the Alabama Crimson Tide, Clemson Tigers, Florida State Seminoles, and Miami Hurricanes. The Hurricanes are the favorites, according to predictions from On3 and the 247 Sports Crystal Ball. Regarding his recruitment, Brown said, 
"Pretty much Miami still in there. Florida State is making its biggest push, too. Alabama is up there real close."
If he chooses the Hurricanes, he will add to their already strong class, currently ranked 7th. Keep an eye on the Seminoles, though.
---
–3-star WR Kaleb Smith, Reedy High School, Frisco, Texas.
Kaleb Smith is the No. 146 wide receiver prospect in the 2023 class. He has been committed to the Texas Tech Red Raiders since February. Smith is one of four wide receivers in a Tech recruiting class currently 19th in the nation. However, the Notre Dame Fighting Irish recently offered him, and he will be in South Bend this weekend when they host the Clemson Tigers. This looks to be a two-team recruiting battle between the Red Raiders and the Fighting Irish. Smith said, 
"As of now, it's just between Tech and Notre Dame. As I said, I haven't been getting the right recruiting. I've been committed to Texas Tech since early February of last year, so a lot of schools kind of have my door closed off. But Notre Dame came in, and they just jumped right on it." 
The Red Raiders are still the favorites to land him, but just like everything about Notre Dame, it will be interesting to keep an eye on.