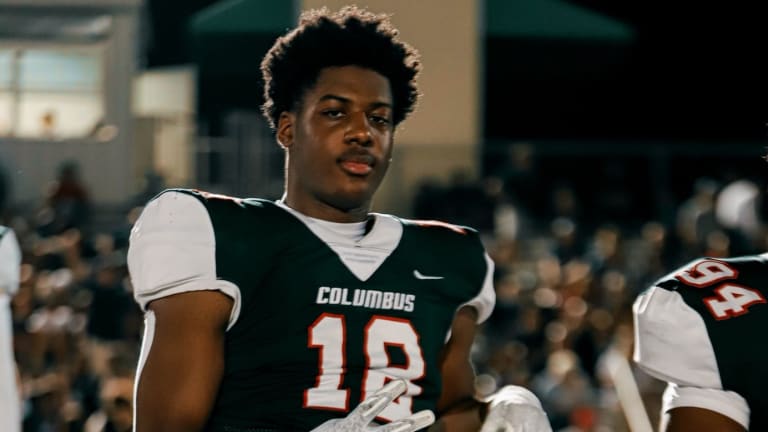 Dylan Stephenson and Michael Uini Name Top Ten, Mekhai White Sets Commitment Date and Other Names in the News
Names in the News
---
–Terry Bussey, 2024 WR, Timpson, Texas (Timpson HS), #90 nationally, #7 athlete, and #17 in TX
Four-star 2024 Timpson (TX.) wide receiver Terry Bussey received two offers on Thursday. His first was from the Duke Blue Devils, and the second was from the Michigan State Spartans. Bussey, who was named Mr. Texas Football by Dave Campbell's Texas Football, now holds 17 offers. However, the Texas A&M Aggies are the early favorites to land him. According to the On3 Recruiting Prediction Machine, they have a 52% chance of getting him to college Station. So, early on, I like the Aggies here too.
---
–Dylan Stephenson, 2024 EDGE, Miami, Florida (Columbus HS), #92 nationally, #8 edge, and #16 in FL
Miami (FL.) 2024 four-star edge Dylan Stephenson has named his top ten schools. Those schools are the Auburn Tigers, Florida State Seminoles, Georgia Bulldogs, Louisville Cardinals, Miami Hurricanes, Michigan Wolverines, Michigan State Spartans, Nebraska Cornhuskers, Penn State Nittany Lions, and Tennessee Volunteers. Regarding his top ten schools, he said, 
"Those 10 schools have shown a lot of interest in me, and I have great relationships with all the coaching staff." 
Stephenson has already visited the Bulldogs, Cardinals, Hurricanes, Seminoles, and Wolverines. In addition, he will visit the Spartans on January 14th and then head to Happy Valley to visit the Nittany Lions on January 28th. The Hurricanes are the current leaders to land him, as they have a 46% chance, according to the On3 RPM.
---
– Michael Uini, 2024 OT, Copperas Cove, Texas (Copperas Cove HS), #112 nationally, #6 offensive tackle, and #20 in TX
Michael Uini named his top 10 schools on Thursday. Uni, a four-star 2024 offensive tackle from Copperas Cove (TX.), is the sixth-rated offensive tackle in the class. His top 10 schools are the Alabama Crimson Tide, Baylor Bears, Florida Gators, Georgia Bulldogs, Michigan Wolverines, Nebraska Cornhuskers, Oregon Ducks, TCU Horned Frogs, Texas Longhorns, and USC Trojans. Regarding his top ten schools, he said, 
"As of right now, I just went off of the connections. The schools that keep in touch with me, hit me up from (then) and there." 
He also said the Horned Frogs and Longhorns are the schools that reach out. The Longhorns are the favorites right now, with a 41% chance of landing him, according to the On3 RPM. I like the Longhorns here too.
–Michael Van Buren, 2024 QB, Baltimore, Maryland (St. Francis Academy), #103 nationally, #8 quarterback, and #3 in MD
Michael Van Buren received an offer from the Vanderbilt Commodores on Thursday night. Van Buren, a four-star 2024 quarterback from Baltimore (MD.), is the third-ranked player from Maryland who named his top eight schools recently. Those schools are the Cincinnati Bearcats, Maryland Terrapins, Miami Hurricanes, Oklahoma Sooners, Oregon Ducks, Penn State Nittany Lions, Virginia Tech Hokies, and Wisconsin Badgers. He has visited the Nittany Lions three times, and they are the current leaders. According to the On3 RPM, they have a 29% chance of landing him. Penn State is the team to beat here.
---
–Mekhai White, 2024 WR, King George, Virginia (King George HS), #402 nationally, #52 athlete, and #7 in VA
Mekhai White will announce his commitment on May 12, his birthday. White, a 2024 three-star wide receiver from King George (VA.), had named his top 15 schools earlier but has narrowed the list. Those finalists are the Arizona State Sun Devils, Georgia Bulldogs, LSU Tigers, Penn State Nittany Lions, North Carolina Tar Heels, Maryland Terrapins, Virginia Cavaliers, and Virginia Tech Hokies. He says he plans to take a lot of visits and be busy in the next few months. According to the On3 RPM, the Nittany Lions are the leaders to land him, with a 22% chance, followed by the Tar Heels at 19%. Right now, I like the Nittany Lions too.