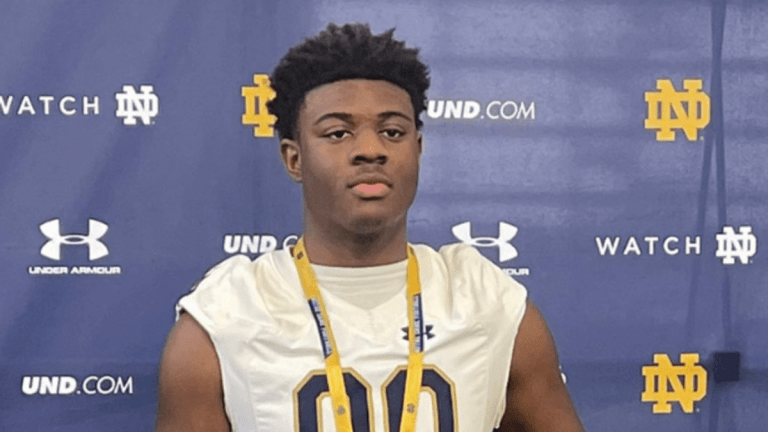 Farrell's Latest Recruiting Rumors: Justin Scott, Nyckoles Harbor, Ryan Wingo, and More
Here are the latest recruiting rumors I'm hearing.
---
— 2024 DT Justin Scott will take his time now and I think a summer decision is more likely. I've been told the 5-star from Illinois was set to commit to Notre Dame this week but pumped the brakes and will still visit Notre Dame and likely Alabama, as well as new offer Georgia. I still think he's a Midwest kid in the end, but he is smart in slowing it down rather than committing someplace he's not sure of on Jan. 31.
— 2023 5-star ATH Nyckoles Harbor put Boulder, CO on his Instagram as his location, but don't read much into that. This seems to be something being done lately as 5-star DB Cormani McClain put Tampa, FL on his Instagram when he was actually visiting Colorado and Deion Sanders. Do I think he's visited the Buffs? I kinda do, even though it's been denied. Does it matter? In the end, I don't think it will, as Oregon is up next and I've heard it's down to the Ducks and South Carolina Gamecocks. Now don't get me wrong, Colorado assistant coach Tim Brewster works magic with tight end recruits, but until I know he's been there, and has serious interest I'm going with the Ducks in a slight upset over the Gamecocks.
— Missouri 5-star WR Ryan Wingo loved his Texas A&M visit and bonded with some of their targets, but I'm not changing a thing in regards to my info that Tennessee has the edge. It's early and he's going to visit a lot of schools, but Josh Heupel's extension is just more ammo for the Vols and he is enamored with his fit in the offense.
— 2025 Ohio QB Ryan Montgomery isn't a lock for the Buckeyes despite some saying he is. Yes, his brother is a 2023 OT who signed in this recent class, and he grew up dreaming of playing for Ohio State like most Ohio players, but Georgia, Tennessee, and Michigan are of great interest. It's easy to predict him to Ohio State but there's a lot more in play here.