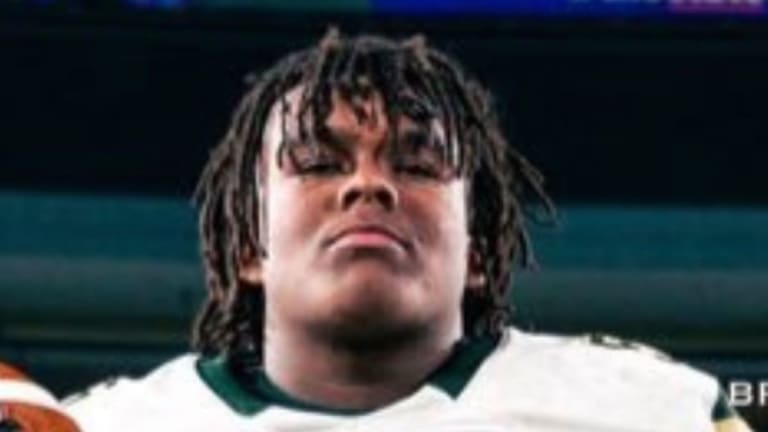 Four-Star 2024 OL Waltclaire Flynn Jr. Updates Recruitment
Waltclaire Flynn Jr. has proven to be one of the best interior linemen in the 2024 class, and the Grayson High School product has an argument to be the best center in the nation. With Flynn showcasing his talent on the field over the last two seasons, colleges have started to notice. Schools such as Georgia, Tennessee, Florida State, LSU, Miami, and many more have offered the talented lineman. 
While schools from all over the country have pushed for the big man, two conferences seem to be leaving an impression on him specifically. "Every team that has offered me [has reached out and made me a priority]. I have been talking to the SEC and ACC teams the most," says Flynn.
The teams pushing for Flynn include the in-state SEC school, Georgia. "Georgia's push has been strong. Coach (Stacy) Searels is a very good coach and easy to understand. He's very energetic and wants dawgs on his line, meaning he doesn't care about size; he cares about who is going to go be a dawg."
A handful of other SEC schools have made a significant push for the interior lineman as well. One of those has been Tennessee during a resurgent year. "The Tennessee visit was really cool. I had a great time there. Coach (Glen) Elarbee is a real cool coach and fun to be around."
After a spring visit to LSU, Flynn followed it up as part of the visitor list for the Tigers' showdown with top-10 Tennessee. "How electric it was at a morning game stood out to me. Even though they lost to Tennessee, it was still a good atmosphere." 
He visited the ACC's version of the Tigers on his visit to Clemson for their game against North Carolina State, which brought ESPN College Gameday and a star-studded list of visitors in. "I like how they're family oriented and the visit went great."
Florida State has also been a factor in this recruitment and received a visit over the summer. "The Florida State visits have been fun. It's always good talking to Coach (Alex) Atkins and Coach (Mike) Norvell."
With several schools pushing to land Peach State product, Waltclaire Flynn Jr. is in no rush to make a decision. "I probably want to make a decision going into my senior year," stated the four-star. 
While Flynn is still looking at all his options, he knows what he wants in a school. "I'm looking for that connection with the coaches, players, and fans and who is going to help me become the best person and player I can be. I want to feel wanted." Whichever school he picks, he says that college will get "a person that isn't scared to work, a great person on and off the field, and just a dawg on the field."   
---
Keep up with all of the latest recruiting coverage at mikefarrellsports.com/recruiting