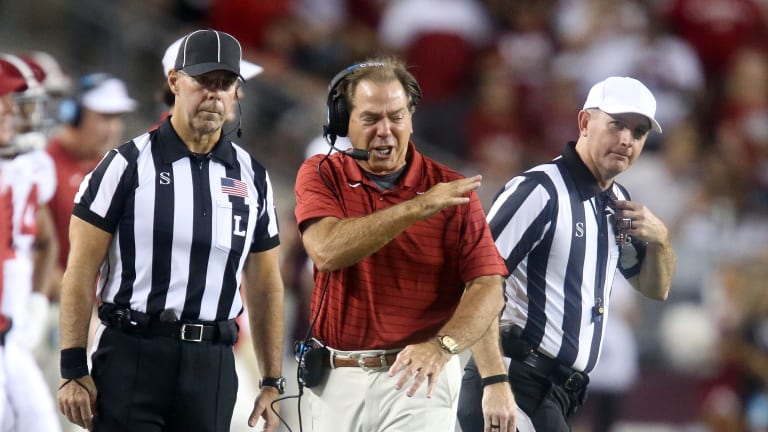 How Is DB-U Doing on the Recruiting Trail in the 2023 Cycle?
Following a decade of dominance in recruiting, Alabama looks to cement another all-time great class this year with their DB class. 
---
The University of Alabama has been known for stellar defensive backs under Coach Nick Saban. You could even argue that the Tide owns the coveted title of ¨DBU. ¨ Coach Saban is known for coaching his DBs, which is a bonus when recruiting them. Who would not want Nick Saban coaching your position? The Tide has continued its dominant DB recruiting during this cycle, reeling in one of coach Saban's best classes. We will not know if this DB class is the best until they take the field at Bryant-Denny Stadium, but with three of the best DBs in the country committed already, there is a good chance it could be.
---
5 Star Safety Caleb Downs- Mill Creek HS; Hoschton, Georgia.
Headlining the Crimson Tide DB class is the top player in the state of Georgia, safety Caleb Downs. With ideal size, tiger-like instincts, and ball skills out of this world, Caleb Downs is one of the country's most college-ready prospects. The Tide beat out Ohio State, Notre Dame, and SEC rival Georgia for Downs. His brother, Josh Downs, plays Wide Receiver at North Carolina, but UNC was never a major threat down the road. The three schools it came down to were the Dawgs, Buckeyes, and Crimson Tide. Downs and his family visited Alabama the weekend of June 17th, and they were blown away. Reportedly, the Downs family could not find a negative when visiting the Tide. The following weekend Downs and his family paid a visit to Ohio State. Many believed the Buckeyes would end it with the last OV, but that was not the case. Downs and his family sat back and took the time to mull over his options. While mulling over his finalists, his friend, Justice Haynes, committed to the Tide. Immediately after his commitment, Haynes began recruiting Downs to Alabama. Georgia had seemed to fall out of the race, and Downs announced his commitment to Alabama on July 26th.
---
5 Star Corner Tony Mitchell- Thompson HS; Alabaster, Alabama.
Standing 6-foot-1 and around 200lbs, Tony Mitchell is a very versatile safety. Many teams recruiting Mitchell view him as more of a Safety/Nickel, and it appears that will be his position in Tuscaloosa. Mitchell plays corner for the three times in a row state champion, Thompson High School. Mitchell seemed to be an Alabama lock since his decommitment from Tennessee as a Freshman. So many factors played into that thought. Only one hour from Tuscaloosa, he was there almost every weekend for games, and teammate Jeremiah Alexander signed with the Tide in the 22´ cycle. But, during the offseason, Mitchell visited Texas A&M multiple times, and it seemed the Aggies had made a move for the star DB. Mitchell continued to visit College Station, and a commitment to A&M seemed inevitable. Early in the summer, Mitchell visited Tuscaloosa for the day, and the Tide made a huge move. The next day, Mitchell was back in Tuscaloosa for a 7v7 tournament with his High School. Not too long after, Mitchell announced his commitment to the Tide. Mitchell visited the Aggies for their annual summer pool party. Following the visit, he told the public that he remains firm with his pledge to Alabama.
---
5 Star Corner Jahlil Hurley- Florence HS; Florence, Alabama.
Long and lanky are two words to describe Alabama DB commit Jahlil Hurley. Hurley was the first DBs, and one of the first players to hop on board for the Tide this cycle. Hurley is a very vocal recruiter for the Tide and is always in the ear of other recruits. Hurley was one of the top overall players at the OT7 7v7 this past summer. He locked up some of the best receivers in the country. Earlier this year, there was a bit of buzz that the elite prospect would flip his commitment to Auburn. At that point, it seemed inevitable. After phone calls, meetings, and conversations with Alabama coaches, Hurley decided to stick with his commitment to the Tide and will enroll early.
---
3 Star ATH Brayson Hubbard- Ocean Springs HS; Ocean Springs, Mississippi.
Maybe one of the most intriguing players in the current class. Brayson Hubbard plays quarterback for Ocean Springs HS down in Mississippi, but Coach Saban saw his potential as a safety for the Tide. Hubbard camped in Tuscaloosa earlier in the summer and blew the staff away with his athleticism and instincts. Alabama offered Hubbard a committable offer after his camp performance, and he committed not long after. Hubbard was also a Southern Miss baseball commit, so he backed off that pledge when committing to the Tide. Hubbard brings a lot of grit and athleticism to the already outstanding Alabama DB class.
---
Who is next for the Tide at DB?
Despite having four on board, Coach Nick Saban and the Crimson Tide are still on the hunt for more DBs this cycle. Guys like Bryce Thornton, Cormani McClain, Malik Muhammed (Texas commit), and others are still high on the Alabama wish list. There is always that player that nobody links to Alabama, who pops up close to or on early signing day. Alabama is battling Florida and Miami (FL) for McClain, and it looks like the Tide are also in a battle with the Gators for Thornton. Regardless of who the Tide fills the final spots with, this DB class will finish in recruiting history.