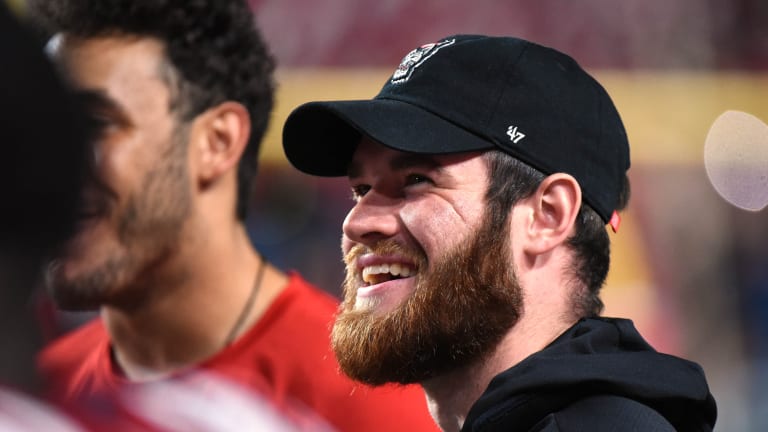 Illinois, Notre Dame, Mizzou, where will Devin Leary Land?
Early this morning, QB Devin Leary announced his intention to enter the transfer portal as a graduate transfer, following a 4-year career at NC State. Let's take a look at the rumored landing spots for Leary, and gauge which ones make the most sense.
---
- Illinois
Illinois has too many connections going for them not to make sense. 
Starting out, NC State head coach Dave Doeren coached under Illini head coach Brett Bielema in his Wisconsin staff. In the past, including recent years, Doeren has filed transfers from his team to Bielema. The reasoning for this is trust. Doeren is a coach who genuinely cares about his players, and he knows they'll be treated fairly in a Bielema ran system. 
Another point worth noting, Illini WR coach George McDonald was on NC State's staff for the first few years of Leary's career. As the passing-game coordinator for NC State, he worked intimately with Leary. Given Leary's numbers as a sophomore, it's safe to say that relationship was mutually beneficial. 
Bielema also has a positive track record with transfer QBs in his career. In the last offseason, Illinois took in Syracuse transfer Tommy Devito. After having a great sophomore year, Devito was injured as a junior, and with poor pass protection, struggled to stay on the field for the rest of his time at Syracuse. Bielema and new offensive coordinator Barry Lunney Jr built a game plan around Devito's strengths, running a tempo-based, pro-style system. Devito also benefitted from a mostly clean pocket. Having a great offensive line this season, Devito passed for north of 2,000 yards as a starter this season. During his time at Wisconsin, Bielema also had some success with an NC State graduate transfer in Russell Wilson. The transfer QB development pitch carries significant weight for a QB trying to play his way into the NFL draft after next season.
Lastly, Illinois has one more connection working in their favor, family. Currently on the Illini roster is redshirt freshman QB Donovan Leary, the little brother of Devin. The younger Leary was part of Bielema's first full recruiting class at Illinois and has a chance to be the Illini QB of the future. However, he is probably still a year away from being a surefire starting QB. The sales pitch of coming in, developing as an NFL prospect, and practicing with and helping your younger brother develop into a power-five starter after you graduate is a hell of a pitch. With Bielema's catchphrase at Illinois being FamILLy, the family connections in their program help them a lot. 
Lastly, it's also worth noting that Illinois has improved significantly in two years under Brett Bielema. Illinois' last three seasons are 2-6, 5-7, and now 8-4 (with a trip to the Reliaquest Bowl). With the program trending upwards, the pitch of coming in and being their super-star that helps lead the program to new levels makes Illinois a very intriguing landing spot. 
---
- Notre Dame
Following a mixed first season for new Notre Dame head coach Marcus Freeman, there is significant pressure for his staff to add a high-upside transfer through the portal. 
Notre Dame QB Drew Pyne seriously struggled in his first season as a starter, and following the end of the regular season, Pyne decided to enter the transfer portal. This puts Notre Dame in pursuit of a new signal-caller. Being Notre Dame, they will likely have no shortage of options. I expect them to take a swing at some big names, including Devin Leary. 
Notre Dame will also be linked to names like Sam Hartman (If he enters), DJU, Haynes King, Graham Mertz, Zach Calzada, Kedon Slovis, and more. If a surprise QB hits the portal they will be on top of it as well. 
The connections aren't really there for Notre Dame, but their NIL sell will get their foot in the door with anyone. 
The one issue I see with this fit is the Freeman staff's track record with QBs. Notre Dame hasn't had good QB play under head coach Marcus Freeman. Offensive coordinator Tommy Rees has been around South Bend for a while now and has sent a handful of QBs to the draft. Unfortunately for them, none of these QBs have performed well in the NFL, many of them, such as Deshone Kizer, and Ian Book, have been massive busts. Leary wants to make the NFL, and stick around. As a transfer, it's all business, and it's unlikely he'd want to go play for a coach with a sketchy track record of QB development. 
---
- Mizzou
Mizzou head coach Eli Drinkwitz was formerly the offensive coordinator at NC State back in the day. Drink was the primary recruiter that got Devin Leary to commit to NC State as a highly coveted four-star prospect. Shortly after Leary got on campus, Drinkwitz left for the Missouri head coaching position. Drink's tenure at Mizzou has not been good. Mizzou's best season's under him have been 6-7 wins. However, Mizzou has placed a few QBs in the league (Drew Lock) and has a lot of young talent on the roster. It's questionable if that talent will develop, but adding Devin Leary to the roster will surely help expedite that process. 
Could Leary link back up with his former OC? It's surely a possibility, and Mizzou will undoubtedly recruit him hard. 
---
Other possibilities
There are many other schools that will be looking for a new signal caller. Listed below are programs that could give Leary a look, depending on how their roster situation changes over the next few weeks. Not all of them will pursue his services, but many of them have some serious need for the QB position. 
Alabama
Florida
Auburn
Louisville
Cincinnati
Wisconsin
Ohio State
Oregon
Oklahoma
Oklahoma State
Mississippi State
Rutgers
Kentucky