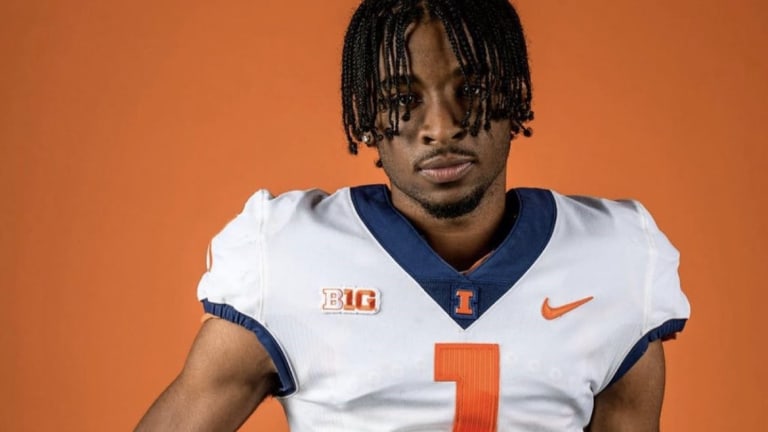 I'Marion Stewart's Top Seven, Colin Simmons Visits Georgia and Other Prospects in the News
Prospects in the News
---
–Anthony Carrie, 2024 RB, Tampa, Florida (Carrollwood Day HS), #145 nationally, #13 running back, and #23 in FL
Anthony Carrie will be visiting the Miami Hurricanes this weekend. In late November, the four-star running back from Tampa (FL.) named the Hurricanes one of his top 12 schools. That list also included the Alabama Crimson Tide, Arkansas Razorbacks, Florida Gators, Georgia Bulldogs, Michigan Wolverines, Michigan State Spartans, Notre Dame Fighting Irish, Oklahoma Sooners, Ole Miss Rebels, Penn State Nittany Lions, and South Carolina Gamecocks. However, the Georgia Bulldogs are the favorites to land him. The On# Recruiting Prediction Machine gives them a 31% chance of landing him, while the Hurricanes are at 5%. Therefore, the Bulldogs are the team to beat.
---
–Aeryn Hampton, 2024 CB, Daingerfield, Texas (Daingerfield HS), #77 nationally, #8 cornerback, and #12 in TX
Aeryn Hampton will be in Lincoln this weekend for a visit with the Nebraska Cornhuskers. This comes after he was in Tuscaloosa last weekend for the Alabama Crimson Tide Junior Day. Hampton, a four-star cornerback from Daingerfield (TX.), is the No. 12 player in Texas. He was committed to the Texas Longhorns before he backed off his pledge on November 29th and maned his top 10 schools. Those schools were the Cornhuskers, Crimson Tide, Longhorns, Colorado Buffaloes, LSU Tigers, Michigan Wolverines, Michigan State Spartans, Ole Miss Rebels, Oregon Ducks, and TCU Horned Frogs. The On3 RPM has Texas as the favorite to land him, with a 58% chance of doing so, followed by Alabama at 39%.
---
–Colin Simmons, 2024 EDGE, Duncanville, Texas (Duncanville HS), #5 nationally, #1 edge, and #1 in TX
Colin Simmons, the No. 1 edge and No. 1 player in Texas, was in Athens last week to visit the Georgia Bulldogs. The Duncanville (TX.) five-star saw the Bulldogs celebrate their second consecutive national championship. The Alabama Crimson Tide, USC Trojans, and Tennessee Volunteers are also trying to get the coveted edge on their campuses. Crimson Tide head coach Nick Saban was in Duncanville, and he is trying to get him to Tuscaloosa. 
"I just got done talking to Nick Saban yesterday. He was telling me I'm a dog, and I need to come down there to see what Alabama is about. When Saban walked into that room every coach looked up and their mouths dropped." 
Simmons is on every school's wish list, and the Bulldogs and Crimson Tide will be two schools to watch.
---
–I'Marion Stewart, 2024 ATH, Bolingbrook, Illinois (Bolingbrook HS), #264 nationally, #31 athlete, and #5 in IL
Four-star Bolingbrook (IL.) athlete I'Marion Stewart has revealed his top seven schools. The No. 5 player in Illinois has the Illinois Fighting Illini, Michigan Wolverines, Nebraska Cornhuskers, Ole Miss Rebels, Oregon Ducks, Tennessee Volunteers, and Wisconsin Badgers as his top schools. Regarding those schools, he said, 
"It kind of came down to a mixture of who is recruiting me the hardest and who I have the most interest in. Other than Ole Miss, I have visited each school, so I feel good about the seven programs. The coaches at each school keep in contact with me, and all seven show a lot of love." 
Stewart also said that the Badgers, Ducks, Volunteers, and Wolverines would get an official visit. These schools should be considered leaders right now.