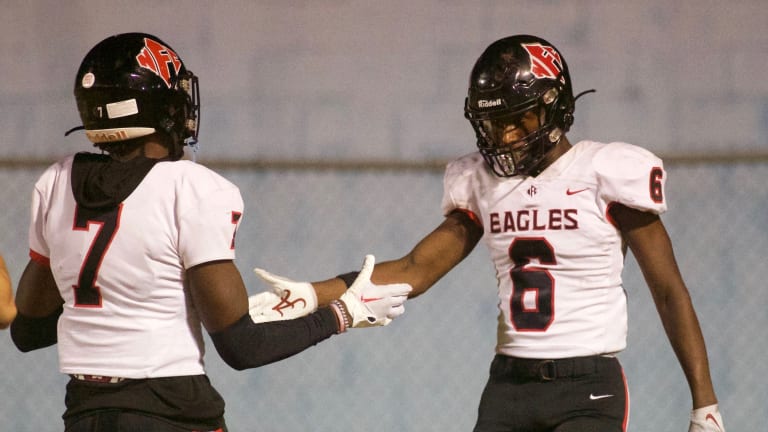 Isaac Smith Taking Visits, the Traylon Ray Decision, and Other Names in the News
Rounding out this Thursday, there have been some exciting developments in the recruiting world. In this article, we'll cover the latest on the recruitments of Isaac Smith, Traylon Ray, Jarriett Buie, Kamari Moulton, and Cole LaCrue.
---
Names in the News
-S Isaac Smith (#160 nationally, #11 S)
Isaac Smith is a highly touted safety out of Mississippi, holding nearly 30 offers from mostly Power 5 schools. Although many other schools are still in contention, Smith currently has predictions for Ole Miss, Mississippi State, and LSU. Ole Miss was one of his first offers and his father (Reggie Smith) was a former linebacker for the Rebels. Mississippi State was another early offer for Smith and has done well thus far when he has visited campus, still holding a solid spot in his recruitment. However, LSU is the team with the most recent prediction as he just earned their offer and will be on campus for the Alabama matchup. I wouldn't be surprised if Smith didn't end up at any of these schools, as his two official visits have been to Texas A&M and Vanderbilt but will likely use his last three officials to visit the two Mississippi schools and LSU. LSU currently has the edge, but more visits can mix things up even further.
---
-WR Traylon Ray (#336 nationally, #46 WR)
Traylon Ray is set to decide tomorrow, deciding between West Virginia, Tennessee, and Mississippi State. West Virginia currently holds the momentum following a strong visit two weeks ago. We also have to consider how Mississippi State and Tennessee each have multiple WR commits ranked higher than all of WVU's but one (Rodney Gallagher), so the team with the biggest need for a wideout of Ray's caliber is WVU. I expect the decision to be the Mountaineers and would be shocked otherwise. 
---
-WR Jarriett Buie (#1147 nationally, #157 WR)
The speedy receiver out of Florida is seen as an Iowa lean following an official visit last weekend. Jarriett Buie runs track and hopes to utilize his versatility at the next level. Iowa is in a prime position to land the wideout, as they are also arguably his best offer.
---
-RB Kamari Moulton (#1452 nationally, #94 RB)
Kamari Moulton has been an FAU commit since late August, but received his Iowa offer in mid-October, visiting just two weeks later alongside Jarriett Buie. Similar to Biue, Iowa is arguably his best offer and it seems like he was using FAU as a placeholder until he received a better offer. Unless a more attractive offer comes in, a flip to the Hawkeyes is imminent.
---
-QB Cole LaCrue (#1723 nationally, #99 QB)
Cole LaCrue's recruitment has heated up this past week, earning offers from Colorado, Tulane, and Wisconsin all in the same day. Wisconsin currently has the momentum, as the Big 10 school has dialed onto LaCrue given the lack of uncommitted quarterbacks, but Colorado is a team in contention as well. LaCrue will be on campus this weekend for the Buffaloes and is an in-state recruit for them, so things could change in the next few days.