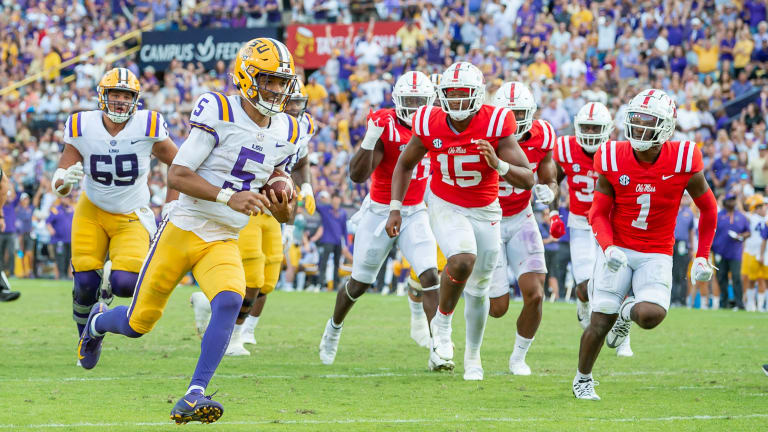 Julian Sayin, DJ Lagway, and Collin Simmons Highlight List of Gameday Visitors
There are some big games today, which means many top recruits will be in attendance and on campus to watch them. So let's see which recruits are heading where.
---
Names to Watch
–4-star 2024 QB DJ Lagway, Willis High School, Willis, Texas.
DJ Lagway will be in Death Valley to visit Clemson as they take on Syracuse. He is exceptionally high on Texas A&M and Florida, but Clemson has a chance to make an impression on him this weekend. But, of course, a big Tiger win would do that. However, he has also scheduled a visit to USC and will be at The Coliseum on November 26th when they host the Notre Dame Fighting Irish. The Trojans are at the top of his list due to Lincoln Riley's reputation with quarterbacks and his offense. Lagway says he also has a good relationship with Riley and talks with him every other day and that USC is one of his favorite schools right now. All of this is excellent news for the Trojans.
---
–4-star RB Kedrick Reescano, New Caney High School, New Caney, Texas.
Kedrick Reescano is the No. 179 ranked player, and No. 7 ranked running back in the 2023 class. He has been a Michigan State recruit since January, but that hasn't stopped other schools from pursuing him. Besides the Spartans, he visited Arkansas and was at Ole Miss last weekend. He will be at Oklahoma State this weekend when they face the Texas Longhorns. Someone close to his recruitment says despite his commitment to the Spartans, it is a three-team race between them, the Rebels and the Cowboys.
---
–5-star 2024 QB Julian Sayin, Carlsbad High School, Carlsbad, California.
Julian Sayin is undecided, but the Georgia Bulldogs and LSU Tigers are the front runners for him and have been for some time. He visited Death Valley when the Tigers played New Mexico State. Sayin said, 
"LSU set the bar high on that visit." 
He also said that he is close to and has a real connection with quarterbacks coach Joe Sloan. However, he will visit the Alabama Crimson Tide this weekend when they host the Ole Miss Rebels. He was in Tuscaloosa twice over the summer but is intrigued to see what the game day atmosphere feels like. Wherever he chooses to go, it looks like he will be taking his talents to the SEC.
---
–5-star 2024 DE Collin Simmons, Duncanville High School, Duncanville, Texas.
Collins Simmons will be at Amon G. Carter for the second weekend in a row to watch the TCU Horned Frogs take on the Kansas State Wildcats. The Horned frogs have emerged and are coming on strong for Simmons. However, the LSU Tigers are high on him as well, and the On3 Recruiting Prediction Machine has them as the leaders for Simmons. There is no doubt that all of the in-state schools are in on him, but the LSU Tigers look to be the early favorites to land him.
---
–4-star LB Kaveion Keys, Varina High School, Richmond, Virginia.
Kaveion Keys is a North Carolina commit who chose the Tar Heels over the Penn State Nittany Lions and Texas A&M Aggies. However, he will be at Beaver Stadium for the White Out game against the Minnesota Gophers this weekend. The Nittany Lions have a good relationship with their high school coaches and have kept in contact with Keys. So the fact that he has made an official visit to Happy Valley and is returning is good news for Penn State.