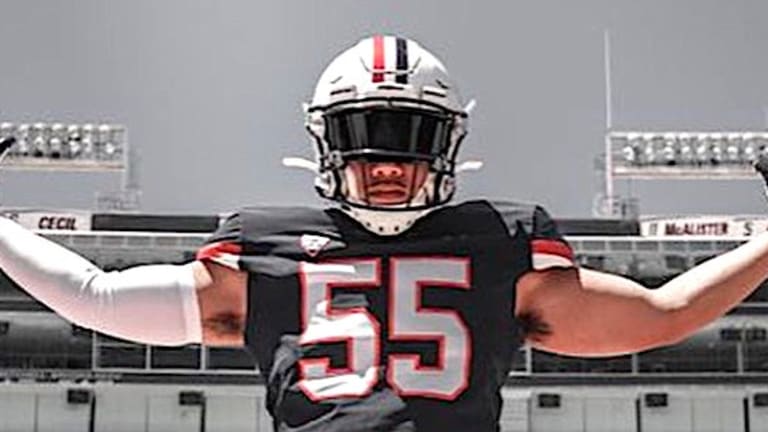 Leviticus Su'a Commits, Khristian Dunbar-Hawkins Commits, and Other Prospects in the News
Prospects in the News
---
–Leviticus Su'a, LB, Santa Ana, California (Mater Dei HS), #403 nationally, #31 linebacker, and #29 in CA
Leviticus Su'a committed to the Arizona Wildcats on Friday night at the Polynesian Bowl. The four-star linebacker from Santa Ana (CA.) Mater Dei chose the Wildcats over the Stanford Cardinal and UCLA Bruins. Regarding the Wildcats, he said, 
"I really like the culture they're building. I think they're building something special, and I'm excited to be a part of that." 
He also said that Arizona head coach Jedd Fisch was directly involved in recruiting him and was one of the first coaches to reach out to him. Su'a joins a Wildcats class ranked No. 36 overall and sixth in the Pac-12.
---
–Brandon Baker, 2024 OT, Santa Ana, California (Mater Dei HS), #56 nationally, #4 offensive tackle, and #6 in CA
Four-star Santa Ana (CA.) offensive tackle Brandon Baker has yet to announce his top schools. However, he does have a few in mind that he wants to visit. Those schools are the Georgia Bulldogs, Miami Hurricanes, Michigan Wolverines, and Ohio State Buckeyes. Another school that could be on there is the Oregon Ducks, as he said they are recruiting him the hardest. About the Ducks, he said, 
"Oregon is probably recruiting me the hardest, and I think everyone knows I like them a lot." 
The On3 Recruiting Prediction Machine also likes the Ducks, giving them an 87% chance of landing him. USC is next with an 8% chance. The Ducks are the team to beat right now.
---
–Khristian Dunbar-Hawkins, 2024 CB, Santa Ana, California (Mater Dei HS), #272 nationally, #26 cornerback, and #25 in CA
Khristian Dunbar-Hawkins committed to the UCLA Bruins on Thursday, choosing them over offers from the Texas Longhorns, Texas A&M Aggies, and Washington Huskies, among others. Regarding the Bruins, he said, 
"I took a couple of visits up there, went to a couple of games, I met a lot of the coaches, I know a lot of the players, I train with some of the players, so it always felt like home. It's not too far, and the family can come out." 
He is the No.25 player in California and becomes the first recruit for Chip Kelly and the Bruins 2024 class.
---
–Miles Lockhart, 2024 ATH, Chandler, Arizona (Basha), #297 nationally, #36 athlete, and #6 in AZ
Miles Lockhart has named his top five schools. The four-star athlete from Chandler (AZ.) has the Ohio State Buckeyes, Oregon Ducks, Northwestern Wildcats, Utah Utes, and Washington Huskies. Regarding his top schools, he said, 
"Those schools have set themselves apart by the way they treat my family, how they communicate with me, and the education they offer." 
Lockhart is the No. 6 player in Arizona and helped his team to a state title this season. He has visited all his top schools and plans to take official visits to all as well. The On3 RPM has the Buckeyes in the lead, giving them a 35% chance of landing him.
---
–Jaylen Mbakwe, 2024 ATH, Pinson, Alabama (Clay-Chalkville HS), #33 nationally, #5 cornerback, and #1 in AL
Four-star Pinson (AL.) athlete Jaylen Mbakwe received offers from the Colorado Buffaloes and Penn State Nittany Lions on Friday afternoon. He is the No. 1 player in Alabama and has been committed to the Alabama Crimson Tide since July. Despite the offers, Mbakwe says he is still committed to the Crimson Tide, 
"I am still a hard commit to Bama." 
He is part of an Alabama 2024 class ranked fifth overall. So the Crimson Tide has nothing to worry about regarding his commitment.