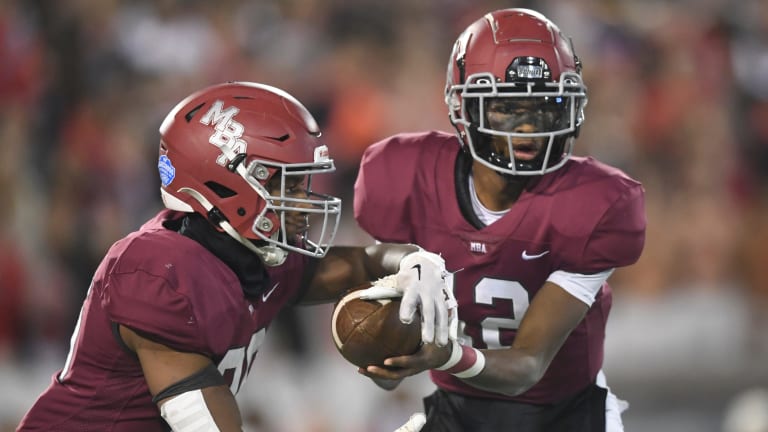 Marcel Reed and Dylan Spencer Flip, Princewell Umanmielen Commits, and Other Names in the News
Names in the News
---
–3-star WR Kenric Lanier, Decatur High School, Decatur, Georgia (#706 nationally, #94 wide receiver, and #68 in GA.)
Kenric Lanier, a three-star wide receiver from Georgia, flipped to the Minnesota Golden Gophers from the Vanderbilt Commodores on Monday night. He had been committed to the Commodores since June before backing off his pledge. Lanier will play in the All-American Bowl in San Antonio, Texas, on January 7 and is the third wide receiver in a Gophers class ranked No. 39 overall.
---
–4-star QB Marcel Reed, Montgomery Bell Academy, Nashville, Tennessee (#297 nationally, #18 quarterback, and #6 in TN.)
Four-star Tennessee quarterback Marcel Reed flipped to the Texas A&M Aggies from the Ole Miss Rebels on Monday night. He had been committed to the Rebels since April but had made a couple of visits to College Station, the last being this weekend. Reed said he joined the Aggies because of the coaching staff and how much head coach Jimbo Fisher showed he wanted him there. His commitment strengthens the Aggies and weakens the conference rival Rebels. The Aggies class is ranked No. 15 overall.
---
–4-star DE Dylan Spencer, C.E. King High School, Houston, Texas (#330 nationally, #46 defensive lineman, and #58 in TX.)
On Monday night, Dylan Spencer flipped to the Texas Tech Red Raiders from the Texas Longhorns. Spencer, a four-star defensive end from Houston, had been committed to the Longhorns since March 15 before backing off his pledge. This a big pickup for head coach Joey McGuire as Spencer had offers from the Longhorns, Arizona State Sun Devils, Baylor Bears, Houston Cougars, LSU Tigers, SMU Mustangs, Texas A&M Aggies, and USC Trojans. Spencer adds to a Red Raiders class ranked outside the top 20 at No. 22 overall. 
---
–4-star WR Micah Tease, Booker T. Washington High School, Tulsa, Oklahoma (#193 nationally, #9 athlete, and #3 in OK.)
Four-star Oklahoma athlete Micah Tease backed off his pledge from the Arkansas Razorbacks on Thursday after being committed to them since July 4. While that is terrible news for them, as he is the third recruit to decommit from them, it is good news for the Texas A&M Aggies, as they now seem to be the leaders for him. Tease was in College Station over the weekend, and the Aggies made an impression on him, as the 247 Sports Crystal Ball and On3 Recruiting Prediction Machine have him choosing them. He will decide on December 21, and it would be a shock if he doesn't select Texas A&M.
---
–4-star EDGE Princewell Umanmielen, Manor High School, Manor, Texas (#250 nationally, #27 edge, and #42 in TX.)
Four-star edge Princewell Umanmielen from Manor Texas committed to the Nebraska Cornhuskers on Monday night after an official weekend visit to Lincoln. They made him one of their biggest targets early in the process, and he now becomes the highest-rated recruit in new head coach Matt Rhule's first Cornhuskers class, ranked No. 48 overall.