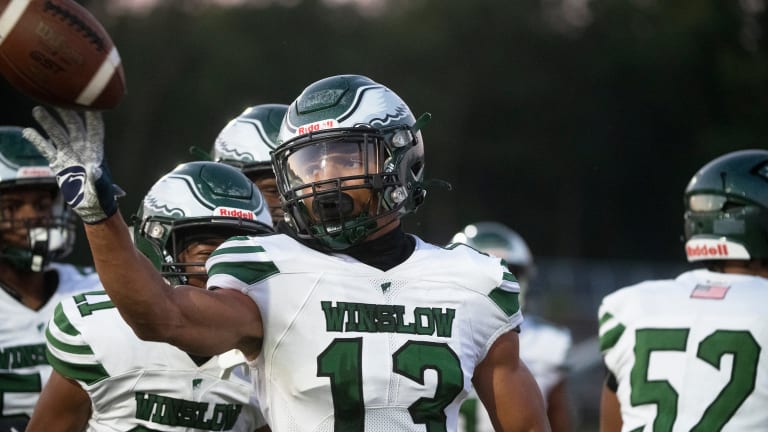 Markis Deal and Tavoy Feagin Commit, Tomarrion Parker to Announce on Monday, and Other Names in the News
Names in the News
–4- star DL Markis Deal, Naaman Forest High School, Garland, Texas.
Markis Deal, the No. 117 overall, No. 16 defensive line, and No. 23 player in Texas committed to the TCU Horned Frogs on Sunday night. He chose them over the Georgia Bulldogs, Texas Longhorns, and USC Trojans. TCU, who beat the Baylor Bears on Saturday, got their second-weekend win by landing Deal. His commitment now gives the Horned Frogs 21 commits, and they now have the No. 19 overall recruiting class and third in the Big 12.
---
–4-star 2024 CB Tavoy Feagin, Carrollwood Day High School, Tampa, Florida.
Tavoy Feagin is the No. 170 overall, No. 10 cornerback, and No. 28 player from Florida in the 2024 class. He committed to the Clemson Tigers on Sunday, choosing them over the Alabama Crimson Tide, Florida State Seminoles, LSU Tigers, and Miami Hurricanes. Feagin visited Death Valley in October when the Tigers hosted the NC State Wolfpack. Feagin said, 
"I'm committed to Clemson University and what made it right for me is them showing me love and recruiting me hard since day one, and I was able to build a relationship with the whole coaching staff outside of football." 
Feagin is the first commit in Clemson's 2024 recruiting class.
---
–4-star DL Tomarrion Parker, Central High School, Phenix City, Alabama.
Tomarrion Parker, the No. 88 overall, No. 9 defensive line, and No. 11 player in Alabama, will announce his decision on Monday morning. His top four schools are the Clemson Tigers, Penn State Nittany Lions, Tennessee Volunteers, and Texas A&M Aggies. The 247 Sports Crystal Ball and the On3 Recruiting Prediction Machine have him going to the Tigers. In October, he was in Death Valley when the Tigers hosted the Syracuse Orange, which put Clemson in the lead. Regarding that visit, Parker said,
 "This visit definitely put them over the top." 
So the Tigers are the pick here.
---
–4-star WR Ejani Shakir, Winslow Township High School, Atco, New Jersey.
Ejani Shakir, the No. 396 overall, No. 53 wide receiver, and No. 6 player in New Jersey decommitted from the Penn State Nittany Lions on Sunday night. Before committing to them in July, his top schools were the Boston College Eagles, Maryland Terrapins, NC State Wolfpack, Ole Miss Rebels, Virginia Cavaliers, Virginia Tech Hokies, and West Virginia Mountaineers. He has taken visits to West Virginia and also to Rutgers. With his recruitment now open, I would keep an eye on the Mountaineers and Scarlet Nights.
---
–3-star DL Caleb Bryant, Vicksburg High School, Vicksburg, Mississippi.
Caleb Bryant is the No. 458 overall, No. 54 defensive line, and No. 9 player in Mississippi, and on Sunday night, he announced his top eight schools. They are the Alcorn State Braves, Jackson State Tigers, Miami Hurricanes, Mississippi State Bulldogs, Missouri Tigers, Nebraska Cornhuskers, Oregon Ducks, and USC Trojans. He had committed to the Utah Utes in June before backing off it in August. However, Bryant said, 
"So far, Oregon, USC, Miami, and Mississippi State are recruiting me the hardest." 
I would keep an eye on the Cornhuskers here, as he has a great relationship with the running backs coach Bryan Applewhite.