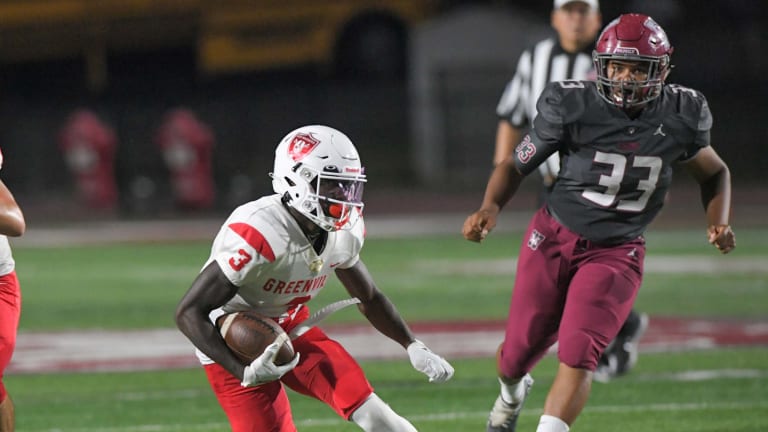 Mazeo Bennett Fields New Offers, Noreel White Sets Commitment Date, and Other Prospects in the News
Prospects in the News
---
–Mazeo Bennett, 2024 WR, Greenville, South Carolina (Greenville HS), #215 nationally, #31 wide receiver, and #3 in SC
The Texas A&M Aggies offered four-star 2024 Greenville (SC) wide receiver Mazeo Bennett on Thursday night. He is the No. 4  player in South Carolina and was committed to the Tennessee Volunteers before backing off his pledge on December 8. The South Carolina Gamecocks are the current leaders to land him, as the On3 Recruiting Machine gives them a 52% chance of getting him to Columbia. The Gamecocks are the team to beat right now.
---
–Jaden Reddell, 2024 TE, Peculiar, Missouri (Raymore-Peculiar), #221 nationally, #11 tight end, and #7 in MO
Jaden Reddell received three offers on Thursday. The four-star 2024 tight end from Peculiar (MO.) received offers from the Auburn Tigers, Miami Hurricanes, and the Texas A&M Aggies. He is the No. 11 player in Missouri and holds 31 offers. The Missouri Tigers are the current leaders to land him, as the On3 RPM gives them a 28% chance of doing so. I like the Tigers right now too.
---
–Jeffery Rush, 2024 DE, Pascagoula, Mississippi (Pascagoula HS), #178, #17 defensive lineman, and #4 in MS
Four-star 2024 Pascagoula (MS) defensive lineman Jeffery Rush will head to Austin on January 21. He will be there for the Texas Longhorn's Junior Day. Rush holds five offers and is the No. 4 player in Mississippi. The Longhorns are the favorites and have a 79% chance of getting him, according to the On3 RPM. Texas is the team to beat right now.
---
–Taylor Tatum, 2024 RB, Longview, Texas (Longview HS), #73 nationally, #5 running back, and #10 in TX
Taylor Tatum received an offer from the Arizona State Sun Devils on Thursday night. The four-star 2024 running back from Longview (TX.) is the No. 10 player in Texas and has 25 offers. However, the On3 RPM currently has the Baylor Bears as the team to beat to land him, with a 26% chance of getting him. The Texas A&M Aggies are next at 23%, followed by the Texas Longhorns at 13%. So those three teams should be the top schools at this time.
---
–Noreel White, 2024 ATH, Ocean Springs, Mississippi (St. Martin HS), #273 nationally, #33 athlete, and #5 in MS
Noreel White will announce his commitment on February 7. He is a four-star 2024 athlete from Ocean Springs (MS.) and the No. 5 player in Mississippi. His top four teams are the Florida State Seminoles, LSU Tigers, Mississippi State Bulldogs, and Ole Miss Rebels, and he has three visits set this month. White will be in Starkville on January 21 to visit the Bulldogs, then in Baton Rouge to visit the Tigers on January 23. His last visit will be to Oxford to visit the Rebels. The On3 RPM has LSU leading slightly over Ole Miss with a 38% chance of landing him compared to 33% for the Rebels. I like the Tigers here too.