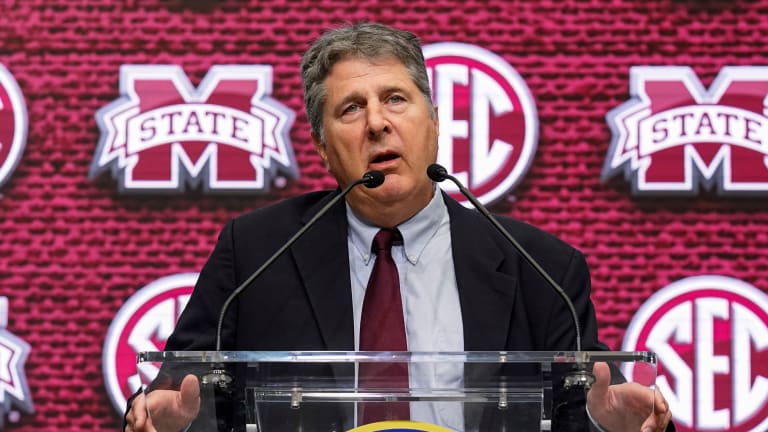 Mississippi State Trending in the Right Direction on the Recruiting Trail
Mike Leach has the Bulldogs on a roll recruiting in the 2023 class.
As Mike Leach prepares to lead Mississippi State into his 4th season as the Bulldogs head coach, the 2023 class has been a focus for him and his staff. Leach isn't known to be a major recruiter and looks to land his first class inside the top 25 this cycle. Currently, the Bulldogs sit at 37th in the nation with a total of 15 prospects committed.
---
Current Commits
Chris Parson: 353th nationally, 19th ranked QB
Tabias Hinton: 413th nationally, 33rd ranked LB
Ty Jones: 432nd nationally, 35th ranked LB
Joe Crocker: 492nd nationally, 41st ranked OT
Justin Brown: 520th nationally, 65th ranked WR
Seth Davis: 604th nationally, 38th ranked RB
Zay Alexander: 621st nationally, 55th ranked OT
Joseph Head: 654th nationally, 56th ranked EDGE
Nakai Poole: 756th nationally, 100th ranked WR
Malik Ellis: 771st nationally, 67th ranked OT
Jaylen Abrorom: 815th nationally, 78th ranked CB
Zakari Tillman: 923nd nationally, 74th ranked LB
Jacoby Bellazar: 4th nationally, 2nd ranked WR (JUCO)
Kelley Jones: 1202nd nationally, 97th ranked S
Dante Kelly: 1234th nationally, 114th ranked ATH
---
Chris Parson
Parson serves as the highlight of this class for obvious reasons, as he is currently the only 4 star committed. Furthermore, the talented QB out of Tennessee is widely seen as a top 20 QB prospect so he is slated to be the next man up in Leach's air raid style offense.
Landing Parson was a major recruiting win not just for these reasons, but also due to the fact that he was previously a FSU commit. Although his decommitment from FSU seemed fairly mutual since they seemed to be slated to land now Ohio State commit Brock Glenn, steering him away from FSU once Glenn committed elsewhere adds to why it was a big win. At the time of Parson announcing his pledge to the Bulldogs, there were no uncommitted QBs in the top 25, so the Bulldogs landed the best available prospect left on the board by a wide margin.
Parson is a 6'0.5, 200 lb prospect who's film displays a high IQ QB who is incredibly well rounded. He shows solid arm strength as he is able to accurately throw the ball downfield and also shows versatility in terms of throwing angles in short balls as well. I would say his biggest strength is his mobility in the pocket, as he has a very good awareness and reaction to those around him. The various tools he displays are ones that should make Mississippi State fans excited for, as he has a great baseline in terms of talent and shows the potential to be a strong starting QB in the SEC.
---
Supporting Cast
As for those surrounded by Parson, the Bulldogs have a solid group to accompany the talented QB. WR commits Justin Brown, Nakai Poole, and Jacoby Bellazar have all shown the ability to become versatile playmakers at the next level, and although Bellazar is technically ranked the lowest between the 3, I believe he can be the best. The speedy JUCO prospect has put up very solid numbers at the junior college level while running a sub 4.4 40, so he has the tools to become very dangerous in due time.
As for his complement in the backfield, Parson will be joined by RB Seth Davis, who should serve as an exciting undersized back. Davis is 5'7 170 but has shown the ability to succeed at a high level, as he has already made waves in Texas high school ball. Parson and Ball currently have a trio of offensive tackles slated to be in front of them, who complete a decent class in terms of OTs. However, the 2023 class currently lack interior offensive lineman, so Leach and company will either have to land a few prospects prior to signing day or dive into the portal.
---
Defense
Defensively, the Bulldogs are in an okay position, but could use a few more guys to fill some necessary holes. Highlighted by LB commits Tabias Hinton and Ty Jones, there are already definitive key pieces through those talented prospects. However, there is yet to be a defensive line commit (not counting EDGE) and the secondary heavily lacks with only one commit at each position (CB, S), with neither of those players fitting within the top 800 nationally.
There are obvious holes that need to be filled, but this isn't a surprise as Mike Leach isn't traditionally known for his defense. With the way the class is formatted at the moment, this seems like a typical Leach class, as it focuses more so on the offense.
---
What's To Come
There isn't much traction for Mississippi State in terms of what prospect will commit next but we have a decent idea as to who can commit in the future.
Isaac Smith (172nd nationally, 11th ranked S): Smith currently has a prediction to MSU and if he were to commit, he would be the highest ranked commit in the class and the only player in the top 200. The Bulldogs are seen to be the leaders for the 4 star in-state prospect, but there is a lot of time left in his recruitment as he plans on making more visits.
Caleb Bryant (444th nationally, 54th ranked DL): Similarly to Smith, MSU is most likely the leader for Bryant, but there is lots of time remaining in his recruitment. Bryant is seen as one who may hold off to decide until December, so the Bulldogs will have to try to combat his growing list of offers until then.
Darren Lawerence (546th nationally, 69th ranked WR): Although Lawerence is currently committed to FSU, he is high up on MSU's board in terms of targets. Chris Parson has a great relationship with Lawerence and could end up being a factor in his recruitment, but flipping a prospect from any school is never an easy task. MSU fans shouldn't bank on a flip but shouldn't rule it out either.
LaKendrick James (unranked): Even though James is currently unranked, he has impressed MSU on his unofficial visits and at camps, which earned him the offer. The Bulldogs are currently his only major offer, so it seems as if taking a commitment from James just comes down to numbers. There are already 3 LB commits in the class so if MSU were to get involved with a higher ranked LB, I don't see him as a take in the class.