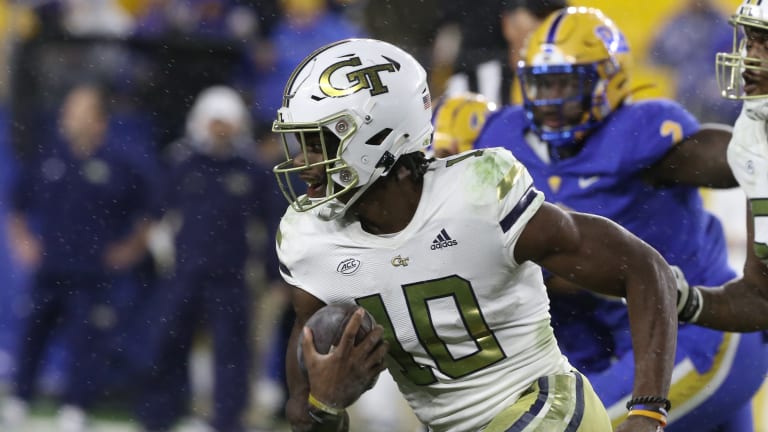 Portal Positioning: QBs
Where could these touted players land next?
The Transfer Portal has changed the game of college football. Players can follow their coaches to new schools or leave for more playing time and a better chance to make the NFL. Many players enter their names in the "portal" late in the season to ensure they are at the top of boards for many colleges. Today we will look at a handful of QBs who have entered the portal since Monday and where they can end up next season.
---
1. Jeff Sims (Georgia Tech)
Sandalwood, (FL)
Immediate Eligibility, 2020 Class
4-Star, 223rd, 10th QB, 23rd In Florida
Stats: 4,464 Yards, 30 TDs, 23 INTs, 125.1 RTG 
Georiga Tech's Jeff Sims has entered the transfer portal. The three-year starter for the Yellow Jackets was one of the few stars on the struggling Georiga Tech teams these past few years. Sims hails from Jacksonville, Florida, and may head home. Other teams like Maryland and Penn State were interested in the 4-Star out of high school and may garnish his interest. Last week, I gave an early prediction for Jordan McCloud to transfer to USF, and with him committing to JMU, the new head coach could look to grab the 6'3 playmaker. I believe whoever is hired at USF will look at Sims and could land the star QB. 
My Early Prediction: USF
---
2. Cade McNamara (Michigan)
Damonte Ranch, (NV)
Immediate Eligibility (1 Year), 2019 Class
4-Star, 268th, 7th QB, 1st In Nevada
Stats: 3,181 Yards, 21 TDs, 7 INTs, 139.4 RTG 
Senior QB Cade McNamara led the Wolverines to their first playoff appearance ever and helped the Wolverines defeat Ohio State for the first time under Jim Harbaugh. Unfortunately, Cade was replaced by sophomore phenom JJ McCarthy who led the Wolverines to the BIG 10 Championship and potentially their second playoff appearance. Cade entered the portal with one year of eligibility left. The early favorite here would be Nevada; however, I expect Cade to start at a P5 program next season. 
My Early Prediction: Nevada
---
3. Davis Brin (Tulsa)
Champion, (TX)
Immediate Eligibility, 2018 Class
3-Star, 1,285th, 45th QB, 183rd In Texas
Stats: 5,675 Yards, 37 TDs, 24 INTs, 139.4 RTG 
Tusla starting QB Davis Brin entered the portal on Monday. The second-year starter for the Golden Canes has electrified their offense and brought them to new heights. Davis was also considered to declare for the NFL. Davis reminds me of Cameron Ward last year, as he is a guy who can make an immediate impact on a competing team. TCU is a team I look at early on, as Max Duggan will most likely declare, leaving a hole in the QB position. The combination of Sonny Dykes and Davis Brin could replicate a decent amount of production from the previous year, which would be huge for both Davis and TCU. 
My Early Prediction: TCU
---
4. Connor Bazelak (Indiana/Missouri)
Archbishop Alter, (OH)
Immediate Eligibility (2 Years), 2019 Class
4-Star, 373rd, 13th QB, 12th In Ohio
Stats: 7,370 Yards, 36 TDs, 27 INTs, 121.8 RTG 
The former 4-star QB is once again in the portal. Connor Bazelak is a star who threw for over three thousand yards while at both Indiana and Missouri. Bazelak is from Ohio, and while Ohio St is a long shot, with CJ Stroud leaving for the NFL, it is not impossible. I can not predict Bazelak's next destination, but Missouri and schools in Ohio are the ones to watch.
My Early Prediction: N/A
---
5. John Paddock (Ball State)
Bloomfield Hills, (MI)
Immediate Eligibility (2 Years), 2018 Class
3-Star, 2,145th, 75th QB, 47th In Michigan
Stats: 2,899 Yards, 18 TDs, 15 INTs, 113.4 RTG 
John Paddock became a first-year starter at Ball State this season, leading the Cardinals to a 5-7 record. Paddock has the experience putting him at #5. Paddock hails from Michigan, and the early favorites should be Eastern Michigan and Central Michigan; however, Cincinnati could be a team John considers. If I had to make an early prediction, I would choose Eastern Michigan as they are the closest college to where John grew up. 
My Early Prediction: Eastern Michigan
---
6. Luke Altmyer (Ole Miss)
Starkville, (MS)
Immediate Eligibility, 2021 Class
4-Star, 196th, 21st QB, 4th In Mississippi
Stats: 317 Yards, 3 TDs, 3 INTs, 108.4 RTG 
Ole Miss backup Luke Altmeyer has entered the portal. Luke replaced the injured Matt Corrall in last year's Sugar Bowl and was the expected starter before Jaxon Dart transferred from USC. Due to this, Luke rarely saw the field in his two years in Oxford, leading him to move on with his career. Altmeyer hails from Starkville, Mississippi, and will most likely transfer to rival Mississippi St for a better opportunity under Mike Leach's air raid offense. 
My Early Prediction: Mississippi State
---
7. Alex Padilla (Iowa)
Cherry Creek, (CO)
Immediate Eligibility, 2019 Class
3-Star, 1,150th, 35th QB, 8th In Colorado
Stats: 821 Yards, 3 TDs, 4 INTs, 94.2 RTG 
Iowa was the definition of mediocre on offense this season, with Alex Padilla and Spencer Petras struggling this season. Alex has decided to enter the transfer portal. Padilla hails from Chery Creek, Colorado, and will likely end up at either Colorado or Colorado St next season. Colorado has Owen McCown, who will start next season, meaning the early prediction here will be Colorado State. 
My Early Prediction: Colorado State
---
8. Paul Tyson (Arizona State/Alabama)
Hewitt-Trussville, (AL)
Immediate Eligibility, 2019 Class
4-Star, 321st, 12th QB, 12th In Alabama
Stats: 150 Yards, 0 TDs, 0 INTs, 141.3 RTG 
Paul Tyson transferred from Alabama to Arizona State last year to get more playing time, and he, unfortunately, did not, leading him to enter the portal again. Paul is the great-grandson of legendary college coach Bear Bryant and will likely return to Alabama. With the announced hiring of Trent Dilfer today, I expect Paul to transfer to UAB and compete for the starting job this upcoming season. 
My Early Prediction: UAB