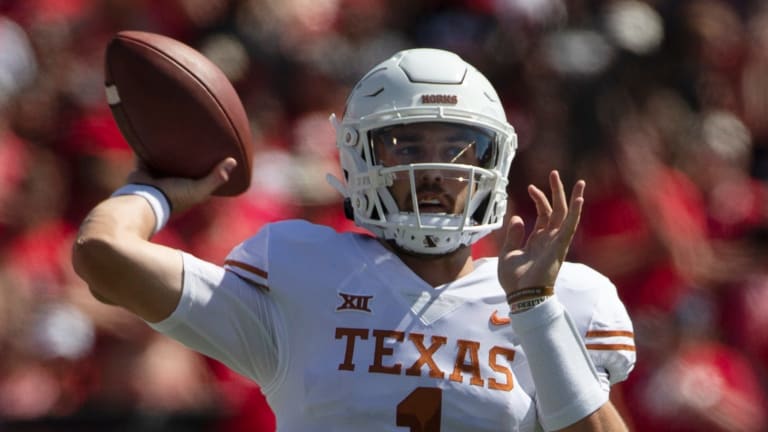 Portal Rumors: Where Could Hudson Card Land?
With the transfer portal opening this week, everyone's news cycle has been swarmed with transfer portal announcements. Today, we're going to take a dive into one of the big-name transfers in the Big Twelve, former Texas QB Hudson Card. 
Hudson Card - Texas - Possible Landing Spots
With Quinn Ewers locking down the starting job at Texas for the foreseeable future, and with five-star Arch Manning coming into the program, Hudson Card has decided to leave Texas to pursue a starting role elsewhere. There are many programs that have an interest in the experienced signal caller. 
Rumors have linked Card to Notre Dame, and while they are interested, there are other QBs higher on their board who fit into their system better than Card. 
Wisconsin will definitely pursue a transfer QB, but without a staff fully put together, it is doubtful new badgers headman Luke Fickell will be able to reel in a big fish like Card yet.
SMU has an explosive offense, and Card could be an excellent fit. If he's willing to drop down to the group-of-five level, I'd expect the Mustangs to be high on his list. 
UTSA was rumored to be interested, but with Frank Harris being approved for another year of eligibility, it is unlikely Card ends up in San Antonio. 
At Houston, Card could put up huge numbers in Dana Holgorsen's offensive system, but with the expected growing pains of the upcoming jump to the Big Twelve, I doubt Card wants to risk growing pains with his final couple of years of eligibility. 
---
That leaves TCU as the final team on this list. Max Duggan has a year of eligibility left if he wants it. However, after winning the Davey O'Brien Award for best QB in college football, Duggan's NFL draft stock may not get any higher. If Duggan decides to jump to the pros after the playoffs, I think Hudson Card to TCU is likely the destination. He can plug in and play in a great offense, and putting up big numbers could mean he plays his way into the NFL draft in 2024, though for that to happen he would have to beat out Chandler Morris for the starting spot. 
---
My Prediction
If I had to pick today, I would project that Hudson Card is starting for TCU, SMU, or Houston next season. Ultimately, if they want him, I think TCU gets him. The opportunity to stay in the Big Twelve, and to play for a legitimate contender seems too good to pass up, in comparison to his other rumored options.