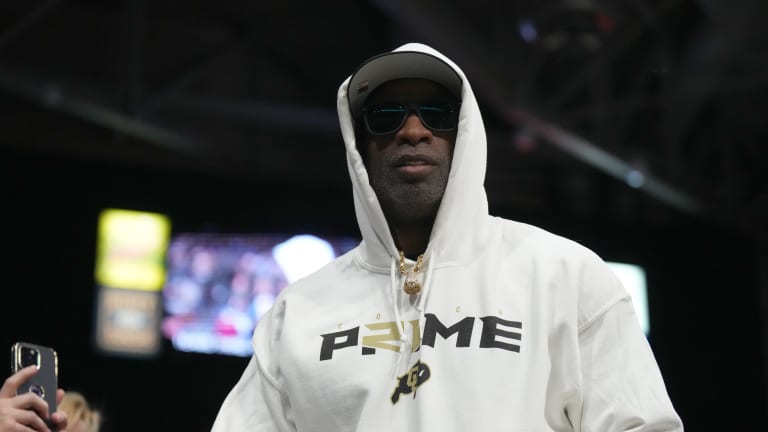 Quarterbacks in the News on Early Signing Day
Let's look at the latest QB names in the news.
---
Two Quarterbacks Make Draft Decisions
Two of the top quarterbacks in college football have announced their plans for the next season. TCU star quarterback and Heisman finalist Max Duggan recently announced that he will enter the 2023 NFL Draft following the Horned Frogs College Football Playoff run. On the contrary, Oregon star quarterback Bo Nix will return for a final season with the Ducks. Nix should join Caleb Williams and Drake Maye as the frontrunners for the Heisman next season. Nix coming back for another year might've been the final straw pushing five-star Dante Moore to flip to UCLA.
---
Five-Star Dante Moore Flips Commitment to UCLA
The hottest topic in recruiting right now is Dante Moore flipping his commitment from Oregon to UCLA. Moore had been committed to Oregon for six months but recently flipped to be a part of the Bruins' class. A lot of factors convinced him to flip his commitment, including NIL. The primary reason for the flip is the opportunity to start as a freshman. UCLA is bringing in Kent State transfer Collin Schlee, but Moore is expected to be the day-one starter.
---
Oregon Eyeing to Flip Quarterback to Replace Moore
There had been buzz about Dante Moore potentially flipping to UCLA for a couple of weeks, so naturally, Oregon was monitoring which recruits were available at the quarterback position. The name that has emerged has been Baylor commit Austin Novosad. Baylor has withstood several significant pushes to flip their quarterback commit from opposing teams, and they will have to do it again. However, Oregon has some things working in their favor, including Novosad's relationship with new offensive coordinator Will Stein.
---
Three SEC Teams Making Moves With Recruits
Marcel Reed had been committed to Ole Miss for nearly eight months but has decided to change plans and flip his commitment following increased interest from the Aggies. Reed's group always wanted him to play in the SEC, and he now gives Jimbo Fisher a high-upside quarterback to work with for the future. Auburn now has two quarterback commits this cycle following Hank Brown's commitment. Brown opened up the passing game for national high school powerhouse Lipscomb Academy in his first year starting this season. South Carolina expects to flip four-star quarterback LaNorris Sellers from Syracuse soon.
---
Kentucky Adds Top Transfer Quarterback
Kentucky recently made a significant addition through the transfer portal, adding Devin Leary. Leary transfers in from North Carolina State after throwing for nearly 7,000 yards and 62 touchdowns in four years. Kentucky has a lot of intriguing pieces on offense, including receivers Barion Brown and Dane Key. The Wildcats also recently landed transfer running back Ray Davis, a 1,000-yard rusher at Vanderbilt. Devin Leary instantly raises the ceiling of this offense and makes it potentially one of the most underrated offenses in the nation.
---
Shedeur Sanders Enters Transfer Portal, Colorado the Favorite
Deion Sanders' son, Shedeur Sanders, has officially entered the transfer portal. He is widely expected to follow his father to Colorado and become their starting quarterback. Sanders threw for nearly 7,000 yards and 70 touchdowns in his two seasons as the starter at Jackson State.