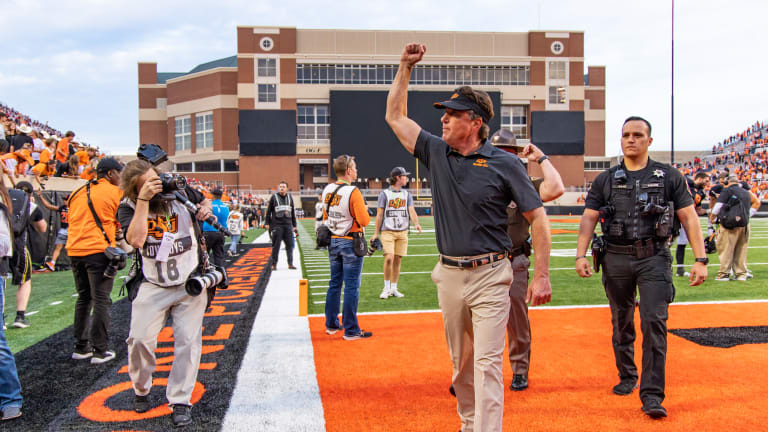 Quinton Martin, Isaac Wilson, Ellis Robinson, and Other Big Names Taking Visits This Weekend
A big college football weekend is 24 hours away. Week Eight has some great match-ups with #14 Syracuse at #5 Clemson, #9 UCLA at #10 Oregon, #20 Texas at #11 Oklahoma State, #24 Mississippi State at #6 Alabama, and #17 Kansas State at #8 TCU. Of course, like always, some big-name recruits will be on campus watching these big games. So let's take a look at some of those recruits.
---
–5-star 2024 CB Ellis Robinson, IMG Academy, Bradenton, Florida.
Ellis Robinson is one of a few prospects who will be at Penn State this weekend when they White Out Beaver Stadium against Minnesota. He is the No. 4 prospect in the class of 2024 and the No.2 cornerback, according to 247 Sports. Robinson was at LSU last month and visited Alabama in September when they beat Texas A&M. The Nittany Lions, along with Alabama, Florida, Georgia, LSU, Miami, Ohio State, Oklahoma, South Carolina, and LSU, are among his top schools.
---
–5- star 2024 ATH Quinton Martin, Belle Vernon High School, Belle Vernon, Pennsylvania.
Quinton Martin is the No. 3 athlete and No. 24 ranked player in the nation in the class of 2024. He will be at The Horseshoe this weekend when the Buckeyes host the Iowa Hawkeyes. As a Pennsylvania kid, Martin is undoubtedly high on Penn State's target list. He will likely be at Beaver Stadium when Penn State hosts Ohio State next weekend. His watching consecutive Buckeye games is excellent news for them and head coach Ryan Day.
---
–4-star 2024 QB Isaac Wilson, Corner Canyon High School, Draper, Utah.
Isaac Wilson, the younger brother of New York Jets quarterback Zach Wilson, will be at Oklahoma State this weekend when they host the Texas Longhorns. He is the nation's No. 53 overall prospect, No. 7 quarterback, and No. 1 prospect in Utah in the 2024 class. Cowboys quarterback coach Tim Rattay and their offense is a big reason Wilson is intrigued by the Cowboys.
---
–4-star 2024 RB James Peoples, Veterans Memorial High School, San Antonio, Texas.
James Peoples is off to a great start this season, and teams are starting to pay attention and take notice. He has a dozen offers on the table, with Baylor, Miami, Ohio State, and Tennessee offering him this week. The Texas Longhorns also have an interest in him, and he was in Austin when the Longhorns hosted Alabama in September. As Peoples continues his outstanding season, more and more teams will notice, and he will only keep rising in the rankings.
---
–3-star WR Chance Fitzgerald, Nolensville High School, Nolensville, Tennessee.
Chance Fitzgerald is a high three-star who has been moving up the rankings and has a big week ahead of him. The Oklahoma State Cowboys offered him Wednesday, and Illinois was at his practice yesterday. Tennessee and Kentucky will be at his game on Friday night, and then he will be in Louisville this weekend for their game against Pittsburgh. In the last few days, he has also picked up offers from Syracuse, Auburn, and Michigan with more certain to come. 
The Iowa Hawkeyes recently offered him also, and his trainer Daryl Graham said, 
"He may take a trip up there."
 So the race for him is heating up.