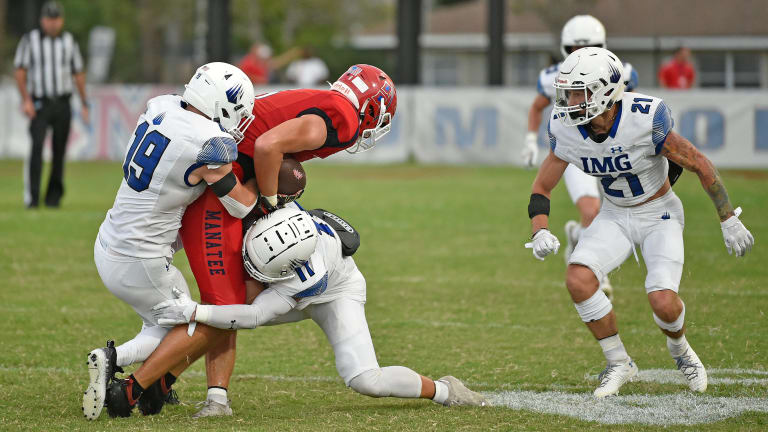 Recapping No. 12 IMG (FL) vs Central (AL)
No.12 ranked IMG Academy traveled to Phenix, Alabama, to take on powerhouse Central High School. In a physical back-and-forth matchup, IMG proved too much for the Red Devils to handle, winning the game 41-26. I will be highlighting impactful players from both schools below.
---
Central (AL)
Karmello English (2023)
Karmello English proved what I thought was true of this recruit before this game. He is indeed a bonafide playmaker on the field. English is electric with the ball in his hands and is a true speedster. Karmello is a threat to score anytime he touches the ball, and whatever university he commits to will have a weapon on their hands at WR and even in the return game. He finished the game with two touchdowns, one rushing and one receiving.
(155th-ranked player in the country, 22nd-ranked WR in the country, 14th-ranked player in the state of Alabama.)
---
AJ Harris (2023)
AJ Harris played a complete game at defensive back for the Red Devils. Even at only six-one, 180 lbs, Harris is a physical hands-on cornerback. His press coverage and technique are phenomenal. The other quality that stood out was the fluidity of his hips while in coverage. AJ is also an underrated tackler, bringing the boom and forcing two fumbles. Kirby Smart landed an elite 5-star cornerback when Harris committed to the Dawgs in mid-June.
(27th-ranked player in the country, 3rd-ranked CB in the country, 5th-ranked player in the state of Alabama.)
---
Tomarrion Parker (2023)
I am going to keep it short and sweet about Tomarrion Parker. He is a stud. The guy is a complete dawg on the line of scrimmage. He demanded a double team the entire game and still managed to get 1.5 tackles for loss. Parker is currently heavily Crystal-balled to go to Clemson, and if that holds to be true, you can pencil him in to be added to the legacy of defensive linemen's dominance in Death Valley.
(96th-ranked player in the country, 10th-ranked DL in the country, 11th-ranked player in the state of Alabama.)
---
IMG Academy (FL)
Carnell Tate (2023)
The Ohio State commit showed why he is a top 20 wide receiver in the nation. His route running was excellent; second to none among those who touched the field with him on Friday night. He has all the intangibles and natural ability to be a good wide receiver on the next level. The upside is there, and receiver Coach Brian Hartline should not have any issues pulling all of the untapped potential out of Carnell Tate once he is on the campus of Ohio State next year.
(59th-ranked player in the country, 11th-ranked WR in the country, 13th-ranked player in the state of Florida.)
---
Jayden Bradford (2024)
We got an all-around complete game from Jayden Bradford in this matchup. Bradford showed tremendous poise inside the pocket and did not force a lot of throws throughout the game. Bradford is comfortable with making big-time throws down the field in big spots, and he possesses mobility to evade pass rush and can pick up yards with his legs as well. This kid is only a Junior and will have a whole extra year to develop even more before going off to school. He is currently uncommitted but has been crystal balled to Penn State by insiders. This is recruitment I'll be following closely to see where the gunslinger ends up.
(52nd-ranked player in the country, the 6th-ranked quarterback in the country, the 15th-ranked player in Florida.)
---
Desmond Ricks (2024)
Desmond Ricks is indeed a lockdown cornerback and is a complete defensive back. He covers space well, breaks on the ball, and routes faster than a lot of other kids I have seen. Desmond showed how elite he is this game shadowing top receiver recruit, Karmello English, holding English to just 7 receptions for 39 yards. It has been rumored that he will reclassify to the 2023 class, but that remains to be confirmed. Alabama likely holds a slight lead at the moment for landing his talents. This is another recruiting process I will be following closely.
(2nd-ranked player in the country, 1st-ranked CB in the country, 1st-ranked in the state of Florida.)