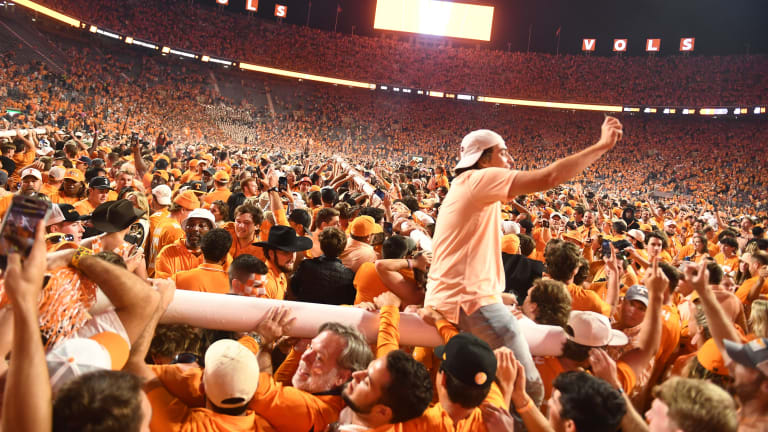 Ryan Puglisi, Mazeo Bennett and Others Headline Huge Week 7 Recruiting Visits
Following a genuinely electric week of college football, this article looks at the highlights from last week and significant player commitments from this weekend. 
Week Seven of the college football season was nothing short of amazing. First, in the biggest game of the day, the Tennessee Volunteers ended a 15-year losing streak to the Alabama Crimson Tide when they defeated them 52-49 in Neyland Stadium. Then, in the Big Ten, the Michigan Wolverines beat the Penn State Nittany Lions 41-17 in the Big House.
Finally, the TCU Horned Frogs took control of the Big Twelve conference when they came back to beat the Oklahoma State Cowboys 43-40 in double overtime. Then, the Utah Utes rallied to beat the USC Trojans 43-42 in Salt Lake City to end the night. It was a Saturday with plenty of big-time recruits watching these big games. Now let's look at what is happening with some of these recruits.
---
– 4-star 2024 WR Mazeo Bennett
Greenville High (Greenville, SC)
Not only did the Vols pick up their biggest wins in years when they beat Alabama, but they also picked up a big win in recruiting when Mazeo Bennett committed on Sunday following the Vol's big win over the Crimson Tide. He visited Knoxville when the Vols beat the Gators on September 24th. Bennett, a top 250 prospect, is the fourth-ranked player in South Carolina. He chose Tennessee over Alabama, South Carolina, Auburn, Georgia, and others.
---
– 4- star 2024 QB Ryan Puglisi
Avon Old Farms High School (Avon, CT)
Ryan Puglisi committed to the defending national champion Georgia Bulldogs on Sunday. The Bulldogs had been his favorite since he visited them in June, and he was there on Saturday for their 55-0 win over Vanderbilt. Puglisi said that the culture, the opportunity to win championships, and the staff, especially offensive coordinator Todd Monken were why he chose Georgia. The Bulldog's offensive 2024 class already looked good; with Puglisi, it is now much more potent.
---
– 4-star ATH Creed Whittemore
Buchholz High School (Gainesville, FL)
Whittemore committed to the Mississippi State Bulldogs on Sunday, flipping him from the Florida Gators. Whittemore plays QB but will likely be a WR with the Bulldogs. Some have compared him to former Alabama WR Slade Bolden. This pickup is excellent for head coach Mike Leach, who got Whittemore out from the Gator's backyard.
---
–4-star 2024 RB Stacy Gage
Wharton High School (Tampa, FL)
Stacy Gage visited the Oklahoma Sooners in September and is now ready to set up visits with three big-time schools. Alabama, USC, and Ohio State are the visits he wants to set up. Gage lists the Crimson Tide's winning tradition, Lincoln Riley's offensive scheme, and the Buckeye's ground game and how they rotate their running backs as the reason he wants to visit those three schools.
---
– 4-star 2024 WR Davis Washington
Arbor View High School (Las Vegas, NV)
Davis Washington was in Salt Lake City on Saturday night for the Ute's victory over the Trojans. He is the No. 1 player in Nevada and the No. 61 prospect overall and has offers from Michigan, LSU, California, and BYU, to name a few.