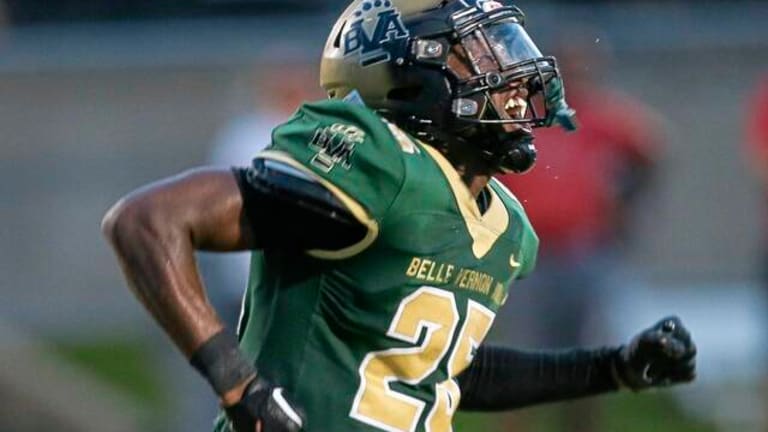 Five Star Class of 2024 Athlete Driving Belle Vernon to Championship Glory
Ask any athlete what factors motivate them to be the best at what they do, and one of the factors that will come up quickly is competition. 
You want to be the best and you want to play the best. 
When Belle Vernon Leopards running back Quinton Martin who is classified by 247 as an athlete has a five-star composite rating by the service and is ranked as the No. 1 rated recruit in the state of Pennsylvania and No. 3 rated athlete in the Class of 2024 nationally, the opportunity came in Week 1 of his season taking on the Laurel Highlands Mustangs. 
For the Mustangs, they possess a triple threat athlete themselves in West Virginia Mountaineers commit Rodney Gallagher, who is rated as the No. 3 rated recruit in Pennsylvania in the Class of 2023 by 247 Sports. 
For Martin, he speaks of his friendship with Gallagher,
"Rodney and I are very close friends since middle school. It was an exciting game and I prepared for him. I saw him on film and I knew what he could do. So I came into that game prepared and calm (and) played my game. It was definitely exciting. You cannot think anything but play your game "
If the stakes couldn't be any higher for Martin and his Leopards on "The Beach" at James Weir Stadium in Week 1, add in the added pressure of having Penn State head coach James Franklin arriving via helicopter to watch you. 
"It felt very very good. The head coach and defensive coach come out to see me play. Coach James Franklin. Coach Terry Smith. It's definitely a blessing. Not many people have that happen to them. I got that chance so that is definitely a blessing." 
Martin said this about playing in front of a head coach of a major Power 5 program of Penn State. 
Martin did not disappoint Franklin during his time on "The Beach," as Martin had three touchdowns in the first half en route to a 41-20 win over Laurel Highlands.
---
When I spoke with Martin prior to his Week 2 matchup against McKeesport, I asked him who he looks up to as a player, Martin said, 
"I look up to a couple of people. Saquon Barkley, Derrick Henry, Alvin Kamara. All those superstar running backs, they taught me a lot. I watched them play and I bring their game to my game. I try their moves on other defenders."
I asked him what he takes from Saquon Barkley's game, Martin did not hesitate and said, 
"His elusiveness. You know Saquon is elusive, once he gets going there's no stopping him at all."
Next, I asked him about Alvin Kamara,
"I take his vision. When I see his game and I see what he sees and apply it to my game."
Finally, I asked about Derrick Henry, 
"I take his mentality. I know Derrick Henry's mentality no one is stopping him at all. He is better than everyone on that field."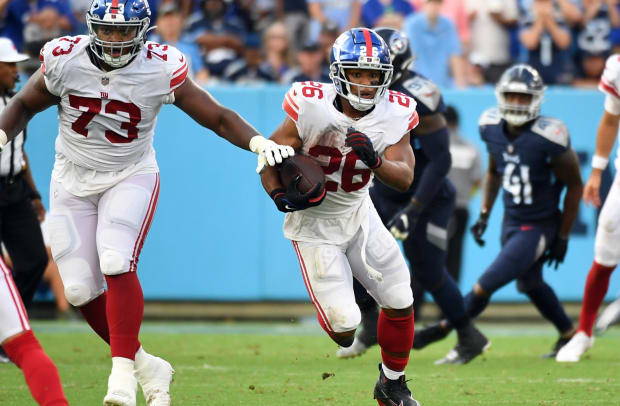 ---
Naturally, his recruitment is a very hot topic. I pressed Martin about who are his top schools, but he made it clear he wasn't ready to set anything in stone.
"I haven't really narrowed them down honestly. I have to talk with my family about that. See what schools I have the most interest with. All the schools showed me a variety of things that are very special about them. I'll be making that announcement here soon."
This is understandable for a kid who is just a junior in high school. With everyone on the world wondering about his next movement, it can be a lot to take in. Among those most interested are Penn State, Michigan, Michigan State, Florida State, Ohio State, Texas, Texas A&M, Tennessee, and Notre Dame who notably have extended offers to Martin.
When I asked Martin and used the case of Florida State defensive end Jared Verse, who started in Albany as a tight end and converted to a coveted edge rusher with Florida State, would he be open to changing positions, Martin replied,
"Yes, most definitely. I am known as an athlete in the WPIAL. I play multiple positions. I play wide receiver, running back, wildcat, corner, and safety. I am very diverse when it comes to positions."
When I asked Martin about what are his priorities for his next move, he rated them,
"Academics is No. 1 most definitely, coaching is No. 2, and team chemistry is No. 3."
Academically Martin isn't committed yet to a direction he would like to follow in college, he did express an interest in chiropractic studies and studying the science of the spinal column. When the time comes to make that final decision, that family will be an important factor in the final decision, 
"My family is going to be very important in this recruiting process. They help me make a lot of my decisions. My uncle, my aunt, my dad, my mother, and my older sister. They help me make a lot of decisions in life."
Across football, he identified Rodney Gallagher, Ta'Mere Robinson, Lamont Payne, and Nodin Tracy as some of his closest peers.
When I asked him about the possibility of joining forces with some of his peers, considering Robinson and Payne are Penn State commitments (as of this writing), Martin smiled and said,
"Possibly...you'll never know. At the end of the day, I will go where it feels like home."
---
I asked Martin with him being such an elite athlete so soon, what are the things that Belle Vernon coach Matt Humbert has tried to teach and coach Martin in,
"Coach Humbert is a team player. What he teaches one he teaches all. What he is teaching us now is keeping a steady head, don't take anything lightly, and resist comfort."
With Martin being a leader for this season's Leopards I asked him about his leadership approach,
"What I do to make people better is just the little things. I tell them what they are doing wrong. I tell them what they can improve on. I tell them when they are messing up, I tell them to tighten up, and I always try to create leaders on the team and try to better them as a person, and player."
In Week 2, Belle Vernon had a tougher task in taking on McKeesport who is up one classification from Belle Vernon (Belle Vernon is 3A and McKeesport is 4A). McKeesport who the week prior took down WPIAL #1 ranked in 5A Penn Trafford, and it was another tough matchup for Martin as this week he went against Bobby Boyd Jr. in McKeesport. This time McKeesport got the upper hand on Belle Vernon in the defensive struggle 14-6. 
As the ambitions and goals for Belle Vernon grow, so do the challenges every week, they face 5A power Penn Trafford this week, followed by 4A power Thomas Jefferson before conference play.