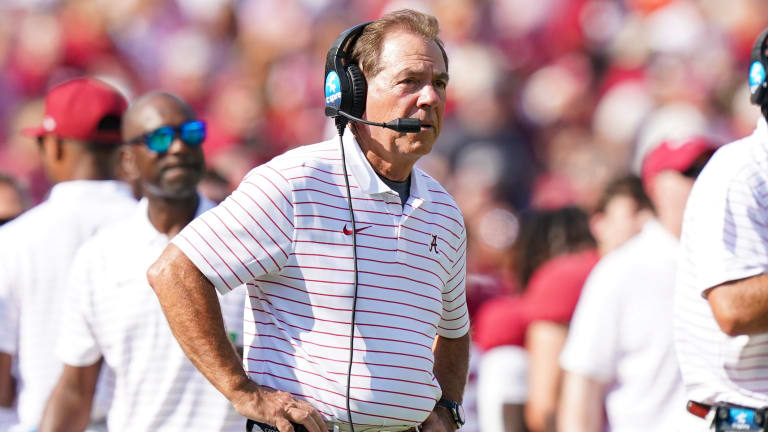 Recruiting Round-Up: Big Week for Alabama
The Alabama Crimson Tide have made some big waves in recruiting this week over the Red River Duo
The Alabama Crimson Tide have made the most out of the recruiting game this week and continues to hold onto that #1 ranking. It doesn't appear to be something that will be changing anytime soon. Importantly Alabama won two recruiting battles over Texas and Oklahoma, who will soon be SEC foes.
Notable Commitments
Four-Star WR Jalen Hale commits to Alabama
Jalen Hale is a 6-foot-1-inch 190-pound WR from Longview, Texas. Hale is a super talented athlete who stars in multiple sports and is a multiple-time 5A All-District 7 selection. He was also the first freshman to suit up for Longview varsity in over 15 years. He has a lot of room to add mass to his frame, and he can high point the football in traffic but is also a speedster. This was a big win for Saban because up until a few days ago, it was a foregone conclusion that Jalen would end up at Texas. 
Four-Star DL Jordan  Renaud commits to Alabama.
Jordan Renaud is an elite defensive end prospect from Tyler, Texas. This guy has the flexibility to play either DT or DE at at the next level. From my understanding they play on having him be a DE. Like with Jalen Hale Alabama beat out a soon to be SEC foe in Oklahoma for the services of the talented defensive lineman. 
Four-Star LB Blake Nichelson commits to Florida State 
Standing at 6-foot-3-inches and 200 pounds. The Manteca, California product is a very good athlete. He played a lot of offense and defense racking up over 600 all purpose yards, and nearly 50 tackles last season. Blake has plenty of room on his frame to add to his mass, could play on the edge or be a stand up interior linebacker. Either way big pick up for the Noles out on the west coast.
---
Looking ahead at movements on the trail
Hykeem Williams is set to commit on 9/23. Hykeem's recruitment has been thought to be an A&M vs Miami battle for sometime, but the Noles very recently threw their name into the hat. Things appear as if they could be trending in the right direction for Florida State in this recruitment. Still, I do not have a great feel as to who I think will land the five-star WR. I would have swore on A&M last week, but Florida State's surge has me taking pause. Could Mike Norvell cash in on this 3-0 start?
Four-Star WR Tyler Williams is set to announce early next week, and while Miami has always been a player in his recruiting I feel strongly that Georgia will be the victor in his recruitment. Williams is pretty close to the vest, but the Bulldogs have just been the consistent team this whole time. 
Malachi Coleman is still an announcement that is a month away, but I can share that this thing is trending towards Oklahoma, and a month can be a long time for a young man to begin looking elsewhere. But Nebraska is a mess, and OU has been in on Coleman with both this and the previous staff. 
---
Tennessee with a big recruiting weekend coming up
Four-star DL Daevin Hobbs, Four-star CB Rickey Gibson, Four-star TE Ethan Davis, OL Vysen Land, Four-star ATH Cameron Seldon, Four-star CB Jordan Matthews and Four-star WR Nathan Leacock are among the names coming to visit this weekend. To help with the recruiting festivities five-star QB commit Nico Imaleava will be there on an unofficial.