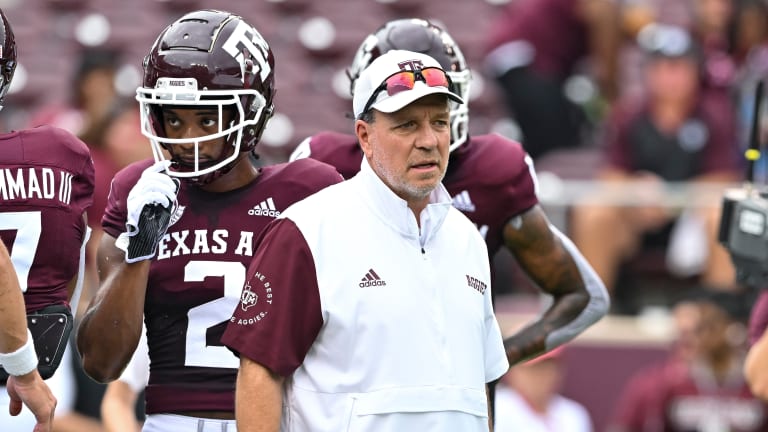 Recruiting Round-Up: Texas A&M picks up a pair of Blue-Chippers
Texas A&M picks up a pair of commitments, Oklahoma and Alabama recruiting news
In today's edition of recruiting round-up, we begin a new era of the piece. With the ever-changing recruiting landscape, we will go from discussing individual commitments only to adding sourced information regarding commitments for programs. This will allow this segment to have a more well-rounded analysis, get you, the reader, a more in-depth look at the recruiting world, and fill you in on those juicy morsels you want to sink your teeth into. So, this will be a brand new era starting today! 
---
Key Commitments 8/6-8/7 2022
Four-Star CB Bravion Rogers commits to Texas A&M
Rogers is a 5-foot 10-inch CB from La Grange, Texas, and is a top 50 player currently in the 2023 class according to 247sports composite. Bravion has a track background, and it translates onto the football field. He plays WR, RB, and CB for his team and contributed over 1000 rushing yards, nearly 400 receiving yards, 15 touchdowns, and a few interceptions. He was named Texas 13 4A-2 First-team All-District at WR and CB in 2020 and 2021. As a defensive back, he has excellent mirroring skills and is comfortable supporting the run game. He is a twitchy athlete with good ball skills; he could be a guy who gets tons of interceptions at the next level. Has a lot of room on the frame to add weight and could do so and impact for the Aggies early in 2023. 
Four-Star IOL TJ Shanahan commits to Texas A&M.
Another solid pick-up for the Aggies, who get a mountain of an offensive lineman. The Westlake high school prospect stands at 6-foot 4-inches and 310 pounds. He is already at the proper weight roughly to impact early. Still, he needs to adjust his body before stepping onto the field. Unusual for A&M to land a player right under the Longhorn's nose, but despite a Texas offer, the 'Horns were not in hot pursuit in this race. Shanahan is pretty athletic and has played some tackle, so he can pull and do many handy things to shape into a nice player in College Station.
Four-Star LB Blake Purchase commits to Oregon
The Ducks had a tough day on Saturday as Dan Lanning inherited a bit of a mess in Eugene but, Tuesday was a good day for Oregon. Landing big time commitment from the 6-foot 3-inch 240-pound linebacker. Blake Purchase is the kind of player that made Dan Lanning a trendy DC in Athens, Georgia. He has all the tools you want and a body that's in great shape which will allow him to contribute right away. Purchase has a knack for finding the football, and can be a stand-up interior linebacker or play on the edge, he is a twitchy athlete and picked up 83 tackles including 12 sacks last season. His brother Myles is a cornerback at Iowa State, and Blake shows his athleticism on the basketball court as well. Big win for Dan Lanning, as it appeared he was leaning toward joining Matt Campbell's Cyclones alongside his brother. 
---
Oklahoma - Alabama battle for Elite Four-Star DL Jordan Renaud
The Tide and Sooners will battle it out for top-tier defensive linemen often moving forward with the Sooner's acquisition of Brent Venables and Todd Bates.  Renaud went to the Sooner's "Party at the Palace" recruiting event a few weeks ago, which put Oklahoma in the driver's seat for Renaud's services as everything went very well. He received multiple crystal balls on 247sports following the visit. This weekend, he went down to Tuscaloosa for an unofficial, things from what I heard went well there and this tight race can go either way. Renaud will be in Norman this weekend for the game against Kent State. He announces on 9/18, so Oklahoma will be getting the final crack. Alabama and Oklahoma side both feel very confident in this recruitment. Renaud has strong relationships with both Alabama's Freddie  Roach and Oklahoma's Todd Bates.
---
Will it be a Boomer Sooner Flipmas?
Alongside Renaud, a few other names to watch for Oklahoma this weekend are Five-star safety and current Notre Dame commitment Peyton Bowen, his brother 2024 ATH Eli Bowen, and current four-star Safety and current LSU commitment Ryan Yaites. All of these guys are a part of the super Denton-Ryan team led by five-star QB Jackson Arnold. There have been rumors of a Bowen flip to Oklahoma for a while, but in the meantime, Texas A&M has put themselves into the race. His good buddy Jackson Arnold being the QB, and his girlfriend going to school at OU are factors really helping OU here. Yaites was also a guy rumored to be considering a flip after his Party at the Palace visit a few weeks ago. Something to watch. 
The "U" is back in a few recruiting scraps with SEC schools
Miami is in a few battles that look like they will close this month between themselves and SEC schools. The first is four-star WR Tyler Williams of Lakeland, Florida. The battle is with Georgia. The champs appear to have a leg up in this race at the moment. Georgia lost out on Anthony Hill and immediately made Tyler Williams an even bigger priority for them. The Dawgs appear to have this one mostly wrapped up according to sources, but the Canes should not be counted out until the final whistle. 

The other is five-star WR Hykeem Williams from Ft Lauderdale, Florida. The big-bodied WR appears to be down to the Canes and Texas A&M. Andrew Irvins and of course, Steve Wiltfong has crystal balls in for the young man to go to A&M. But over the course of the few months since that, the Canes have continued to make their move and have put themselves in a position to have a real chance in this recruitment. Still, I think the Canes have some work yet to do if they are going to get Williams to come to Coral Gables.