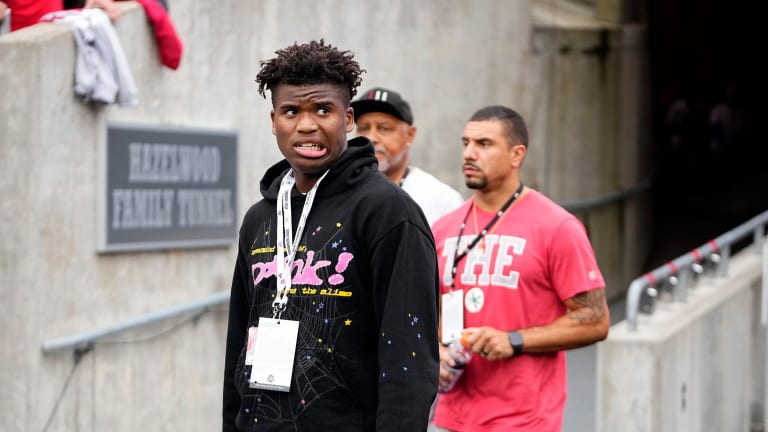 Recruiting Rumblings: AD Mitchell, Ryan Wingo, Marquis Montgomery, and More
This article covers the latest rumblings from both the high school and collegiate recruiting ranks.
---
AD Mitchell Potential Landing Spots
Georgia star receiver AD Mitchell has officially entered the transfer portal and immediately has received interest. Texas was immediately labeled as the favorite, and reasonably so. Mitchell is originally from Texas and could look to form a dynamic receiving trio of Xavier Worthy, Isaiah Neyor, and himself. Other schools, including Colorado, are looking to get involved here.
---
Demitrius Bell Eyeing a New School
Following an impressive 7v7 season, Demitrius Bell began receiving a lot of high-profile interest. The two schools standing out down the stretch are Kentucky and Nebraska. Nebraska is in a good spot going toward the February signing period.
---
Late-Rising JUCO Receiver Marquis Montgomery
Marquis Montgomery has received several Power Five offers since the first signing period. The JUCO product told us that the schools in contact with him the most include Penn State, Oregon, Cal, and USF.
---
Kam Pringle Working Towards Commitment
Premier offensive tackle Kam Pringle will announce his commitment on Sunday from Georgia, Tennessee, Clemson, South Carolina, Florida, and North Carolina State. The Gamecocks are the team to beat in this recruitment. The feeling around the other programs involved is that there is some catching up to do, but with a decision coming soon, South Carolina should be landing one of the top offensive linemen in the 2024 class.
---
Preston Taumua Eyeing a Couple of Schools
Preston Taumua plans on taking a couple of visits to schools this spring as he figures out his recruitment. While he is still deciding on potential visits, Taumua says that Oregon and Tennessee are "locks" to get visits at some point. The offensive lineman is the top player in Hawaii.
---
Manasse Itete Schedules Visits
Manasse Itete has scheduled three visits recently. The offensive lineman on the west coast will visit three Pac-12 teams to end the month of January. Itete will visit Arizona on the 21st, Arizona State on the 22nd, and Washington on the 28th. 
---
St. Frances Trio Visiting Oregon
A trio of recruits from high school powerhouse St. Frances Academy will be in Eugene this weekend. This group includes quarterback Michael Van Buren, running back DeJuan Williams, and cornerback Ify Obedigwu. Van Buren is the top quarterback on the Ducks' board for the 2024 cycle, and getting him on campus will be huge for their chances in his recruitment. Obedigwu comes to Oregon following a visit to Knoxville, where Tennessee gained some momentum with him. This will be Williams' first visit to Eugene.
---
Tennessee Making Moves in Missouri
The new staff at Tennessee has been investing in the state of Missouri for recruits as of late. In the 2023 class, the Vols were able to land high-profile pass rusher Chandavian Bradley and look to do more work in the 2024 cycle. Defensive lineman Williams Nwaneri, wide receiver Ryan Wingo, and wide receiver Jeremiah McClellan made it up the Vols' junior day on January 14th, and it couldn't have gone better for Tennessee. Tennessee figures to be in the mix for all three as well as pass-catching tight end Jaden Reddell.