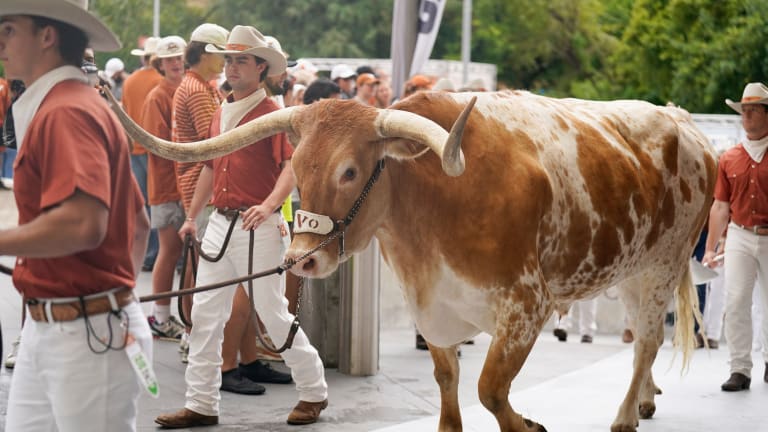 Recruiting Showcase - Texas vs. Alabama
Longhorns host key targets in showcase game against the Crimson Tide.
Texas Longhorns head coach Steve Sarkisian is looking to land several key targets in what is expected to be an electric atmosphere at Darrell K. Royal-Texas Memorial Stadium on Saturday. 
Let's take a look at who will be attending this recruiting showcase by the Longhorns
---
Official Visitors
Jalen Hale - WR: Longview
Tausili Akana - EDGE: Sky Ridge
Duce Robinson - TE: Pinnacle
Notes:
4-star receiver Hale seems to lean heavily for the Longhorns over Alabama and Georgia, 247's Crystal Ball has him a Longhorn.
EDGE rusher Akana is a 4-star prospect that seems to have taken a recent lean towards Brent Venables Sooners. This is looking like a Red River Rivalry competition for his commitment. 
247 Composite 5-star tight end Robinson is red hot for Lincoln Riley's Trojans with Georgia running feverishly behind, but the Longhorns are hoping the atmosphere in Austin and peers help get the Longhorns back into Robinson's favor.
---
Unofficial Visitors (Class of 2023)
S'Maje Burrell - LB: North Crowley
Ander Cojoe - OL: Timberview
Markis Deal - DL: Naaman Forest
Trevor Goosby - OL: Melissa
Derion Gullette - LB: Teague 
Mikal Harrison-Pilot - ATH: Temple 
Jamel Johnson - S: Arlington Seguin
Ryan Niblett - WR: Aldine Eisenhower
Connor Stroh - OL: Frisco Wakeland
Notes:
All are hard commits for the Longhorns except for Markis Deal and Mikal Harrison-Pilot. 
There are conflicting reports if Deal will be in Austin for the visit, and his appearance or lack thereof might be telling where the 4-star lineman is leaning. 
Deal has visited Southern Cal, TCU, Georgia, and Arkansas with Texas and Oklahoma still receiving interest from Deal. 
Harrison-Pilot being a 4-star athlete, primarily a safety, is starting to lean strong for Houston and this unofficial visit might be a sign he is warming a bit for the Longhorns or testing his favor for Houston. 
---
Unofficial Visitors - Class of 2024
Jaden Allen – CB: Aledo
Daniel Cruz – OL: Richland
Ka'Davion Dotson – S: Duncanville
'Corian Gipson – S: Lancaster
Micah Hudson – WR: Lake Belton
Bryan Jackson – RB: McKinney
David Kabongo – S: Trophy Club Byron Nelson
Parker Livingstone – WR: Lovejoy
Drelon Miller – ATH: Silsbee
Caleb Mitchell Irving – DL: Parish Episcopal
Hunter Moddon – WR: Clear Lake
Trey Owens – QB: Cy-Fair
James Peoples – RB: San Antonio Veterans Memorial
Payton Pierce – LB: Lovejoy
Colin Simmons – EDGE: Duncanville
Zina Umeozulu – EDGE: Allen
Ory Williams – OL: San Marcos
Notes:
Composite 5-star wide receiver Micah Hudson is rated the No.1 prospect in the state of Texas in 2024, will be seen as a priority for Sarkisian. 
Hudson is already seeing significant activity from Alabama, LSU, Michigan, Michigan State. 
With how Sarkisian plays offensively and how wide receivers Xavier Worthy, Jordan Whittington, Ja'Tavion Sanders, and Casey Cain it will be interesting to see if that gives the Longhorns an advantage with Hudson. 
The No. 2 state prospect and LSU commit and 5-star EDGE rusher Colin Simmons will be another priority for the Longhorns to see if this atmosphere can help flip Simmons from their future SEC rival.
No. 5 state prospect and 4-star EDGE rusher Zina Umeozulu is already seeing significant attention from Alabama defensive coordinator Pete Golding in recruitment. 
Umeozulu is also being heavily pursued by Arkansas, Florida State, and Michigan State.
---
Unofficial Visitors - Classes 2025 & 2026
2025
Davon Mitchell – TE: Allen
Landon Rink – DL: Cy-Fair
Riley Wormley – RB: Colleyville Heritage
2026
Kaydon Finley – ATH: Aledo
Notes:
The highlight in this group is Class of 2025 tight end Davon Mitchell. 
Mitchell, who is a 4-star tight end out of Allen, Texas, is already seeing heavy interest from Alabama, Arkansas, Florida State, Ohio State, Oklahoma, and Texas. 
He will be seen as a priority and between now and 2025, Mitchell most likely will be at a 5-star level.