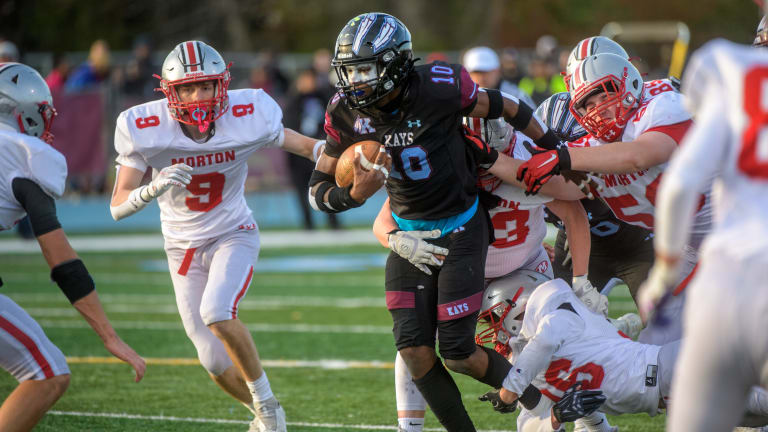 Recruiting Update: Sooners trending for star LBs, and Illinois and Michigan Go Head-To-Head for Star DB Jyaire Hill
The recruiting world is always fascinating after a massive weekend of big games and many recruiting visits. So let's not waste time and get into what is happening with some big names.
---
Names to watch
– 4 -star DE Keldric Faulk, Highland Home High School, Highland Home, Alabama.
Keldric Faulk committed to the Florida State Seminoles in July, but that hasn't stopped programs from trying to flip him. Auburn and Tennessee have kept up their pursuit by getting him on campus for a visit. He was present for the Volunteer's victory over the Florida Gators and was at Auburn when they played LSU. This past weekend he was back at Florida State for their match-up with Clemson. Faulk said a visit to Florida and Georgia could still come up, but he is still committed to Seminoles, which is excellent news for them.
---
– 4 -star 2024 TE Hogan Hansen, Bellevue High School, Bellevue, Washington.
Hogan Hansen was on hand at the Big House for the Michigan Wolverines' big 41-17 win over the Penn State Nittany Lions. He said besides liking the campus; he liked how they used their tight ends and how they were physical and helped out in the running game in 12 and 13 personnel. He will now get ready to visit Stanford next week when they host Arizona State and maybe UCLA in November when they play USC.
---
– 4-star LB Tausili Akana, Skyridge High School, Lehi, Utah.
Tausili Akana was in Norman this past weekend for the Sooners' 52-42 bounce-back win against the Kansas Jayhawks. He is the top-rated player in Utah and the 41st-rated player overall. Akana has also visited Texas and LSU and will be at Texas A&M sometime next month. The Sooners seem to be the favorites considering his connection with coach Brent Venables, which began when he was still at Clemson.
---
– 4 -star DL T.A. Cunningham, Los Alamitos High School, Los Alamitos, California.
T.A. Cunningham was one recruit who was not on any campus last weekend. However, he has plenty of offers on the table. But the schools he has had the most contact with are USC, Tennessee, Penn State, Michigan State, Miami, and Oklahoma. The Trojans, Sooners, and Volunteers should be in the driver's seat. He has been to two USC games and has a good relationship with the Sooners staff, and he also likes the Vols staff.
---
– 4 -star ATH Jyaire Hill, Kankakee High School, Kankakee, Illinois.
Jyaire Hill was among a handful of prospects at the Big House for Saturday's Wolverines' big win over the Nittany Lions. Hill's high school coaching staff was also there with him due to their relationship with the Michigan staff. Illinois and Missouri are also in on Hill, along with the Wolverines. This recruitment has long seemed to be a battle between Illinois and Michigan. Hill is open to hearing from other schools, but the top two seem firm at this point in his recruitment. Illinois has dedicated more resources than any other program to land Hill. On their last bye week, head Coach Bret Bielema, along with defensive coordinator Ryan Walters and additional staff were in Kankakee to watch Hill and his team play. Having made multiple visits to both schools, it is unclear which way Hill will lean. With a decision looming in the next couple of months, it will be interesting to see if Hill buys into being the home-state hero by committing to the rising Illini program; or if he opts to head north to play for the storied Wolverines program instead. If I had to pick today, it's a coin flip. Hill's physical playstyle seems like a more natural fit in the Illinois defensive scheme. If they can retain their DC after this season, I think the Illini could close. I would not be surprised if Hill waits to see the Illini's matchup with Michigan in Ann Arbor in week 11 of the season before making a decision.
---