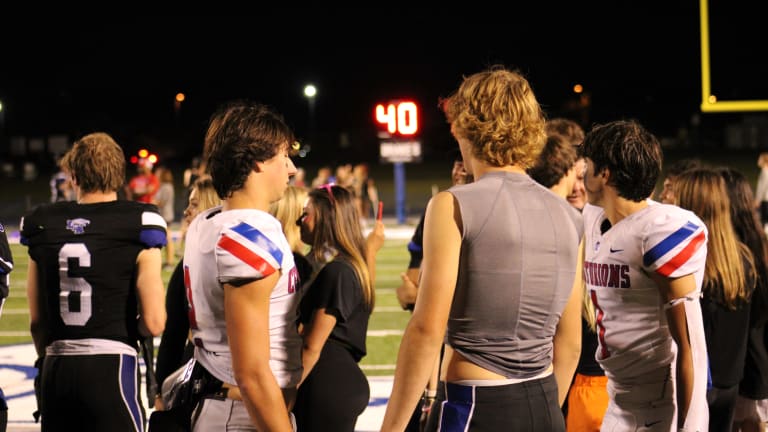 Rising Star, 2025 QB Cutter Boley Talks Early Recruitment With Mike Farrell Sports
Cutter Boley, a 2025 QB from Lexington, Kentucky, was kind enough to join Cory Lemer of Mike Farrell Sports to discuss his recruitment. During the interview, Boley discusses how the recruitment process has been so far, what it is like being one of the top QBs in his class, and if he has a commitment timeline yet.
---
The Lexington native from Lexington Christian Academy ranks as the best player in Kentucky and 4th ranked QB according to the 247 Sports Rankings. He is also the 45th-ranked player nationally. So far, he has received 12 offers throughout his high school career. Schools like Alabama, Michigan, Kentucky, Tennessee, and Florida State; have all shown interest in the Sophomore star showing he will be a top QB in the 2025 class.
---
Kentucky
The in-state Wildcats offered Cutter back in December and have continued to push for the touted prospect since. In June, Boley attended a camp held by the Wildcats.
"I'm right here in Lexington, so I have connected with the coaches."
Boley feels no pressure to stay in Kentucky and is in contact with coaches as his recruitment continues. The Wildcats have made landing in-state recruits easy these past few years but have had trouble reeling in QBs. Hopefully, the relationship between the staff keeps the Lexington star in the Blue Grass State.
---
West Virginia
Coach Harrell accepted the job as WVU offensive coordinator and QB coach in January and made it clear Boley was a priority. Nine days later, Cutter held his third offer from a P5 school. Boley took an unofficial to the Mouintaneers and enjoyed his time in Morgantown.
"I had a blast."
Before he left for the Notre Dame job, Coach Parker had a great relationship with Cutter. Due to his absence, West Virginia has a lot of ground to make up for in his recruitment. Luckily the Mountaineers have two years until he is a senior.
---
Tennessee
Josh Heupel and his staff offered Boley in June just months after an unofficial visit to Rocky Top. After they offered, he camped for the Vols and impressed the staff with his talents as a QB.
"They love everything about me."
The Vols landed 5-star QB Nico Iamaleava in their 2023 cycle, showing they can land big-name QBs. Tennessee borders Kentucky, and while Boley has no pressure to stay close to home, it wouldn't surprise me to see him playing in Neyland Stadium.
---
Florida State
Cutter attended the Seminole's junior day in March and was impressed by the atmosphere. While FSU has yet to offer him, Boley will most likely end up with an offer by the end of his recruitment.
"First time I went down there, It was pretty nice."
Cutter enjoyed the day in Tallahassee, but without an offer, he has not planned more visits to FSU, who are always looking for QBs.
---
Georgia
Since his hiring in 2015, Kirby Smart has landed QBs Jacob Eason, Jake Fromm, Justin Fields, Carson Beck, and Gunnar Stockton, showing they are one of the best at recruiting signal callers. Georgia is coming off an amazing national championship season which should affect many young recruits' college decisions.
"The camp was awesome, the visit was awesome, and I connected with the coaches there."
Georgia, like FSU, has yet to offer Cutter, but it is clear he loves the staff and can see himself as a Bulldog in the future.
---
Clemson
Clemson is another school Boley has visited that has yet to offer the touted Sophomore. Cutter loves Coach Swinney and the staff and feels the program is elite.
"Small town like I'm used to growing up, I love the staff, I love the program."
Growing up in a small town, Cutter feels at home in Death Valley. Clemson has not offered or had him in town for a real visit yet, putting them behind in his recruitment.
---
Michigan
Michigan is at the top of the board for Cutter. The Wolverines offered him on June 16th and later had him in Ann Arbor for a visit and the annual recruiting barbecue.
"When I first visited in mid-June, Coach Harbaugh was with me the whole time. He is definitely showing a lot of love."
Coach Harbaugh has made a good impression on the talented Kentucky recruit. With QBs like JJ Mccarthy and potentially Jadyn Davis joining the Wolverine's room, I would not be shocked to see Cutter wearing Maize.
---
Alabama
It would not be the recruitment of a high-profile QB without Nick Saban and his Crimson Tide getting in on the action. Cutter was offered by the staff on June 18th after he camped with the Tide that day.
"It was an awesome experience."
Boley had the option to attend the Alabama camp or drive down to Tallahassee. Cutter ultimately chooses Alabama making it clear they are on the top of his board and will be a team to beat in his recruitment.
---
Cutter will continue to garnish more interest from colleges as his High School career continues. After his Freshman year, Boley transferred from Larue County (KY). He loves his new offense and how fast-paced it is and feels it fits him well. While it is still early, Cutter is pleased with his recruitment and looks to dominate his Sophomore year.