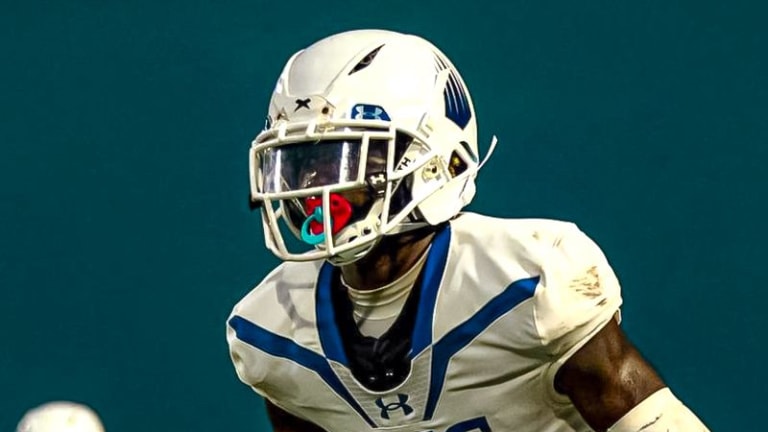 Ryan Pellum and Ellis Robinson IV Name Top Schools and Other Names in the News
Names in the News
---
–Cameron Lenhardt, EDGE, Bradenton, Florida (IMG Academy), #308 nationally, #37 edge, and #56 in FL
Four-star Florida (IMG Academy) defensive tackle Cameron Lenhardt will announce his commitment on January 3rd at the Under Armour All-American game. His top five teams are the Georgia Tech Yellow Jackets, Maryland Terrapins, Nebraska Cornhuskers, Penn State Nittany Lions, and Rutgers Scarlet Knights. The Cornhuskers and Terrapins are the favorites, and he did make an official visit to both schools. The 247 Sports Crystal Ball and the On3 Recruiting Prediction Machine have him heading to Lincoln. I agree with that, and he will be a Cornhusker.
---
–JJ Harrell, 2024 WR, Sardis, Mississippi (North Panola HS), #488 nationally, #65 athlete, and #9 in MS
Three-star 2024 Sardis (MS) wide receiver JJ Harrell announced his top eight schools on December 10. Those teams are the Arkansas Razorbacks, Florida State Seminoles, LSU Tigers, Memphis Tigers, Mississippi State Bulldogs, Oregon Ducks, Penn State Nittany Lions, and Tennessee Volunteers. However, the LSU Tigers and Tennessee Volunteers are the ones that stand out. He said he has good relationships with the Tiger's Brian Kelly and the Vol's Josh Heupel, saying, 
"What I love about Coach Heupel and Coach Kelly is they care more about making me a better person." 
Harrell will be in Knoxville on January 14th for a visit and said he would visit LSU soon after. This one is a toss-up right now.
---
–Kevin Heywood, 2024 OT, Warminster, Pennsylvania (Archbishop Wood HS), #279 nationally, #19 offensive tackle, and #7 in PA
The Miami Hurricanes offered four-star 2024 Warminster (PA.) offensive tackle Kevin Heywood on Friday. He now has 14 power five offers, with the Penn State Nittany Lions in the lead to land him. According to the On3 Recruiting Prediction Machine, the Nittany Lions have an astonishing 98% chance of landing him. The 247 Sports Crystal Ball also likes Penn State. I like them, too, and believe he will end up in Happy Valley.
---
–Ryan Pellum, 2024 WR, Long Beach, California (Millikan HS), #48 nationally, #6 wide receiver, and #4 in CA
Ryan Pellum, a four-star 2024 wide receiver from Long Beach (CA.), named his top ten schools on Saturday. They are the Alabama Crimson Tide, Georgia Bulldogs, LSU Tigers, Michigan Wolverines, Oklahoma Sooners, Oregon Ducks, Penn State Nittany Lions, Tennessee Volunteers, Texas Longhorns, and UCLA Bruins. Regarding his top schools, he said, 
"These schools, they are top schools. They talk to me a lot." 
The On3 RPM has the Ducks as the favorite right now, giving them a 20% chance of landing him. But Alabama, LSU, and Texas will be teams to keep an eye on.
---
–Ellis Robinson IV, 2024 CB, Bradenton, Florida (IMG Academy), #13 nationally, #1 cornerback, and #6 in FL
Five-star 2004 Florida (IMG Academy) cornerback Ellis Robinson IV has named his top five teams. The Alabama Crimson Tide, Colorado Buffaloes, Georgia Bulldogs, LSU Tigers, and Miami Hurricanes are those teams. He said those teams made him a priority, and it was a tough decision to cut his list from ten teams to five. Alabama is the favorite, according to the On3 RPM, as they currently have a 62% chance of landing him, followed by Georgia at 33.2%. Of course, all of the top five teams have a chance of landing Robinson, and he named them for a reason, but this will come down to the Crimson Tide and Bulldogs. I like the Tide here.