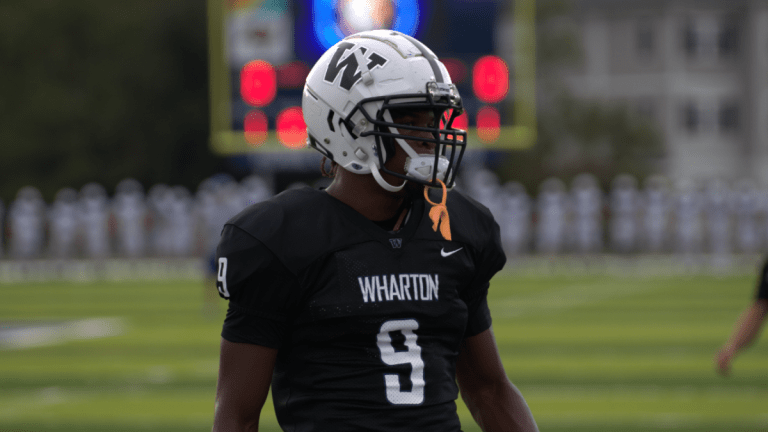 Scouting Booker Pickett Jr., Jaylen Heyward, and Other Top Uncommitted 2024s
We'll keep the scouting reports rolling on top prospects from across the country.
---
Jaylen Heyward - SAF
Rockledge, FL (Rockledge High School)
Versatile two-way player with good backpedal and acceleration. Verified 4.65 40 yd dash. Used as a CB, SAF, RB and WR for his team now. Shows good hands and vertical to go up and make interceptions. Adequate frame, has all the athletic ability and traits to convert to a full-time free safety in college. Very good vision and reactions in space to read the QB and route concepts when playing in off-man and zone coverage. Displays the range and play recognition to play two-high in zone coverage and athletic ability to play off-man and cover WR/TEs in the slot. High pursuit player who doesn't stop until the whistle blows.
Has to add more muscle in the next year and a half to be a multi-year starter at a top P5 school. Adequate physicality and tackling in the run support, does a good job reading plays but needs to improve on running his feet after initial contact and finishing tackles. Has experience on all ST units and can be an immediate impact for top schools there. His athletic ability and instincts will make him a good free safety by his sophomore season at one of the top schools in the country.
Ernest Willor - DE
Bradenton, FL (IMG Academy)
Catching heavy interest from the SEC and B10. Very good frame for a 4-3 DE at the next level. Good strength, tackling and reactions to bat down balls at the LOS while engaged with blockers. Solid explosiveness at the point of attack and athletic ability on twists/stunts helps him win his battles. Displays solid upfield burst and pursuit when rushing the passer. Solid ability to shed and not get pushed back against zone runs coming to his side.
Adequate change of direction/bend on the edge to win with speed around the OT. Will need to be coached up and develop a true pass rush plan. Needs to improve his use of hands as a pass rusher and when handling pulling blockers against gap runs. Wins too much with natural strength and athletic ability at high school level. Will be a solid 4-3 DE in a P5 conference by his second or third season.
Dylan Stephenson - Edge
Miami, FL (Christopher Columbus High School)
Gaining interest from a variety of schools in the P5, Stephenson is a well experienced speed edge rush prospect who has been getting varsity snaps since the 8th grade. Possesses a very good frame with solid acceleration and good strength. Has seen a lot of pro-style offenses playing in the Miami area and displays good reactions and range to read mesh points against the run and make plays both on inside and outside runs. In both the run and pass game he shows very good use of hands and ability to shed blocks using hand strength combined with his footwork. Displays good bend at the top of pass rushes to get around OTs and reads the QB well during his rush to come back under the block if needed.
Will need to shore up his technique when it comes to making tackles and improving his upfield burst from both a two and three point stance as a speed edge rusher. I trust his size and pass rush plan to be a good starter for a P5 school by his sophomore season.
Booker Pickett Jr. - Edge
Tampa, FL (Wharton High School)
Receiving offers from top teams in each P5 conference. Very good athletic ability with an adequate frame for a speed edge rusher at the next level. Good upfield burst combined with his bend/UOH during the pass rush puts himself in position to wreak havoc as a pass rusher. Solid ability to read the mesh point on the edge against inside zone runs, has the range to crash on the runner and attack the QB if he keeps. Shows solid pursuit and range to make consistent tackles outside the tackle box.
Adequate explosiveness at the point of attack against OL. Has to substantially fill out his frame in the next year or two to be able to handle the strength of P5 offensive tackles. Will not be able to win right now against tackles with good or better footwork who can mirror his rush at the next level. Has all the tools and traits to become a good edge rusher at a P5 college by his sophomore season.