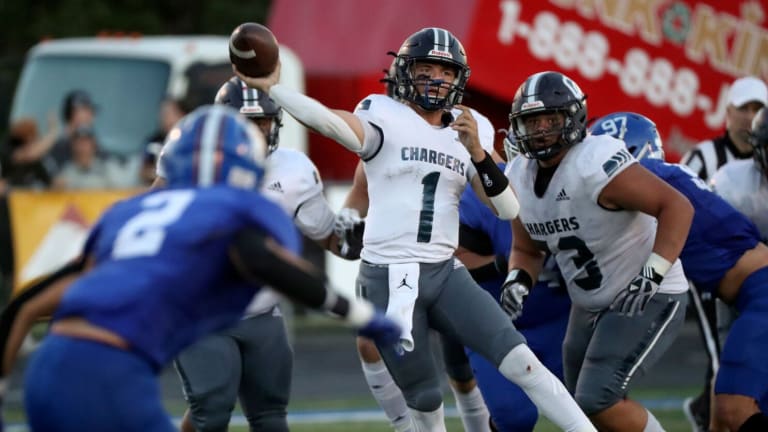 Scouting Isaac Wilson, Kenneth Woseley, & Other Top Uncommitted 2024s
Isaac Wilson – QB
Corner Canyon, UT
Brother of current NFL QB Zach Wilson and Elite 11 invitee. Marginal frame and length with very good hand size and adequate athleticism. Good sense of the rhythm of his offense, dropbacks are appropriate distance and he is ready to throw as soon as he sets his base with the last step. Good vision, doesn't stare down receivers and can anticipate the open man based on the coverage. Very good release, quick cock back and throwing motion and comes through at the angle you want. Good arm strength, no issues getting the ball to the receiver on deep concepts within 60 yards. Willing to take big shots down the field if he sees an open man. Places the ball where it needs to be when not throwing on the run and can force it into tight windows to make the play. Good competitive toughness, comes out strong the next drive if something goes wrong the drive before.
Shorter height could lead to vision issues at the next level. Feet need to move faster when adjusting to pressure. Struggles to set his base when dropping back or avoiding the rush. Panics and becomes trigger-happy when his pocket starts to collapse. Accuracy drops when rolling out, usually hits receivers below their chest. Good prospect overall, don't see him leading a top program but a definite starter at a good Power 5 program. Could still hit a growth spurt given his brother's size. Clear grasp on the game, will need a year or two to sit and refine his weaker aspects.
---
Max Anderson – OT
Reedy, TX
Solid size with good length, good strength, and solid short area quickness. Utilizes his strength to create drive as a run blocker. Understands where to direct defenders in zone concepts to open holes. Good pull block form. Uses his frame and strength to anchor against the bull rush. Reads oncoming defenders and hands off blocks in pass protection. Keeps outside rushers on the arc and does not let them crash back inside to collapse the pocket.
Size isn't quite there for a Power 5 tackle but he's close. Slow initial punch that is improperly placed. Needs to learn when a block is finished and to look for the next one. Slow through his set points. Marginal competitive toughness, only see a fire in him when he's going against someone that he knows he can physically dominate. Solid overall prospect but don't see him quickly contributing to a good Power 5 program. Think he's more of a guard than a tackle, has experience as the pull man and most of his weaknesses are less of an issue on the inside.
---
Kenneth Woseley – CB
Imhotep, PA
Solid height, marginal weight, and very good length with good speed, short area quickness, and vertical. Good footwork to mirror receivers that play around at the line. Physical player that doesn't get bullied out of coverage at the top of his routes. Keeps a hand on the defender to track when in a deep zone. Trusts his safety over the top and goes underneath to make a play on the ball. Uses his footwork to put himself in easy position to shed a block or avoid it completely. Very good competitive toughness, wants to come down and hit receivers in the short game just as much as he wants to make a play in coverage. Good school pedigree and should adjust to the speed of the next level quickly.
Needs to really fill out over the next year and a half. Lack of muscle affects his play speed, receivers he should be staying in stride with get separation with just their straight-line speed. Too willing to sit in his zone on flat feet and needs to react to the pass concept to make a play. Lacks experience with man coverage. Would like to see him wrap more when defending the outside, leads with his shoulder too often. Really like this kid, basis of a very good player is there and his willingness to help the team should translate into doing whatever it takes to improve himself. Don't see him starting for an upper-level team until year 3 but if he puts in the work his first two years he should be one of the best players on the field at that point.
---
Kari Jackson – LB
West Bloomfield, MI
Inside backer in a 4-3 scheme. Good frame and length with solid speed and good explosiveness. Good change of direction with fluid hips given his size. Reads the ballcarrier and can handle covering multiple gaps against the run without falling for counters and cutbacks. Takes good angles to the ballcarrier. Good strength and hand placement to shed run blocks. Has strength to deliver big hits even while wrapping up. Secures the tackle if his teammate goes for the strip and vice versa. Physical in pass coverage and will slow down Keeps defenders in front of him in zone coverage. Good timing on blitzes, waits for linemen to be engaged with a blocker before crashing.
Doesn't have the speed to match up with the modern TE in man coverage. Gets tunnel vision when coming down to hit a running back going out for a pass when he could be making a play on the ball. Lacks the pass rush tools to be effective on a blitz if he gets picked up by a blocker who has a solid anchor ability. Very good prospect, think he's a bit underrated at this point of the recruiting process and could see some rise as more and more programs key into him. Shortcomings are nothing you wouldn't expect out of an ILB and he can easily make an early impact out of a 3-4 or 4-3.