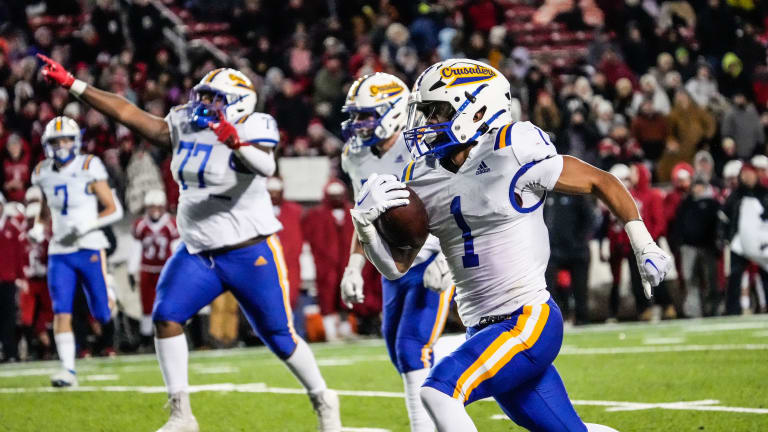 Scouting Kamarion Franklin, Donovan Harbour, & Other Top Uncommitted 2024s
Kamarion Franklin – DE
Lake Cormorant, Mississippi (Lake Cormorant)
DL prospect receiving attention throughout the SEC. Very good height and elite weight in a powerful frame with very good play strength, change of direction, and good speed for his size. Good quickness off the snap, transitioning to a power move easily with a very good bull rush. Shows very good hand timing and upper body strength to get his hands on the chest of OL and shed with violence. Very good hand quickness and agility on his go-to swim move outside. Elite processing and extension when playing the run and shed to hunt the ballcarrier. Very good competitive toughness and vision on pursuit, maneuvering through traffic with very good COD. Good tackle form, wraps up and uses good lower body strength to push ballcarrier back at contact.
Adequate knee bend and long legs cause higher center of gravity and leads to upright playing position, causing questions about potential handling of double teams and sturdier tackles with good knee bend and strength at the next level. All things considered a very good prospect that should be counted on to become a major factor for an SEC Defense and brings the intangibles and athletic ability to continue to grow his game.
---
Kolaj Cobbins – OLB
Destrehan, Louisiana (Destrehan)
OLB/Edge prospect that received attention from all Power 5 conferences. Good height and marginal weight in a slender frame with good arm length and very good agility, change of direction, and speed for his position. Very good quickness off the snap when asked to rush, uses his length and agility to beat tackles outside, and counter with very good crossover to the inside against quick vertical setters. Good hand quickness and placement to swat hands off his chest and release. Good bend to enter lower body strength and add force to his tackles. Very good vision and patience in Zone coverage, scanning and sinking his hips with good flexibility and physical toughness when the ball enters his area. Very good agility and change of direction allows him to stay in stride with tight ends and backs in man coverage. Shows very good effort and control on pursuit.
Adequate play strength vs stronger OL, can get stuck on blocks and be pushed when asked to set the edge frontside against blockers with good strength due to adequate upper body strength. Has not shown ability to transition his speed into power and create diversity in his pass rush repertoire. Good prospect with good athletic ability and processing, giving him a high floor and can be trusted to play a good open side OLB/Edge for a Power 5 school with upside for more in the right conditioning program. Has plenty of room to max out.
---
Corey Smith – RB
Waukesha, Wisconsin (Catholic Memorial)
RB prospect who also competes in Track and Field and garnered interest throughout the BIG10 and BIG12. Solid height and adequate weight in a well put together frame with long, muscular legs, very good acceleration, explosiveness, and good speed. Very good vision and discipline, trusts the concepts in front of him and patiently follows his lead blockers through the hole. Very good ability to press the line of scrimmage on inside zone runs, helping his blockers gaining leverage with good mental processing. Very good burst, kicks into gear quickly and affects tackling and pursuit angles inside while showing ability to beat LBs to the edge with very good acceleration. Good finish in the open field, cuts with good change of direction and agility. Very good hands and ball tracking in the passing game, tracks the ball over his shoulder on wheel routes and adjusts his body to off-target throws on swings and screens well even when working full speed. Good competitive toughness when blocking.
Played behind a dominant OL and rarely had to create behind the line of scrimmage. Adequate knee bend and balance allowed for arm tackles from stronger defenders when he was not able to make the angle difficult on all three levels. Very good RB prospect that can help on all three downs as well as in the return game at the next level. Has the frame to max out and work on the challenge that comes from stronger opponents at the contact point.
---
Donovan Harbour – OT
Waukesha, Wisconsin (Catholic Memorial)
Very good height, weight and good arm length in sturdy frame with a thick and powerful lower half. Very good quickness, strength, and balance especially for his size, gets out of his stance quickly and attacks with very good upper body strength on drive and base blocks while working his feet through contact and generating push. Very good change of direction and agility on pull concepts, stays low and shows good vision to identify his man. Good mental processing in pass protection, picks up players that enter his area and hands over blocks with good timing. Elite competitive and physical toughness, blocks through the whistle and generally works his assignment with aggression and the willingness to dominate.
Worked almost exclusively out of jump-sets and altered to some form of a 45 degree set in true pass protection sets which showed his vulnerability to smaller speed rushers outside when not able to land his hands. Adequate punch timing and placement, generally shoots wide and high towards the pads allowing DLs with solid hand usage to disengage. Overall a very good OT prospect with the size you want to see from a Power 5 blocker. Vulnerability in pass protection may set him up for a move inside in the long run but a good program can help him to work out the technical deficiencies in his game.