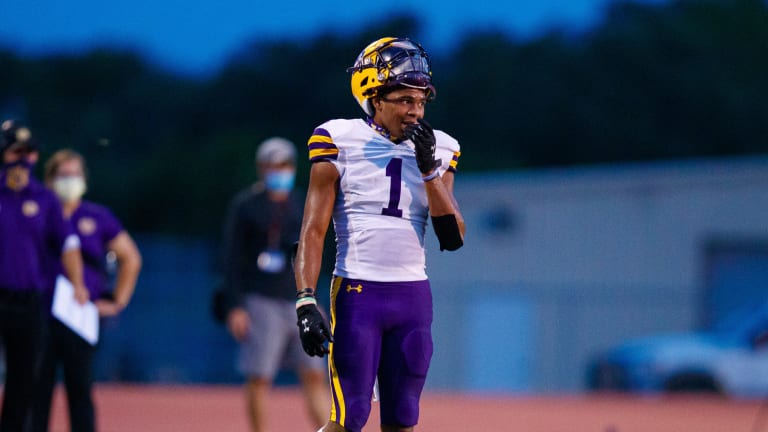 Scouting the Latest Commits: A'mauri Washington, TJ Shanahan, & More
We'll keep the scouting reports rolling on the latest big commitments across the country.
---
A'mauri Washington – Chandler, AZ
Committed to Oregon
Nationally recruited DL with offers from every P5 conference. Very good frame and length with very good strength and explosiveness. Quick off the snap and has a strong initial punch to knock blockers off-balance. Strong bull rush to blow up the pocket. Tracks the ball well and takes good angles to the ballcarrier. Has the strength and size to wrap as a solo tackler while still threatening a strip.
Can get neutralized on plays when blocker has a quicker punch or plays with better leverage. Lacks the balance to shed double blocks on the inside. Transition to college play may have some growing pains due to the skill level of kids he normally plays against. Good pickup for Oregon, more of a pass rusher on the inside right now and will need to develop better technique to be more consistent against the run.
---
Bravion Rogers – La Grange, TX
Committed to Texas A&M
Starting corner who recommitted to TAMU after decommitting in August. Solid frame and length with a very good vertical, good speed, and good short area quickness. Good backpedal form and knows when to turn his hips and run. Has the speed and footwork to remain sticky in coverage. Tracks the ball well and puts himself in a position to make a play. Reads play action and RPOs well and knows when to break off coverage and come downfield. Can get around blocks using his footwork. Willing to come down and hit. Takes good angles to the ballcarrier. Wraps up and tackles low, can be trusted in the open field.
Has marginal catching ability, drops many balls right in his hand. Lacks the strength and form to consistently shed if the block can connect. Good pickup for A&M, see him more as the 2nd corner long-term but he's got a great floor to work on with plenty of reps in high school in man coverage.
---
Blake Purchase – Cherry Creek, CO
Committed to Oregon
Very good frame with solid length, speed, explosiveness, and strength. Very good speed off the snap. Can see him reading and adjusting immediately after the snap. Uses good leverage and hand placement to shed blockers. Knows when to set the edge or pursue the ballcarrier and takes good angles. Loves to hit players and gives it his all with every tackle. Varied and develop pass rush kit, has no issues using technique to get to the QB. Very good motor and will run down the ballcarrier.
Not going to be the most athletic guy on the field but has passable athleticism for the PAC-12. Would like to see him recognize the play pre-snap and waste less time reacting. Stiff in the hips and has some issues bending around the edge. Stiffness prevents him from offering much in pass coverage outside the flat. Lacks the speed to chase people down. Solid pickup for Oregon, think he'll be a bit slower to develop but can contribute as a rotational guy until he's ready to start.
---
TJ Shanahan – Westlake, TX
Committed to Texas A&M
Played OT and IOL at his high school and should go to IOL full-time in college. Good frame and solid length with very good strength and solid explosiveness. Strong first punch off the line and has good hand placement. Can neutralize those with very good size and strength by himself in gap blocks. Has good reach, balance, and footwork to execute zone blocks. Very good understanding of when to let blocks go and move to the second level. Reads the DL well in pass protection, can see and pickup oncoming blitzes, and knows when he needs to take on rushers from other blockers. Nimble and can handle speed rushers on the outside.
Loses his leverage if he stays engaged on a block too long. Will taunt the defender if he pancakes them and lose focus on continuing to move with his runner downfield. Very good pickup for A&M, really like the floor he's coming in with and how little he needs to clean up to be effective. Day 1 starter at plenty of other colleges.
---
Logan Reichert – Raytown, MO
Committed to Missouri
Very good frame and length with solid balance and bend. Delivers a strong initial punch off the snap and can take out defenders with the initial punch. Reaches well and can bend to push defenders at the angle you want for Zone runs. Moves through his set points well. Mirrors defenders and has good lateral movement to prevent them from using footwork to get around him. Strength allows him to anchor against power rushers.
Tends to deliver one strong punch when run blocking and those who can handle his strength shed easily and get around him. Moves slow and gets upright when pulling. Solid pickup for Missouri, will be best utilized in Zone concepts while being reliable in pass protection. Doesn't scream star player to me but not someone you have to worry about on the line.