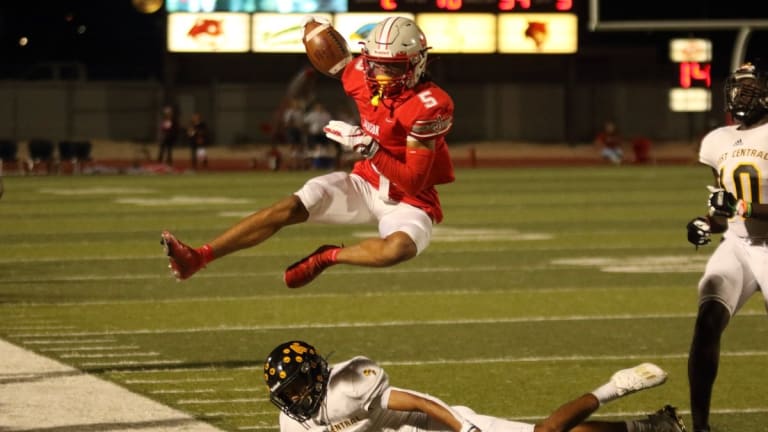 Scouting the Latest Commits: Anthony Evans, Ja'Cobi Lane, Cameron Lenhardt & More
Steve Bailoni gives his scouting reports for some of the latest high-profile commitments, including Oklahoma's Anthony Evans...
We'll keep the scouting reports rolling on the latest big commitments across the country.
---
Cameron Lenhardt – IMG Academy, FL
Committed to Nebraska
Scouting Report: Former Don Bosco player that transferred to IMG after quickly making an impact in his freshman year. Good frame and solid length with very good strength and good short area quickness. Reads the play pre-snap and makes adjustments. Strong initial punch off the snap to knock tackles and TEs off-balance. Sets the edge well and takes good angles to the ballcarrier. Strong enough to go for strips and still wrap up on the tackle. Very good hip flexibility to bend and leverage himself on the edge. Has quick feet and uses them to trip up linemen. Showing a complete pass rush set. Footwork and strength allows him to hit people off the snap to slow their route and cover them in the flat when needed.
Could be a bit quicker off the snap. Doesn't have the straight-line speed to chase down faster QBs and RBs from behind. Lack of speed prevents him from being consistent in Man. Overall a good pickup for Nebraska, a strong player off the edge who can stop offenses from opening up the field.
---
Daquayvious Sorey – Chipley, FL
Committed to Auburn
Scouting Report: Former Georgia commit who starts at WR and FS for his team that will play WR in college. No confirmed measurables but appears to have a solid frame with very good athleticism across the board. Quick feet off the line of scrimmage to create separation immediately. Athleticism allows him to create large amounts of separation at the top of his routes and maintain the separation thanks to his speed. Very good YAC ability due to his athleticism. Like his mental processing, not seeing it much on offense due to his offensive schemes but can really see how smart of a player he is through his defensive film.
Needs to add some bulk, looks skinny in his film. Strength and size limit his blocking capability. Would like to see him track the ball a bit better and extend his arms to high-point the ball. Very good pickup for Auburn, rawer athlete who has an extremely high ceiling that could end up being their #1 receiver.
---
Ja'Kobi Lane – Red Mountain, AZ
Committed to USC
Scouting Report: Elite height, good length, and marginal weight with solid athleticism. Good footwork off the snap to get off the press and create early separation. Physical through the top of his routes and will use his size to create separation. Very good ability to track the ball and adjust himself as needed. Utilizes his size to high-point the ball and has a good overall catch radius. Soft hands. Has a second gear after the catch. Good footwork to avoid oncoming tacklers.
Not quite there in terms of speed or strength for a P5 player. Blocking should be way better given his size. Awkward toolkit given his physicals, wouldn't be surprised if they try to really bulk him up and move him to TE. Needs to add a ton of weight either way, but muscle growth may help him become a more athletic player. Not as ready as most players Riley lands but an interesting developmental prospect who's size is hard to ignore.
---
Anthony Evans – Judson, TX
Committed to Oklahoma
Scouting Report: Former Arkansas commitment. Solid frame, marginal weight and length with very good speed and explosiveness. Elite footwork off the line to create separation. Speed and footwork allow him to create separation through the top of his routes and as a straight-line runner. Runs sharp routes for a high school athlete. Tracks the ball well and shows solid play strength to reel the ball in when contested. One of the biggest threats in the open field I've seen in a long time, not many players can keep up with him or have the balance and strength to wrap him up when he's juking.
Camp weight measurements are concerningly low; I'd be worried about him getting hurt at the next level until he puts on 15-20 more pounds. Ability to block will always be a concern for someone of his size. Intriguing prospect that will likely be used in the slot and brings great value on special teams. Will be interesting to see how he develops.
---
Makari Vickers – Robert F. Munroe Day School, FL
Committed to Oklahoma
Scouting Report: Top safety prospect with offers across the nation. Good frame and length with very good speed and explosiveness and an elite vertical. Very good mental processing, can see him reading the offense pre-snap and continue reading the QB as the play develops. Takes very good angles to the ballcarrier and comes down into the box quickly. Uses his footwork and speed to be patient at the top of routes and quickly respond. Athleticism and football IQ give him very good range across the field. Good lurk, remains low and then quickly breaks on the ball once the QB begins his throw. Very good ball skills to routinely intercept and uses his athletic ability to break huge plays. Good competitive toughness, loves to hit and celebrates big plays.
Would like to see him wrap up more consistently as the last line of defense instead of going for the big hit. Great pickup for Oklahoma, one of the top DBs in the nation and will likely be a staple in their defense for years to come.