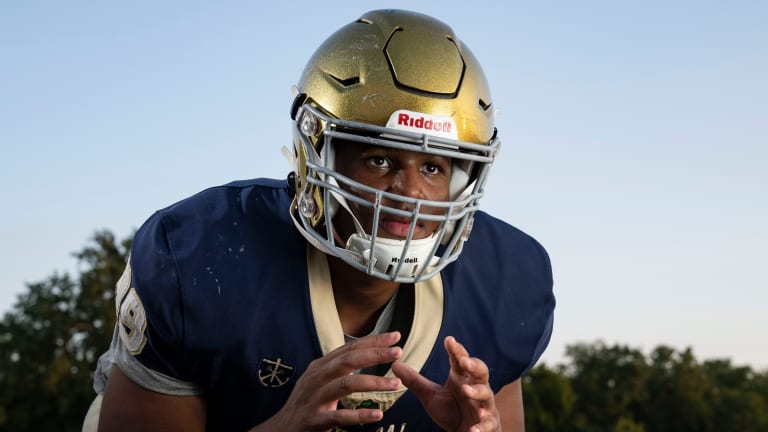 Scouting the Latest Commits: Desmond Umeozulu, Monroe Freeling, & More
We'll keep the scouting reports rolling on the latest big commitments across the country.
---
Kendrick Gilbert – Cathedral, IN
Committed to Purdue
Starting end in Cathedral's 3-4 base defense. Very good frame and strength with solid athleticism otherwise. Strong initial punch to knock blockers off balance. Holds blockers in a neutral position then sheds on the side of the runner. Wraps up and hits hard using his very good play strength to tackle and threaten the forced fumble as a solo tackler. Good bull rush against pass protection. Gets his hands in the face of the QB when he can't close in time. Good motor to chase down runners after the ball leaves the pocket.
Not the most explosive or flexible player, agile tackles can handle him around the edge. Those with good form can leverage themselves against his strength and neutralize him. Good pickup for Purdue, he's a prototypical power rusher you want at end in a 3-4 that should find his way into the rotation early.
---
Desmond Umeozulu – Charles Herbert Flowers, MD
Committed to South Carolina
Scouting Report: Elite height and good length with good speed and explosiveness. Quick off the snap and has a strong and fast initial first punch. Wraps up well and can tackle the runner's lower body even with his height. Versatile pass rush kit and has no issue getting to the QB in a variety of ways. Gets his hands up to bat down passes when he cannot get to the QB. Shows very good competitive toughness on film, has a great motor and clearly loves the game. Doesn't sulk over bad plays and focuses on the next one.
Has some room to fill out his body and add more power and speed. Would like to see him play with better leverage out of the 3-point stance; relies heavily on his size to win reps. Could take better angles to the ballcarrier. Very good pickup for South Carolina, strong player who has a high ceiling and just needs a bit more discipline regarding his fundamentals. Should be on the field quickly.
---
Kaveion Keys – Varina, VA
Committed to North Carolina
3-4 LB who plays SAM and WILL. Good frame and length with very good strength and solid speed and explosiveness. Reads the play pre-snap and tells teammates what adjustments to make. Takes good angle to the ballcarrier. Uses his strength to shed against most blockers. Wraps up and takes down the ballcarrier hard. Loves to come down and hit. Uses his strength to slow down receivers in the flat and hook zones. Has the football IQ to read the QB and get a jump on passes before they're thrown.
Would like to see a bit more bend in his hips, looks stiff in pass coverage and does not have the speed to make up for it. Adequate ball skills, not going to make any huge plays out of coverage. Solid pickup for UNC that has some work to do. Has the potential to develop into a good starter for them if he works on his athleticism but has a good understanding of the game already.
---
Monroe Freeling – Oceanside Collegiate Academy, SC
Committed to Georgia
Starting left tackle in a conference with good pedigree. Elite frame and length with very good strength. Plays with good leverage even with his size. Strong initial punch to knock defenders back. Good form to drive through blocks in Gap schemes. Good bend and balance in Zone concepts to reach and block across his body. Quick through his set points and can keep up with most edge rushers.
Needs to learn when it's time to hand off a defender and look for a block in the second level. Power rushers can give him some trouble and drive him back into the pocket. Very good pickup for Georgia, hard to ignore his size and talent. Will be on the field quickly and give them strong play over his entire career.
---
Zalance Heard – Neville, LA
Committed to LSU
Starting right tackle in a stronger division in HS football. Very good size, length, and strength. Quick off the LOS and has a fast initial punch. Good play strength while blocking and drives through defenders. Quick feet and can pull while maintaining leverage. Gets through his set points quickly in pass protection and can handle faster rushers around the edge.
Lower body needs to add some muscle to handle the power of SEC d-linemen. Struggles to stay upright when a defender gets lower than him and ends up on the ground on too many plays. Needs to learn when a block has done its job and move onto the next defender. Good pickup for LSU, don't see him being a star but has enough tools and the size at this point that he will likely be good backup at worst.