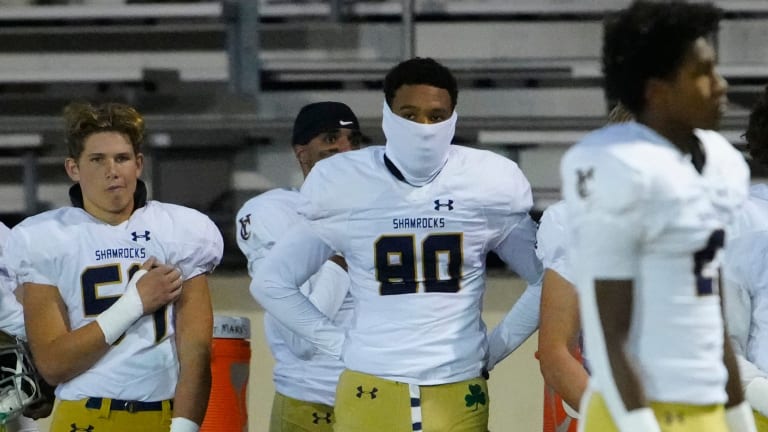 Sean Na'a Commits, Jaxson Jones Decommits, and More Prospects in the News
Prospects in the News
---
–Sean Na'a, IOL, Bellflower, California (St. John Bosco), #1607 nationally, #117 interior offensive lineman, and #147 in California
Three-star Bellflower (CA.) interior offensive lineman Sean Na'a committed to the Arizona State Sun Devils on Monday afternoon after a weekend visit to Tempe. He is the No. 147 player in California. Na' a chose the Sun Devils over offers from the Fresno State Bulldogs, Hawaii Rainbow Warriors, Louisville Cardinals, San Jose State Spartans, and Utah State Aggies, among others. He joins an Arizona State class ranked No. 63 overall.
---
–Chimdy Onoh, OT, Dundalk, Maryland (Dundalk HS), #239 nationally, #21 offensive tackle, and #4 in MD
Four-star Dundalk (MD) offensive tackle Chimdy Onoh will be in Oxford this weekend to take his final official visit with the Ole Miss Rebels. He is the No. 4 player in Maryland, and his final four teams are the Rebels, Michigan State Spartans, Penn State Nittany Lions, and Rutgers Scarlet Knights. He will decide on February 1, and the Nittany Lions are the favorites to land him. The On3 RPM gives them a 21% chance of landing him, while the Scarlet Knights are next at 18% and the Spartans at 13%. I like Penn State here too.
---
–Stacy Gage, 2024 RB, Fort Lauderdale, Florida (St. Thomas Aquinas), #141 nationally, #12 running back, and #22 in FL
Four-star Fort Lauderdale (FL.) running back Stacy Gage named his top eight schools on New Year's Day. Those schools were the Alabama Crimson Tide, Colorado Buffaloes, Florida Gators, Miami Hurricanes, Ohio State Buckeyes, Oklahoma Sooners, Penn State Nittany Lions, and USC Trojans. However, Gage said that the Buckeyes, Crimson Tide, Sooner, and Trojans will receive an official visit. He is the No. 22 player in Florida, and despite the Buffaloes, Gators, Hurricanes, and Nittany Lions not being on his list for an official visit, he said they are still in the race to land him. The On3 Recruiting Prediction Machine has the Gators, Buckeyes, and Sooners as the top three teams in a close race to land him. The Gators lead with a 21% chance to land him followed by the Buckeyes at 19% and Sooners at 16%. Florida is the team to beat right now, but any of his top eight schools could land him.
---
–Jaxson Jones, 2024 Edge, Yuma, Arizona (Yuma Catholic), #596 nationally, #40 edge, and #10 in AZ
Jaxson Jones decommitted from the Washington Huskies on Monday night. He is a three-star edge from Yuma (AZ.) and is the No. 10 player in Arizona. Before backing off his pledge, Jones had been committed to the Huskies since September, choosing them over the Fresno State Bulldogs. With him now back in the mix, there are several teams to keep an eye on. Those teams are the Arizona Wildcats, Arizona State Sun Devils, Boston College Eagles, Michigan Wolverines, Notre Dame Fighting Irish, Oregon Ducks, USC Trojans, and Utah Utes.
---
–Kamron Mikell, 2024 ATH, Statesboro, Georgia (Statesboro HS), #290 nationally, #35 athlete, and #40 in GA
Four-star Statesboro (GA.) athlete Kamron Mikell has named his top 14 schools. Those schools are the Cincinnati Bearcats, Colorado Buffaloes, Duke Blue Devils, East Carolina Pirates, Florida Gators, Florida State Seminoles, Georgia Bulldogs, Georgia Southern Eagles, Georgia Tech Yellow Jackets, Kentucky Wildcats, Ole Miss Rebels, South Carolina Gamecocks, Tennessee Volunteers, and Vanderbilt Commodores. However, he already knows two schools that will receive an official visit: Georgia and Kentucky. There are a couple of reasons why those schools are on his list for an official visit. One is he has a good relationship with the Bulldogs, primarily defensive backs coach Fran Brown. The other is that the Wildcats were the first school to offer him before he moved up the recruiting rankings. The On3 RPM has the Bulldogs as the leaders to land him with a 47% chance to land him, while the Wildcats are at 11%. The back-to-back defending national champions are the team to beat.