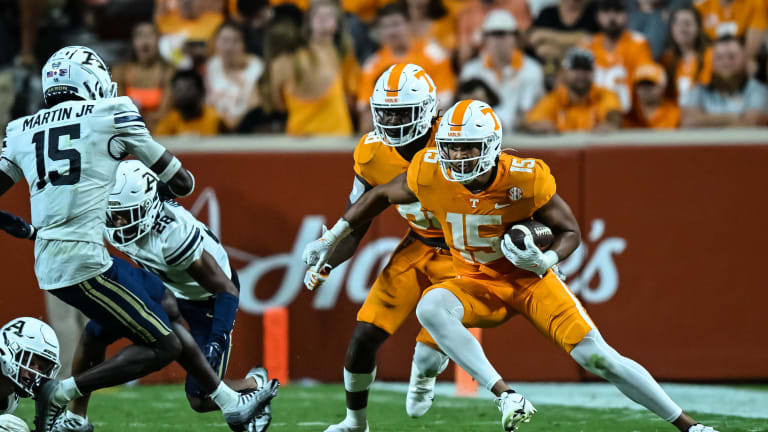 Tennessee Recruiting Trending Upwards, Could the Vols Top the East
Tennessee
After thumping Akron 63-6 this past weekend, the Volunteers have established themselves as one of the best teams in the country. In this article, we'll take a deeper look into how Coach Josh Heupel and his staff transformed the Volunteers program.
---
After a Johnny Majors Classic victory against Pittsburgh, Knoxville has a buzz this fall. Last year the Vols had one of the most explosive offenses in the country and relied on outscoring their opponents. Against Pitt, the defense is what stood out the most. The Vols held the Panthers to 4/18 on 3rd down and two turnovers. In this new era of the transfer portal, it becomes borderline malpractice to neglect it. A few recent transfers in Wesley Walker, Bru McCoy, and Kamal Hadden were difference makers against the Panthers. QB Hendon Hooker also transferred from Virginia Tech before the 2021 season. Hendon Hooker has solidified the QB position in Knoxville and established himself as one of the best QBs in the SEC.
---
After a 7-6 2021 season, many wondered if Tennessee had hired the right man for the job. After the Top 25 classes in 2021 and 2022, the Vols started the season ranked just outside the AP top-25. After a 3-0 start, the Vols have moved to
---
Tennessee's 2023 class contains impact players all over it. QB Nicholaus Iamaleava is a 5-star QB and the 4th-ranked player in the country. He is listed at 6-5 and has a rocket for an arm. Iamaleava is the kind of prospect that can single-handedly bring a program glory. It will be important for Heupel to develop him physically and mentally if he is going to live up to his ranking. On the other side, a pair of Top-100 edge rushers will be joining the Vols to add to a defensive line that caused Pitt problems all day. Continuing the defensive renaissance, 4-star safety Sylvester Smith and CBs Jordan Matthews and Rickey Gibson will join coach Willie Martinez in the secondary.
---
The Vols class is currently ranked 11th in the country. Josh Heupel and his staff are still heavily recruiting another pair of 4-star DL Tomarrion Parker and Daevin Hobbs. If Tennessee can land both, look for the Vols to jump into the Top-10 in the team rankings. Securing commitments from both Parker and Hobbs would add to an already scary defensive line coached by Rodney Garner.
---
After landing 2024 5-star ATH Jonathan Echols, the question is whether Tennessee can improve on the 2023 class. There is still a large gap between Tennessee and the SEC powerhouses Alabama and Georgia. Once they received an extension, Heupel and his staff have security in Knoxville for years to come. If they can have a successful 2022, we'll see if they can bring the Volunteers back to SEC glory or fall back to the rest of the pack.