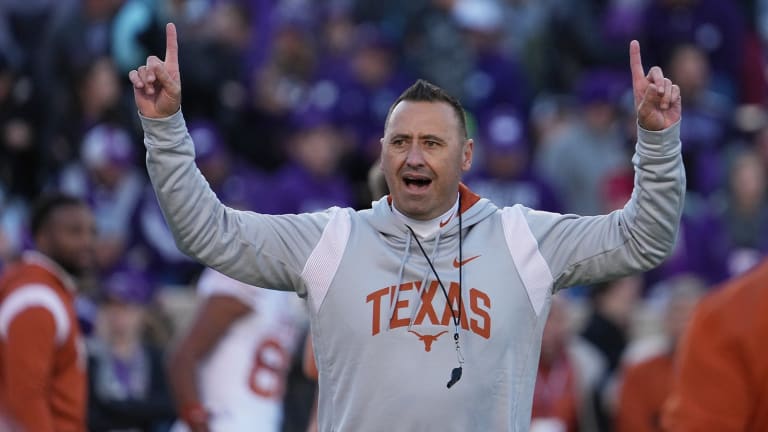 Texas Ready to Top the Wild-West This Flip Season
Following the madness after the Arch Manning commitment where there was an influx of commitments for the Longhorns, they have been faced with a dry patch as they haven't picked up a commitment since August. However, momentum seems to be going in Texas' favor this past week, focused on Anthony Hill, Colton Vasek, and Jelani McDonald.
---
Big Game Hunting
2023 LB Anthony Hill (#17 nationally, #1 LB), Ryan High School, Denton, Texas
The highly touted linebacker out of Texas recently decommitted from Texas A&M after being committed nearly the entire summer. Hill was down to two schools when he made his initial decision with those schools being A&M and Texas, so now all signs point to the Longhorns. Multiple predictions have been logged in Texas' favor since he reopened his recruitment, but the linebacker has declared he will take his recruitment to signing day. Hill has already taken all of his official visits (A&M, Alabama, USC, Texas, and Oklahoma) so it would serve as a surprise if he committed somewhere else besides Texas, but there is still lots of time until signing day.
---
2023 EDGE Colton Vasek (#127 nationally, #17 EDGE), Westlake High School, Austin, Texas
Vasek has been committed to Oklahoma since August but has always been seen as a shaky commitment. The Sooners fear of him not sticking to his pledge was imminent, as he backed off of his commitment on Tuesday. Vasek previously had a top 5 consisting of Oklahoma, Texas, Oregon, Texas Tech, and Clemson, but decided to flip to Texas. The talented EDGE will look to be a big piece on the defensive front going forward, as he is the 4th highest-ranked defensive player thus far in the class. 
---
2023 ATH Jelani McDonald (#234 nationally, #12 ATH), Connally High School, Waco, Texas
McDonald is a late riser, only breaking the top 600 in late July. His ability to reach 4-star status has paid off, as he earned his Texas offer not even a month ago. His Texas offer may have played a part in him reopening his commitment, as he decommitted from Oklahoma State just two weeks later. There has been some buzz for Texas being in the lead,  but McDonald is fresh off a visit to TCU, where he was in attendance for their win over Texas Tech. However, he will be visiting the Longhorns for the TCU game, which would be his second time on campus since receiving his offer. There is no definitive timeline on when he will make a decision, but Texas seems to be the team to beat with TCU and Oklahoma State trailing.